"Coffee Shop" goes to War"
(and the sinking of HMT Lancastria)
by Alfred Lockyer. (as told to Webmaster) (Alfred Lockyer RIP died 8th Oct 2007 aged 95)
Alfred was born in the Royal Borough of Greenwich in 1912, the year the "Titanic" was lost in the North Atlantic. His parents family were Italian immigrants from Salerno. who had settled in the UK probably in 1898 and went on to build up businesses in Clerkenwell in the catering trade, Coffee shops and Cafe's. Alfreds father fought in the First World War, his regiment being the Glorious Devons. When Alfred came to leave school he really wanted to to go to Clerkenwell College of Art but had pressure from the family to join the business and soon found himself making Italian Ice Cream on a regular basis.
This life continued for him right up to the age of 28 (1940), and he saw an opportunity to make a break and volunteered for the Army. He enlisted at Croydon ( A converted milk depot) and went on to Kennington for Training, the Army soon recognised his abilities for catering and was listed for service connected with the NAAFI. This suited Alfred very well as he was on home ground and with a couple of stripes on his arm was soon on his way to Calais as part of the British Expeditionary Force commonly known as the BEF.
At Calais Alfred was in charge of the NAAFI and went onto Holland but very soon the War was going against the BEF and the troops were in general retreat, many thousands of men coming back to UK being evacuated from the beaches of Dunkirk. Alfreds unit retreated further South via Paris and Nante. At Nante there was heavy bombing and constant air raids so the troops were told to make their way to St. Nazaire., hopefully for ships to take them home to England. The German Army was closing in on the port and ships were still picking up troops but with great difficulty and huge danger.
The Lancastria in more peaceful days.
Alfred found his way to the Docks and joined a massive queue on the dockside for boats taking men out to the "Lancastria" which was moored in the Charpentier Roads further out, there wasn't panic but thousands of men were jostling for position and getting more anxious by the hour.
When nearly at the front of the queue an RN Officer shouted at his group to jump aboard a landing barge and not the boats loading for the Lancastria as he said that ship was full, Alfreds barge was to make for the "Oransay", this was another converted Cunard Liner now used as a troopship. The officer added that we must not worry as there were plenty of ships to take them all back to England but ships must not be overloaded, they all felt happier at this. This change of route was no doubt to save Alfreds life.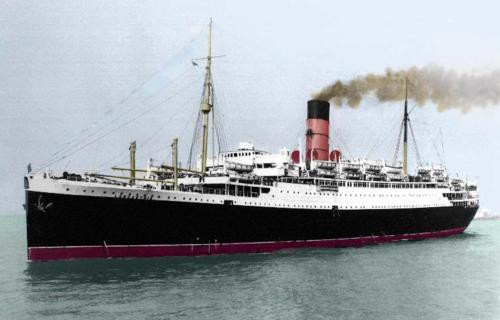 At this point German Bombers appeared overhead, a mixture of Dorniers and Junkers Dive Bombers and commenced to bomb all the ships in the port. The Somersetshire Hospital ship was not spared this bombing as it made its way out to sea but luckily was not hit. "No kit bags or other gear except what's strapped to you" an officer ordered, lots of kit was left on the dockside or thrown into the water.The first bombs hit the Oransay at 2:10pm and damaged the steering gear and navigation equipment which delayed the ships departure for some hours.
Then there was a repeated session of dive bombers, with many bombs falling in the water but the planes kept at it. Alfed said "I actually saw the direct hit on the Lancastria and the next bomb went straight down the funnel, the ship rolled over, I could see the troops running down the side, some troops took off their shoes before diving into the water. The ships screw jutted above the water, about fifty men clung to the propeller singing, "They're always be an England". I was about 200yards away from the Lancastria as it slid under the water, never to be seen again. The water was full of men, shouting and struggling to be saved."
Taken from HMS Highlander - Courtesy of Mr Clements, Lancastria Association.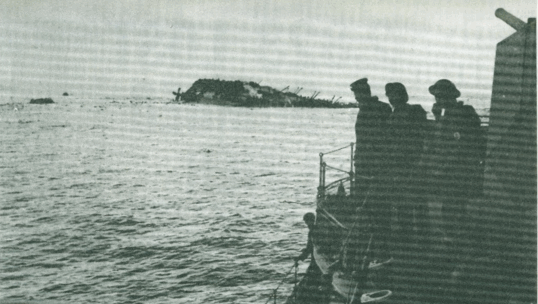 Last minutes of HMT Lancastria - June 17th 1940 - hundreds of men in the water. Picture taken from HMS Highlander.
By this time Alfred was on board the Oransay, repairs were still going on to the steering and men were being pulled from the water, some covered in oil and eventually they pulled out of the harbour to head for Plymouth. One of the men rescued was my friend Bertram Twamley RASC, a very lucky man. We were picking up bodies all through the night covered in oil.
We were given a meal on board of fish and bread, it tasted good. On our arrival in Plymouth Sound our Captain was told that we could not dock at Plymouth, we must go north to Oban, our Captain refused so we eventually unloaded at Plymouth and I made my way with lots of men to Plymouth main railway station. The Salvation Army was with us all the way giving us cakes, Woodbines and tea, I still give to the SA for their wonderful work. At the Rail Station we were stopped by redcaps (military police). "Where are you going son", "To London" I replied. "No your'e not you are arrested" and we were taken off in lorries to a disused theatre. We stayed there for 3 days until I was sent to Mitcham Common along with hundreds of others. We had to give our name and number and was eventully sent to the Salisbury Area to work in the NAAFI and later on as manager of several NAAF including work in the Shetland Isles..
During this period Alfred was made a Staff Sgt and after D Day 1944 he was sent back to Calais (4 years since last there), his travels taking him to Ostende and lastly Hamburg. While in Ostende he looked up at the roar in the sky and saw hundreds of planes towing gliders ( this I suspect was the airborne troops for Operation Market Garden heading for Arnhem). He saw several crash and burst into flames, the rest thundered on.

Palace of Versailles - Paris (Alfred front kneeling 2nd from left)
Alfred crossed the Rhine into Germany, bouncing up and down in an armed truck, how it held together he doesn't know, later they built a bridge at that spot and put up a plaque saying " This bridge was built by the Royal Navy, go F----Slow".
Alfreds war came to and end in Hamburg and when the end came refugees were able to help themselves to beer aboard 30 Canadian trucks, hundreds of bottles of beer "Schmidt" beer was the name he always remembers. After demob in 1946 he returned to London and managed Cafes for his Father and stayed in that business until his retirement.
He now lives on the South Coast near to his daughter but remembers clearly those momentus years of long ago.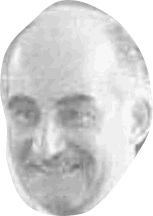 Alfred (about 1960)
The Loss of the Lancastria
On the morning of 17th June 1940 HMT "Lancastria was anchored some miles off St Nazaire, a port on the French Atlantic Coast. Along with a number of other ships, she had been ordered to assist in the repatriation of many British servicemen and civilians who had been left in France after the evacuation of Dunkirk.
By mid-afternoon of that day almost 9000 people were packed aboard the ship when she was hit four times by enemy bombs. Within thirty minutes she had sunk, suffering a loss of life equal to the combined losses of the "Lusitania" (1200) and the "Titanic" (1513).
There is a memorial plaque on the esplanade at St Nazaire, close to the French War Memorial and a plaque in Saint-Michel which lists all the ships which helped in the rescue. Baharistan, City of Lancaster, Clan Ferguson, Dundrum Castle, Floristan, HMS. Havelock, HMS. Puniari, HMS. HIghlander, HMS. Vanoc, Ulster Prince, Cambridgeshire, Cymbula, Fabian, Glenaffaric, Oransay, Robert L. Holt.
Copyright Text & Images: Joan Lockyer - his daughter - Alfred Lockyer RIP died 8th Oct 2007
Credits: "The Loss of Lancastria" by John L. West. - General information.
and especially A. Picken's account (dec'd) former Staff Sergeant Major RASC.
Several websites about the Lancastria - too many to mention.