In 1948 I was an 18 year old apprentice sheet metal worker in Clydebank's John Brown's shipyard. Knowing National Service was looming, came home from work one night, and there was the buff coloured envelope on the mantle piece telling me to report to a medical centre in Glasgow, or, if I was in a responsible job or serving my apprenticeship, I could be deferred until I was 21. So I decided on deferment, thinking that 3 years down the line National Service might be abolished. Well 3 years down the line coming home from work one night after working two hours overtime there again was the buff coloured envelope on the mantle piece telling me to report to a medical board in Glasgow.
John Brown's Yard Glasgow - the ship in dock is the QE 2, Bill worked on it for three years, had two working trips on it, pure luxury.
I remember that nice spring sunny afternoon jumping on the bus for Glasgow, which was about 6 miles away. On arrival at the medical board I was shown into a large room which was once a school class room with seats and desks. There were about 30 other heads all looking quite apprehensive. Most of them looking about 18 and still hanging on to mother's apron strings. Two sergeants; one Army, the other RAF, came round handing out sheets of paper with questions and puzzles. I think it was called an aptitude test for testing our general knowledge. The questions and puzzles seemed relatively easy and we had about a 30 minute time limit. Next we stripped down to pants and socks, got shown into another big room with about 6 or 7 small cubicles. Each one had a doctor in it wearing a white jacket and a stethoscope round the neck. Each doctor had his own thing or condition to check for; eventually I was passed fully fit for armed duty. I must have done okay in the aptitude test because only about five of us made the RAF, all the rest going into the army. I collected my expenses, loss of wages and bus fares, which I think was about 14 bob (70p) about six of us headed for the nearest pub for a pint. My take home pay from the shipyard was then about £6 per week, so 14 bob was quite a lot of cash then. As a young tradesman I was really enjoying having a few quid in my pocket, a few pints and off to the dancing every night. But, again coming home from work, there was the buff coloured envelope on the mantle piece with a letter telling me to report to RAF Padgate, along with a travel warrant and times of trains to catch. I had only about two weeks of freedom left, so I worked for another week and called it a day. Next followed a week of boozing, dancing and nicking any girls I could. My dad arranged a last minute get together with all my old aunts and uncles. I said, "Dad that's the last thing I needed, a party with a lot of oldies." He said, "I think it might be worth while Billy, "Well it turned out to be good advice, they all had cash gifts for me totalling about £18, which was to come in exceedingly very very handy over the next six weeks.
When it came the time for goodbyes, the boys that had been down the line before me told me, to take a carry-out and a pack of cards for the train journey, it's a long boring trip to London, so that I did. I had a carry-out of a half bottle of whiskey and two bottles of beer tucked in my case. My dad decided to see me off from Glasgow Central station. I was told a lot of the new boys joining up met in a pub beside the station for a drink. That was my intention, but my dad didn't know I took a drink. That was the way it was in those days and I was 21, so that idea was out. However, I still had my carry-out for the train so wasn't too worried and just went along with it. After good byes to dad the train pulling out I felt full of anticipation of what lay ahead I knew this next two years would be a different error in my life but if I had known what was in store for me - 8 weeks of square bashing and bull - I would have felt differently. Walking along the train corridor looking in each carriage for anybody going to Padgate, soon found a carriage full of them. We quickly got to know each other and piled up our cases on top of each other's to make a table for cards. I was kind of worried in case nobody else had a carry out, but that thought soon disappeared as most of the boys came up trumps. Soon we were playing three card brag for pennies and enjoying the booze. I remember crossing the border from Scotland into England. It was the first time I had been out of Scotland as I always took my holidays camping in the Highlands. The rest of the journey is just a blank, must have fell asleep.
Arriving at Euston station we were met by two RAF sergeants shouting, ''All RAF conscripts fall in here.'' There were about 40 of us in all lined up for a roll call and then crammed into RAF wagons and driven to Padgate. Once settled in the billet, the first thing we were shown was how to make a bed and fold blankets into a square pack. Beds made we headed off for breakfast. I was pleasantly surprised to see the wide array of food for breakfast. After all the years of rationing I'd never seen so many choices for a breakfast; fried mashed potatoes, eggs boiled, fried or scrambled, sausages, black pudding, beans, all kinds of cereals and gallons of tea. I asked the cook, ''Do we have this food every morning?'' Answer, "Aye Jock, you're in the RAF now.'' And for the next two years my breakfast was always, a plate of corn flakes, two scoops of fried mashed potatoes, two rations of bacon, two sausages, one egg, one slice of black pudding and a scoop of peeled tomatoes or beans, sometimes went back for seconds, I think over two years I only missed about six breakfasts.
The next four days were spent being kitted out, given inoculations and lectures on the do's and don'ts of the RAF and putting the fears of death into you about breaking any rules, or going AWOL. We also saw a film of the dangers of catching VD, which was grotty enough to have some of the lads spewing up their dinner. The 5th morning we were told to pack our kit bags as we were being posted to RAF Hereford for basic training. I remember I had a hell of a job packing all my new gear into the kit bag, steel helmet was a bloody menus it had to be the last thing packed but after much wrestling I eventually managed it. The next thing I remember is standing at the gates and guard room of RAF Hereford. The first thing we noticed was a Spitfire just inside the gates, a piece of beauty and a big bit of British history. I wonder if it's still there. We watched this corporal walking towards us, white webbing, and boots highly polished and looking real smart but angry about something. Then it dawned on us, he was our Drill Instructor and it was us he wasn't happy about. "I'M YOUR D I AND I DON'T LIKE THE LOOK OF YOU LOT, WORSE THAN THE LAST INTAKE I HAD". He seemed real mean about everything I don't think he even liked himself. We were marched down to the billet being shouted at and bullied and called for everything. Inside, the billet was absolutely gleaming. I thought, Oh my god, look at all the bull shit in here and for the next eight weeks keeping it up to the DI's satisfaction was an absolute nightmare. All lockers had to be stowed with our gear exactly the same way and that was another nightmare. It was eight weeks of bull nights and locker inspections.
Wunstorf Germany
The drill I enjoyed and being ex army cadet I knew most of the drill moves. After a few days the D I asked me if I was in the Air force cadets. When I said, 'no, Army cadets,' he asked, 'then why are you in the RAF,' I said Korean War which had a big intake of the army, I think he understood. Bull nights, locker inspections, extra bull nights, fatigues, his favourite was, every other day he'd have two or three changes of dress during the days training and always last two back on parade were on cookhouse fatigues. So it was always a mad rush. He would then have a locker inspection at knocking off time and obviously all lockers were in a mess, so it was bull night as punishment. I guess its all part of the breaking us down process there was 22 beds in the billet 22 airmen and 22 pairs of foot pads lying at the door we were not allowed to walk on the highly polished floor (only the DI could). The pads were pieces of blanket about 12 x 12 inches, obviously one for each foot and we would slide along the floor keeping it well polished. Every day was much the same. It all started at 6 am with loud music and the D I entering the billet going round the beds shouting 'WAKEY WAKEY! ON YOUR FEET', his second time round the billet if you were not up and on your feet, you and your bed were tipped on to the floor. I was tipped once what a bloody fright I got, it never happened again, I made sure of that. Foot drill, rifle drill, assault course, lectures until the day finished at 4-30. Well we thought the day was finished at 4-30 but if the D I wasn't too happy with our day's training, as punishment, after dinner we'd be digging the garden again, cleaning windows, and painting the millions of pebbles one by one on the path way, cleaning the ablutions or more drill. It was never ending. Again, all part of the breaking down process. It got to the bit, if the D I asked you to jump, you asked, 'How high?' After dinner one night the D I came into the billet telling us to have our battle dress uniforms all neatly pressed for first parade tomorrow morning. We said we have no irons for pressing, he replied, ''I have four irons I'll sell for a £1 each, not much between 22, so the deal went a head. Here's the rip off, at the end of square bashing and posting to our new camps, the D I said '' those irons are not part of your kit can't take them with you'' so we had to leave them for him to sell to the next intake, good bit of business. Wednesday afternoon was sports day. Everything stops for sport. There was no swimming pool in the camp so I played goal keeper for the billet and I must admit I was not a bad keeper. Saturday morning at 11-30 we stopped training till Monday morning 6-am. We had the whole weekend off. Saturday afternoon was spent in the town square, it had benches to sit on, grass and loads of daffodils and plenty of WRAF's, all sitting waiting to be chatted up. Problem was there was double the amount of RAF trying to do the chatting. I did pull once; a nice WRAF. That night we went to the movies and I must admit did not see too much of the movie. We met up Sunday and went for a walk in the country, settled down behind some bushes and had about a two hour necking session, must say, she liked a kiss and cuddle The next time we met we were both in the camp hospital (I will explain all at a later time).
Back home I was in a swimming club and was a pretty good swimmer and water polo player. I had told the sport officer this the first day in Hereford but it was six weeks later when he contacted me to see if I would swim for the camp in the RAF championships at RAF Cosford. I immediately agreed so I got a lucky three day break away from all the bull shit and training. I never won any medals, was surprised to fined I was swimming against the Wardrobe twins from Motherwell who held nearly every Scottish swim record, we knew each other well as I had swam against them many a time in Scottish gala's, plus the lack of training didn't help me much. Still, a three day break from the routine was not to be sniffed at. The third day at the championships I took a soar ear, I didn't do much about it but when I got back to Hereford camp that night it was really painful so reported sick to the hospital, it was diagnosed a badly infected ear drum and so I ended up in a ward, I remember getting a bath and a jag and best of all, the pain disappearing, it was a great relief, think I spent about three days in hospital. The day I was being discharged, I met the WRAF I was dating in the day grounds, can't remember her name, she had been in for a woman's operation, I know what it was but won't tell you. The first chance I got from training paid a visit to the hospital but no luck she had gone home on sick leave so all contact was lost, she was nice too. Arriving back in the billet from hospital our D I was chatting away nicely to all the boys enquiring about their home life and girl friends. He had completely changed from a bad bastard to a some what real nice guy and over the next week or so we were beginning to like him, at the end of day we even had a wipe round two and six a head, beats me why. The passing out parade was only a few days away so for the next couple of days it was all drill, drill, drill. I must admit, he somehow had turned us into a fine bunch of smart airmen. The passing out parade went off real well we even had the station band, I felt proud of myself marching into the square for inspection and the march pass, some of the lads folks were there in the stand, it was too far for my folks to travel. The passing out parade all finished, kit bags all packed, after lunch we gathered in the billet for postings. A few weeks back the Officer for Trades interview told me that being a sheet metal worker I would be a cert for trade Air Frame Mechanic. I was well warned beforehand not to volunteer for the RAF Regiment as it was full of bull and that was the last thing we needed. 18 from 22 in the billet were posted to RAF Watchet the regiments training camp and to my dismay I was one of them. I knew there's no point in complaining as no one would be listening, So much for the interviewing officer. Soon after we were on trains heading home for 7 days leave, WOOPEE!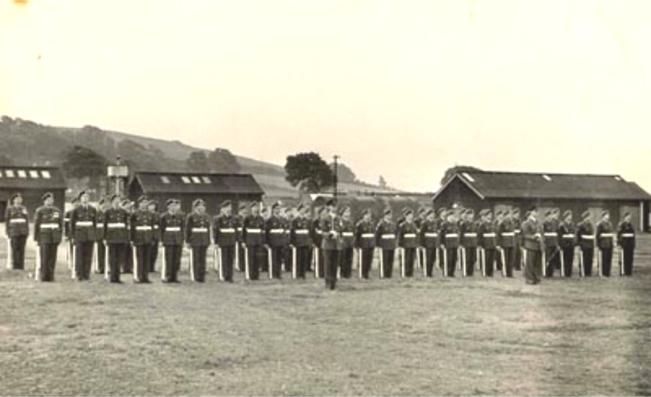 RAF Watchet Somerset. Five weeks Small arms course, passing out parade
After seven real brilliant days leave with the usual drinking, dancing and what ever, I was on the move again on a long train haul to Watchet in Somerset. If I remember correctly changed trains at Crew then again at Bristol for Watchet. Arriving Watchet it was a nice clear sunny afternoon, there must have been about 60 airmen all gathered in the station platform. Two Corporals appeared apologising for no transport to take us to camp which was about two miles away, told to leave our kit bags which would be picked at a later time. I quite enjoyed the march to camp with the road being next to the Bristol Channel, reminding me of some of our Scottish lochs. A few hours later we were marching back to the village to pick up our kit bags, the camp wagons were unavailable, it was no joke marching back to camp with a full kit bag on my shoulder. Arriving in camp the first time, I was surprised to see rows and rows of khaki coloured tents that would be as our billets for the next few months, some of the lads weren't too happy about living in tents, My folks were great campers we used to spend whole summers camping in Arrochar Loch Long and those days you did get real good summers. So I was quite used to it and I thought, can't be much bull shit in a tent, it worked out, once a week we cut the grass around the tent and every now and again it was our tent's turn to clean the toilets. Inside the tent were two sets of bunk beds, 4 green steel lockers, wooden floor boards and an electric lantern which made no difference on or off. At night time if you wanted to do a bit of reading, it had to be a torch; the NAAFI sure did a good trade in torches and batteries. The training was a Small Arms 6 week course. The instructors were great guys, treated you like human beings and they were full jokes that they kept coming up with. Being attached to the regiment wasn't as bad as it was made out to be .I was enjoying the course We learned how properly to fire the Rifle, Bren and Sten guns, mostly with live ammo, we learned to take them apart and put back together blind folded, the bren was a amazing accurate gun, any ex armed forces personal reading this will know what I'm talking about. Watchet was a great friendly village and I had some happy times there, Saturday night a couple of pints of cider, I think the pub was called ''The seven stars'' then off to the dancing. The cider was 5 pence a pint [that's old money] and any more than 3 pints blew your head off, I was well warned about the local cider but ignored all advice, to cut a long story short, Sunday I had the longest hangover I've ever had I thought my head and legs had fallen off, couldn't fined them. The local girls were quite friendly it was never to hard to pull one. Every second Saturday the camp wagons drove us to Bridgewater for a change of dance hall and the local girls was even better than Watchet. The only draw back, the wagons left 15 minutes after the dancing finished so not much time for a bit of necking. It wasn't worth missing the wagons as I think it was about 18 miles back to camp.

Right from the first day at Watchet I was always interested in applying for a driver's course as choice of RAF trade. I know you don't always get want you want but worth a try as it would be handy having a driving licence back in Civvy Street. About four weeks into the small arms course I met this local girl and got quite interested in her so I decided to abandon the driving course and apply for the LAA course. If accepted I could stay on in Watchet for anther 6 weeks. Well I got the LAA course alright and about two weeks later into the LAA course she dumped me, 'bitch.' Every week new guys came into the camp as flights passed out, so obviously she got a better prospect than me. That was me on the loose again and on the pull, which wasn't too hard in Watchet. I thought the LAA course would be a walk in the park but it wasn't, every nut bolt and action, plus aircraft reconnection had to be learned. It took in quite a bit of studying but if you passed the course you got promoted to AC1 and a 4 bob a week rise, so passing was a must. One Saturday afternoon in the village there was a water regatta in the harbour; boat racing, sailing boats, canoes and all kinds of water sport. A couple of the lads and I decided to go into to the village and watch the sports, I discovered there was a pier swim with a cash prize and they were looking for some more swimmers. As usual we were all short of cash so I decided to enter my name for the swim, eventually found the guy in charge of the swim. I remember this bit, I said to the guy, I'm in the RAF can I enter for the pier swim, he had a big smile on his face, then It dawned on me, I had said to him ''I'm in the RAF'' and there I was standing in full RAF uniform telling him I'm in the RAF I felt a right clown. He was a nice guy got me a pair of swimming trunks and a towel. For the start of the race they rowed us across the harbour bay possibly a bit more than 120 yards. About 12 heads lined up on a ledge around the sea wall about 6 inches from the water.
The guy in the rowing boat told us, to go on the gun, first ashore is the winner. I hit the water and took off like a rocket; all I could think about was winning and money. Well I won. I couldn't believe it, the rest were only half way across and some had stopped for a rest, I was kind of sorrow going too fast, I didn't think it would be so easy. At the Prize giving, the Lord Mayor dressed in all his chains and medals, asked me where did I learn to swim so fast, didn't want to tell him the truth I was in a swimming club in case I would be disqualified, just said, I did a bit of swimming back home. Looking inside the envelope I counted three and a half quid! That's four weeks pay! I felt like a millionaire. We didn't go back to camp for dinner as we would be only coming back later for the dancing, so I bought fish suppers (ten pence a supper - old money, that's less than 5p new money] and a couple of pints for us all. I don't remember much more, so I take it we had a good Saturday night. Sunday I was the talk of the camp. LAA training, at least once a week we spent a full day on the LAA firing range, the plane would fly past trailing the drogue about 60 yards behind the plane, on practice it was always the plane to aim at but it seems some of our guns forgot it was not a practice and was aiming at the plane and shooting live ammo, the instructors were always in touch with the plane got a call from the pilot ''TELL THOSE'S BASTARDS DOWN THERE WE ARE PULLING THE DROUGE NOT PUSHING IT''
After a day on the firing range we were deaf for about two days, as there were no ear plugs issued at that time I guess that's why i had a good claim against the MOD in later years for deafness . After six weeks of intensive training we were sitting our passing out exams, morning was all theory, afternoon was all practical. I was thinking I did quite well to pass the course, but at the back of my mind, it remained a thought of not passing. The course being finished the gun crew 7 of us decided to go into the village for a last visit and a pint of cider, it so happened our drill sergeant was in having a pint too, we asked him who had all passed. He said ''You'll find out tomorrow morning on parade" over the night we bought him a few pints and at the end of night he was quite well on. So asked him again, who all passed? He said, with clear pride in his voice, ''All my boys passed.'' So now I was an AC1 and four bob a week better off. The next day we were all on the move again, felt kind of sorrow at leaving Watchet but that's how it goes when your in the forces they send you where they need you, no arguments.
RAF Wattisham Control Tower
Most of the flight was posted to the Middle East. I was posted to 16 LAA Squadron Wattisham, Ipswich, it was kind of hard saying goodbyes to the lads I've been with since day one. I remember arriving in the new billet, it was nice, bright and warm but I was back among the bull. There were quite a few old timers in the Sqdn and most of them had been involved in the 2nd world war, so it was interesting listening to their stories. A great bunch of guys who many a time helped me out by giving me a few bob for NAAFI breaks or a couple of pints. About five or six weeks had passed and I was quite settled. Xmas leave came up, the Scottish boys stayed on camp and did the sqdn duty and let the English lads home for Xmas. The English did the same for the Scots and we got home for New Year. I only had about five days leave to get, which past so quickly, after sobering up from New Year activities I discovered I was a day AWOL. Panic set in, rushed down to my doctor and with a lot of persuasion, managed to get a sick line, saying I had influenza.
The next morning I was back in camp two days late and under arrest, I was soon up in front of my company commander having the shit bawled out off me, I produced the sick line thinking this will shut him up, did it dick, he said I should have reported to the nearest military camp, I said I was ill and in bed for three days. I said the nearest RAF camp was Edinburgh 45 miles away, he came back with ''wrong Maryhill army barracks Glasgow'' the only thing I could think of was '' I didn't know I could use the army hospital'' After a lot more shouting and bawling, I thought I'm really in the shit, at least 14 days jankers but to my amazement he admonished me, what I relief that was. Back in the billet the lads were all congratulating me for getting off the hook, was thinking to myself ''I've beaten the system'' and I did on another occasion, which I'll come back too at a later time. One morning I was called into the Sergeant's office and told I was being posted to BAOR. I hadn't a clue where BAOR was, so I asked the cpl where's BAOR he replied ''Germany you lucky bastard'' and much to my surprise and delight I was on the night train heading for Scotland on 7 days embarkation leave.
Everything was coming good and I was full of anticipation of the coming months. At home no one knew I was coming home, I had a hard time convincing my parents I wasn't AWOL. It's always good to get home and into civvies, the next seven days was the usual a few pints and off to the dancing but again it all passes too quickly and again on the move back to England. Arriving back in Wattisham from leave, I discovered my bedding and locker had been moved to the Transit Billet. Eventually I found it at the other end of camp. It was a big dark billet with about 30 beds and only one other guy in it, a cook who was going home on demob leave. We got quite friendly and he invited me to his demob party. There were about 10 or 12 airmen there, some had girl friends. We were all having a good party in the lounge of a local pub, when, after about a couple of hours, we had to make a quick exit and scatter. It seemed some of our lads had been nicking bottles of beer and the boss had spotted this and phoned the cops, so we got out of there double quick. I had got kind of lost in the chaos but met up with the cook's girl friend who said she knew where to catch up with everyone else. We got kind of a bit more lost, intentionally I would say, we were getting real friendly and made a date. It was the quickest easiest date I ever made, the rest of the night went quite well with no more trouble. The cook was leaving anyway the next night for Glasgow an ex-RAF, lucky airman.
Monday morning a Sergeant came into the billet shouting, "AC DALY, pack your kit. You're being posted to Lytham St Anne's transit camp Blackpool, report to the guard room after lunch for travel warrant and transport to train station." My first thought was, there goes my date for tonight. I didn't even know her full name and this was before people exchanged numbers. I can't remember much about it, but I do remember arriving in Blackpool train station and a Sergeant shouting out my name. Got into his land rover and headed for camp which was only a short distance away. [After the war the camp became Butlins holiday camp, and then Pontons holiday camp which me and my family had many a good holiday. Asked the sergeant how it works here at transit camp, he explained that once we have about a 150 airmen on camp, we send you all off to Germany. He then told me, "Relax Jock, you're only the twelfth to arrive so you can content yourself for a 3 or 4 week stay. It was an easy going camp most days were spent lying in bed reading any kind of books we could get our hands on. Hank Jansen detective books was top of the list. Does anyone else remember them? Always a wee bit of sex now and again to keep you interested. Every week my Mum sent me the Sunday Post, the Dandy and Beano and ten fags inside the paper. The guys used to argue each other who were first in the queue to swap a book or two for the Dandy or beano; I was seldom short of reading material. It got so bored in camp we would volunteer for cook house duty.
I remember one day on cook house duty, about six of us was peeling spuds from a massive basket of hundreds, got on to the subject of passengers liners, the Queen Mary and Queen Elizabeth, this English nut said they were both built in Southampton, he wouldn't believe me my dad worked on the two of them in John Brown's shipyard Clydebank, were I was born, I even watched the Queen Elizabeth being launched but couldn't convince him, so gave up, I was nearly at the point of decking him. Had some really good nights at the Tower ballroom dancing mixing with the holiday makers, the colleens were nice friendly girls and thought nothing of buying us poor national service guys a pint or two. The RAF seemed to be the only males in town, very few civvies, so we had the run of the mill, as the old saying goes. After a few weeks at the Friday morning parade, the sergeant told us, "Get a hair cut and we'll give you all a 72 hour pass." Good, I thought, a chance to get home, so got the usual short back and side's hair cut, got my pass and after lunch started hitching it home to Glasgow. First lift got me to Preston, and then got another one straight to Glasgow. I was home, fed, out of uniform' into a bath and into civvies and was in the pub meeting my old mates for 8 o clock! Before I could get used to home life, it was Sunday night and I had to catch the last train from Glasgow to Blackpool. I was back in camp for first parade Monday morning and ready for what ever was in store for me. Next day we were told to pack our kit we were moving out.
Late afternoon we were on a train with a packed meal and heading for arwich to catch the night boat to the Hook of Holland. Arriving at the port, through customs and boarded the ship. We were given a white linen sleeping bag and pillow case and a mess space bed number. The mess space was about a third size of the ship, a mass of poles with 6 beds on each 2 poles 3 either side. We had a meal which was the usual cheap pie beans and chips but they surprised us when we all got 40 Capstan cigs and a bar of chocolate for 2 bob and 7pence (about 20p in new money). What a good deal, I'd never had 40 fags all at the one time before. We had a just one pint of beer in the bar, gave up as it was like drinking tap water, getting drowned before getting drunk. It was a nice calm night for the crossing I didn't feel like sleeping, made my way to the after end of the ship, two airmen [Scottish] was sitting on the big tie up ropes drinking a bottle of whiskey, thought lucky guys, I can remember all of this quite well. One of them asked ''first time on a crossing'' I said, yes he then asked me ''would i like a drink' no way was I refusing that kind of offer, I had a couple of big whiskeys, which made my night, they told me when going or coming back from leave, always have a carry out, as the beer on ship is half water, I said, I've discovered that, thanked the lads and went off to bed. Docked about 6am at the Hook, had a nice breakfast in a big canteen and we were soon on a train again heading through Holland into Germany. The train was nice and comfortable, far better trains than Britain, four on each side of the passage and a table, much to my delight we had lunch and dinner served on route.
Once into Germany the train stopped at different cities letting Army and RAF personal off the train where their billets were. Next for us a one night stop-over at Bucknberg transit camp, about 60 of us was matched to the camp just at the edge of town. The first night in Bucknberg Germany, Danny a guy I was to become good friends with for the next 17 months. I have a story I will tell you about Danny. After demob we sort of lost touch, lots of years latter I was on holiday in his part of Scotland, I was only about 20 miles from his home town. Decided to pay him a visit, soon found his house, his wife Liz answered the door, ''I said you must be Liz, I'm Bill Daly Danny's old RAF mate '' She said I know who you are, you better come in. She told me, Danny died two years ago of lung cancer, what a shock I got, stayed a couple of hours talking about Danny and our time in the RAF and left… Now where was I 'Bucknberg', Danny and I decided to go out for a pint and see the local town. Eventually we found what was an old barn converted into a pub, complete with old wooden seats and benches, does anyone remember it?? The locals didn't seem too friendly towards us. They acted like we shouldn't be here, so not known what to expect we just had a couple of pints and moved out back to camp. On the way we passed a couple of local girls my new mate Danny decided to be friendly and try his luck, he said 'Hello girls' I don't know what they said to us back but I could easily tell it wasn't very friendly. I thought to myself, ''Welcome to Germany."
The next afternoon we left Bucknberg for our permit camp RAF Wunstorf with a packed lunch, no sooner on the train, out came the cards for three card brag for pennies. Arriving Wunstorf train station we were met by two cpls, had a roll call, there were 40 odd airmen got off the train, we piled into four camp wagons for the short journey to camp. I was glad to see it was a stone block billet, I can still remember for the first time going through the wooden glass panel door. The first floor there was small rooms along each side of the corridor sleeping 4. On the next floor up, more small rooms, a large toilet with showers and loads of wash hand basins. I was really glad about the showers; back in England had 4 baths between about 60 guys, which meant virtually no chance of getting a bath or one with hot water. The top floor housed the two main billets sleeping 22 in each billet this was where we would be for the next year or so, they told us eventually we would be moved into the smaller more comfortable rooms. After more than a year, we finally did get moved. A couple of guys from the sqdn came in for a natter and told us we were in 31 LAA sqdn and gave us all the gen on the camp and routine. We had our own canteen with German cooks who seemingly came up with terrific meals,. Gun sheds and offices were about a mile or more along the runway. The sqdn wagons drove us there in the morning and back at night. Also stationed in the camp were 32 LAA sqdn and an armour car sqdn. We were given coupons for a fortnightly ration of 240 capstan cigarettes at a shilling for twenty, a great deal and coupons for sweets, I flogged my sweet coupons to guys that didn't smoke for fag coupons, and then flogged the fags to the Germans DSO guards for double the price. The Malcolm club was opened every night and at six or seven old pennies a pint, was where most of the regiment spent their nights. Booking into camp the next day the sports officer asked if there were any life guards among us.
Main Gate of RAF Wunstorf - 1948
My hand shot up and I told him I'd a bronze certificate for life saving. 'Great.' he said, I'll have you temporally transferred to the sports office as life guard for the swimming pool. The next day reported to the sports officer at the pool. It was an open air, 25 meter pool with nice marble slabs and, with grass and bushes all round it, was well hidden from the main camp. The pool had two dressing rooms and a club room for stowing all the pool gear. On the wall was a chart with the days and times officers, Sergeants and their families would occupy the pool. Things were definitely looking good and about to get even better, as I'll explain later. After a few weeks being the life guard at the pool I discovered that the officers were pretty much a pain in the arse,. They kept complaining the pool was too cold, the pool had leaves floating about, the dressing rooms were wet, and so on and on. I thought; stuff them, bunch of whining spoilt brats. One afternoon officers and families were occupying the pool I was sitting on the usual high bit of grass, keeping a eye on the kids, incidentally asked the sorts officer for a high stool to keep a better watch of the pool, he said ''I must look into this for you '' 17 months later I still hadn't got the high stool, typical. One afternoon this officer approached me and said ''Life guard, is that all you've got to do just sit there sunning yourself '' I came back with, '' That's right sir I just sit here and make sure your kids and all the other kids don't get into trouble disappear under the water and drown'' he knew he had boobed, It all came out my month kind of quick, I thought, I may be sorry I said that to him, and true enough, he gave me a bad time of it for quite a few weeks, I think he must have been posted, never seen him again. The Sergeants and their families were all nice and friendly, a couple of the wife's wore the two piece bikini, it was just coming in to fashion, so not only did I watch the kids I watched the wife's as well.
One sergeant can't remember his name, asked me to teach his two kids to swim, a couple of weeks later I had them confidently swimming, he promised me he'd take me up for a flight. I was pretty excited about this. The next sports afternoon he made arrangements for the flight, met him at the hanger and was given a parachute, but the only plane I could see on the runway was an old Tiger Moth. I said ''Oh no, please not that!'' I'd thought it would have been a Jet Meteor or the double tailed Vampire so I reluctantly got into the open cockpit and got all strapped in with the helmet and goggles on. When we took off I was feeling a bit apprehensive and rightly so because, before long, we were doing loop the loops, figure of 8's, flying upside down not much above tree top level and, in case I wasn't scared enough, flying with the engine off! I was up for about 30 minutes before the tension and fear left me and then I started to enjoy it, discovered what a real thrill I was having. After about an hour we came down thankfully on a perfect landing. I will never forget that truly amazing experience and since I've told this story so many times, I doubt my family will forget it either.

One morning our Sergeant called me into his office. He told me he also came from Clydebank, my home town. He was the camp Mess Sergeant and asked me if I would like to be a waiter at the sergeant's monthly dances. Ten shillings was the going wage plus you could make about two to three quid in tips. Of course I jumped for it without hesitation. I was to bring a reliable mate as another waiter, shoes highly polished, clean collar and tie, hands, nails clean, - that was the usual inspection before each dance and it wasn't just a monthly dance, they had dances for every public holiday and any other occasion that would crop up. Each dance was as good as two weeks pay for us and at the end of the night the tables would be littered with untouched drinks. The drink was so cheap they just left it on the tables and went home. Norrie [new billet friend] and I would fill the empty beer bottles with the left over drink; whiskey, gin, rum and whatever and take it back to the billet. The lads were always waiting up for us coming in with the drink. We had a lot of good late nights drinking, playing 3 card brag, or having a good natter about girls and home life. I managed to keep that nice wee side line till I left camp for demob. When I think about how lucky we were, from the sergeant mess we had about a 150 yard walk to our billet carrying all that booze and not once did we run into the camp SP patrol, hate to think what would have happened if caught Life in the RAF regiment was not so bad after all, all that bad talk was unfounded. There was about 40 odd WRAF's in the camp. At the Malcolm club monthly dance, there were about 20 WRAF's and 200 airmen so it was hopeless trying for a dance never mind anything else. Discovered Danny was a good partner to dance with, [no he's not gay] at that time it was, Quick-steps, Slow-fox-trots, Tangos and Blues. One night we won the Spot Waltz, two fountain ink pens; it almost caused a riot because we were to males… Apart from that, as I said, life was quite good in the camp, the food in our canteen was excellent and compared to English camps and what most of us had been used to over the war years was very much appreciated. The German cooks could sure did come up with very nice lunches and dinners. I started to think about signing on for the third year but there was always the thought that you be posted to another camp anywhere in this world, so it was always put to the back of my mind for another day to think about it. .
I asked the sports officer to put up some notices for anyone interested in swimming and water polo to contact me at the pool. I got a good response and had a gents and ladies swimming teams in no time. The RAF swimming championships in Celle was about 4 or 5 weeks away, so I started the training hoping to have a team good enough to take to Celle. We had the pool three or four hrs a week for training. After about four weeks of good hard swimming and polo training I thought the teams were good enough to compete in the swimming and water polo events, which would last over three days. The sports officer made all the necessary arrangements for the trip to Celle and listed what events we would be competing in, and then he tells me he won't be coming and that I would be in charge! The day came and we were off, I think there were about 14 of us. We arrived ok and were shown our billets. There was a notice that all team captains report for a meeting, so there I was sitting among all these officers and no one taking any notice of me. I sure felt right out of place. The pool was 25 meters with plenty of seating, so I was right up for this and feeling real fit. I was in the 100 meters and being tipped as a hot favourite for the race, I could hear guys whispering ''That's Daly from Wunstorf '' Before the race I decided lay out in the warm sunshine at the pool and get a bit of a tan. Little did I know this would badly affect my muscles, they just seem to tighten up as I hit water for the start of the race, it was an absolute struggle to finish the race, I did finish and I was last, I was lucky to finish the race at all. A wee bit humiliating to say the least. I had to keep my head kind of low for awhile, but we did win a couple of medals. The polo team, went out in the first round, the referee made sure of that, the same referee played polo in the tournament for his camp, which should never been allowed. I did protest, but as usual, it was a waste of time. We didn't do as well as we thought we would, a couple of bronze medals and that was it but it was a good three days and enjoyed the nights in the Malcolm club. This I remember well, arriving back at Wunstorf train station, we were waiting on the camp bus to pick us up and out of the blue the Corporal in the WRAF's team suddenly spoke out, ''I'm putting a vote of no confidence in LAC Daly as the camp coach.'' A wee squeaky voice from somewhere seconded it. Obviously some behind my back moves were being made to get me out, but nobody seemed to know what to do next.
They sat just looking at each other. Being in the Clyde shipyards and knowing what meetings and strikes are all about; I spoke up, asking, ''Is there anyone other-wise minded?'' A voice piped up, ''I move it should remain as it is with LAC Daly coach.'' This was seconded and so it went to a vote. ''Remain as it is'' got about twelve votes and the motion to get me out got a mere couple so that was that over - no more said. The summer months were passing quite quickly and when we were into October the pool closed down for the winter. I was back in the sqdn. One morning I was told to report to the CO's office, oh, this is bad news, that's about the only time a C O would send for you, if its bad news about home. With a look of apprehension on my face, smart approach to his desk and smart salute. 'Sit down Daly' he said, 'I've just received a letter telling me you have been selected to swim for the RAF in the 2nd TAF championships in Berlin.' I was to report to RAF Fassberg for indoor pool training. The CO. told me how he was delighted one of his men being in the 2nd TAF swimming championships and immediately started talking about signing on and what he could do for me if I did, I said, ''I was already thinking about it'' The next day I was on a train for Fassberg. There were a few other airmen on the train for the same reason and we soon got together. Arriving in camp, I wasn't too keen on it, it seemed miles from any town or village. To my horror discovered the coach was the referee who gave my polo team a bad time of it at Celle, so there were bad feeling between us, I thought I'd be the first to be sent back to camp as not needed. At the first training session, he called me over and said, ''I know you have ill feeling towards me but lets forget the past and help me pick a team for Berlin'' I knew then I was going to Berlin. The training was quite hard, the best was picked and the rest sent back to their camps as not needed. I can't remember how long we were there or much more about it, but I do remember the train to Berlin.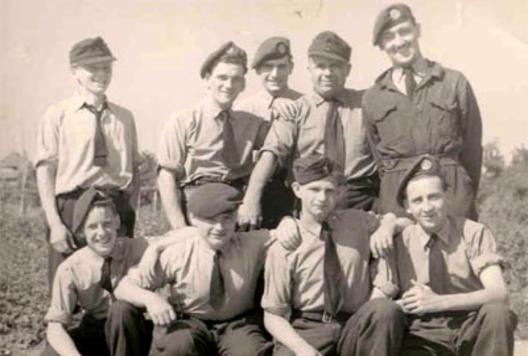 Germany: I am second from left with some mates and German GSO GUARDS
The train had to go through the Russian zone. I think we were stopped at every station for checks; the army was on guard duty in our train with loaded Sten guns. I asked the nearest Officer, '' What was all the armour for?'' He said, "To stop anyone escaping to the Russian zone and anyone trying to escape into the west zone." Eventually we reached Berlin and were billeted in the Olympic stadium; the one Hitler had built for the Olympic Games. It was a delight racing in the big pool. I think the championships lasted about three days but we didn't win any medals. The army was a bit too good. We lost the final of the water polo to the army, I scored the first goal and that was about the last time I managed to touch the ball, they closed me right down. Looking back, maybe the real reason we didn't win anything, was that at night time when we should had been in bed for nine during training and competing we were in the Berlin beer cellars having a few pints and watching the strippers, seen my first stripper, no wonder we didn't win medals! Going sight-seeing in Berlin, I was quite surprised at the standard of living; big shops full of food and household goods, markets selling anything you want. I began to wonder, WHO WON THE WAR....

The swimming championships over back in Wunstorf, things were moving along nicely. Springtime arrived, the pool was open and I was back on life guard duty and spending most nights in the Malcolm club. 48 hr passes we spent in Hanover. On one excursion in a restaurant in Hanover I got chatting to the waiter and discovered he was a pilot in one of the planes that blitzed and obliterated my home town Clydebank (Only 7 houses in Clydebank escaped damage after 2 nights of German bombing). I thought maybe he's kidding me, but what he described about Clydebank made me believe him. I wondered after a while, if maybe I should've decked him one.
Every six months we were entitled to a 14 day leave pass, I think we got 3 days travelling time as well, always enjoyed the travelling home from and too Germany, leaving camp at 0.800 hours on the camp bus for Wunstorf train station. The boat train arrived 08-40 hours (always on time). It was a nice comfortable train with lunch and dinner served. We arrived at the Hook about 20.00 hours, went straight on to the boat and sailed at 23.00 hours. Had the usual cheap meal and down to the aft-end of the ship with our carry out, it was no problem getting a bottle of whiskey from the sergeant mess with the promise to chip the empty in the channel before docking in England, reason being it could be traced back to camp if the customs got a hold of it. Docked in Harwich the following morning about 6 through customs, train to Waterloo, tube to Euston, 11.10 train to Glasgow, and bus to Clydebank and home in time for dinner. It was drinking, dancing chatting up the girls for the next two weeks, no complaints there but as usual it all past quite quickly. Going back to camp in Germany after leave didn't really brother me as it did while stationed in England. I looked forward to the travelling and was enjoying camp life; the thought of signing on was still quite realistic. While on leave a new airman had joined the swimming team, a Scot from Hamilton. He was also a life guard, good swimmer and water polo player.
Passing Out Parade: Hereford July 1951, I''m top back row ,6th from the left.
I made a deal with him to share life guard duty at the pool; we each do one week on and week off. It was good to get back in the sqdn. I missed the outings to the rifle ranges and LAA shoots. Thinking back to my last leave before demob, Danny managed to get his leave same time as me. We decided to meet up and stay with me for the last night and we would hit Glasgow and did a pub crawl and eventually into the Greens Playhouse dancing, I'm sure it was Doctors Crock band, does anybody remember them? Sunday morning we should have been up and caught the morning train to London in time for the boat train to Harwich but we decided to get the afternoon train thinking we'd be ok for time. It proved to be a fateful decision we missed the Boat train connection by about twenty minutes, the next boat train was two nights away as the boat only sailed for the Hook every second night, so we were AWOL. We reported to the SPs in the station and they directed to a under ground shelter in the station, there were about 12 double bunk beds and a small canteen, there was also some army guys spending the night. As yet we were not under arrest; I suppose that would come as soon as we got back to our sqdn. We ended up that night having a few pints and going to the Hammer Smith dancing which was a waste of time as it was full of yanks, no chance with the girls. The next day we were running short of money, we had these new suit cases we bought in Germany for a few marks, but worth about a fiver over here, so we decided to pawn one, tossed up to see whose case we'd sell, I lost. Dumped my gear into Danny's case and off we went looking for a pawn shop found one I think we got three quid for it, spent the afternoon in the movies, back to the shelter for dinner, I think we had one last pint and caught the boat train. It was an uneventful crossing as we had no carry out for a drink on the boat as we drank it staying in the station shelter but money for the usual on board ''pie chips and beans''

Plus the cheap fags. It's a long haul on the train from the Hook to Wunstorf; I was thinking of the time I did my orderly to our flt sergeant, I'll tell you how that came about. The pool must have been closed for winter as I was back in the sqdn. After morning parade was told to report to our flt's office, I remember his words, '' Ah Daly you're my orderly for the next four weeks, there's your desk, type writer, phone, kettle, tea, sugar and biscuit tins make sure the tins are never empty'' it was a good skive, took phone calls, typed out letters, for daily standing orders. Notice when the lads came back of leave every other day, came into the flt's office and handed in their leave pass, the flt dropped them into his bottom drawer which was his bin drawer and I emptied it every night, only now and again he'd check a few passes. By this time we were three days AWOL , I thought, if not charged after first parade they have not checked us out yet, we could take a chance hand in our passes and not say a word.Well, that's what we did and we got away with it, kept it quiet among the lads didn't tell any one in case it leaked out, thought to myself that's the second time I've beaten the system.
Life in the camp was going along nicely; most airmen had a routine they kept too after last parade which went something like this. After dinner and back in the billet, jacket, collar and tie off, make the bed, Blanco webbing, polish boots, an hours kip, then down to the toilets for a shit, shave and shower, battle dress or civvies on and the usual visit to the Macomb club for a few pints and hopefully nick a WRAF, WHICH WAS WISHFUL THINKING, then back to the billet and, if in the mood, a game of cards and a drink if any was left from the sergeant's dances. The odd night we went into Pogenhaggan if there were a dance on. There was a Displaced Persons hostel not far from the village and quite full of young German homeless, who were not too friendly to say the least. It didn't take a lot to start trouble in the dance hall or pub so we always made sure there were plenty RAF lads about before staying. I can remember on a couple of occasions having to fling a few punches to prove the RAF were not poofs, One night I do remember, Danny and i were in the village pub, I think there were only one pub in the village having a pint. There were about 5 or 6 guys from the D P camp having a drink and we were the only RAF there, so decided one pint and out. The guys left before we finished our pints, but only to sit outside waiting for us to come out, it didn't take long to figure it out, we were in trouble. Danny says, ''we're gonna have to run'' and that we did. Took a short cut across a field that was full of bomb craters, I remember running round them, back on the camp road we were adding distance from the DP's, I guess we were a lot fitter. About half a mile from camp, they gave up, I can still see Danny giving them the V sign from both hands but I dread to think what would have happened if they had caught us.
Demob was creeping ever so close and I was still giving some thought to signing on for the third year but couldn't quite bring myself to make a move. The longer it was taking the more I thought, ''It's going to be Demob." However, one afternoon the flight Sergeant called my mate Norrie and I into his office. Norrie was also due for demob three weeks after me. He asked us if we wanted to go on a 4 week refresher course to RAF Bucheburg for brushing up on our civvy trade. The pool was still closed for my second winter, so we jumped at the chance and about a week later we were on the train for Bucheburg. The camp was situated almost inside the town. Everybody in camp seemed quite friendly. We had a two man room and the key to the door which gave us some freedom because obviously beds were not being made from one week to another, just on bull nights. The locals were a lot friendlier than the last time we were there. I remember one weekend there was a beer festival on in town. So we spent the weekend sampling all their beers and lagers. Which was maybe one or two too many as I was ill for a couple of days after it.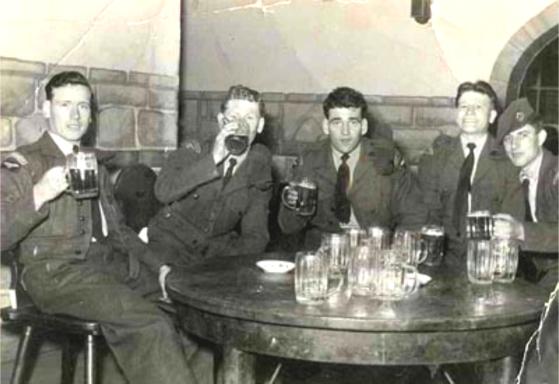 That's me in the middle, 22nd birthday, having a few pints in the Malcolm club Wunstorf Germany

It was a good course, refreshing our memories of the ins and outs of our civvy trade, but as usual it all past too quickly and we were back in Wunstorf again. The pool was opened for summer and I was on life guard duty once more. After a lot of deliberation I decided rather than disappoint my folks back home and also suffer the digs and abuse I would get from the lads in the billet who hate national service, I decided to go for demob which was only about four weeks away.
And so, it quickly came the time for booking out of camp. I think it was a blue or green card with the names of all places I had to go to, to get it signed; the sports officer was disappointed I was heading home and did his best to get me to sign on. It was tough. The night before leaving I had a wee demob party in the Malcolm club. I can remember that night and how I was still wondering if I was doing the right thing. Was I going to miss all this? The RAF swimming championships were coming up soon in Celle, the rifle shoots in Sannalarger rifle range and the LAA shoots in the Islands of Sylk but would I really prefer working in a shipyard? There were also a lot of financial gains to be made signing on again, including a whopping back payment of a higher rate of wages. However, the choice was made. The next morning after an early breakfast I had to catch the 8 o clock camp bus to the train station. It was a really sad moment saying goodbye to the lads whom I had been closely knitted too for the last 17 months. Some of us would stay in touch long after.
It was an uneventful journey back to St Anne's Lytham, UK, the demob station. I met up with some of the lads I initially joined up with, who were posted Middle East. Listening to some of their stories about the Middle East, I'm sure glad I missed it. It sounded tough going compared to Germany.
On pay parade for the last time, I marched up to the officers desk, gave a smart salute and collected my RAF pay and demob papers. Next thing I'm on the train with a lot of happy ex RAF lads heading for Scotland and home. I must admit in many ways it was good to get home and back into the old routine, out every night with the mates, having a couple of pints then off to the dancing. The one bad thing about the time in Germany was not seeing many girls as they were few and far between. Not a problem back home and it was good to have plenty more money to spend.

After 3 or 4 weeks working, sitting in a rusty old, very noisy, repair ship, my hair full of rust and my hands and nails black, I began thinking, maybe I should have signed on again after all. The very next afternoon I took the half day off work, jumped on a bus for Glasgow and headed for the recruitment place where I got my medical. I spoke to the interviewing officer, enquiring if I could still sign on for the third year. ''NO CHANCE!'' It would have to be for 4 years and with no guarantee I would get posted back to my old sqdn. So that was that, funny how life works out. About a year later I met Ellen and settled down to a serious bit of courting. A year or so later we got married, had five kids over the next eighteen years, two girls then three boys, four are married and I have six grand children . I have a disabled son Scott still at home who was involved in a road accident as a kid. I spent my life working in the shipyards on the Clyde until I retired at 58 after my firm went bust. I'm now 82 and enjoying retirement and computer life. I joined Forces Reunited and MOD Reunited quite a few years back and I've been in touch with a few old mates from my RAF days. A few years back I had a quadruple by-pass, a new knee replacement, eye op and nick op and, even though my swimming and dancing are somewhat curtailed, I'm still hanging in there, hoping for many more years to come. If anybody and there were plenty asked the question '' would I do National Service all over again'' the answer was always YES even the square bashing. The two years National Service made men out of boys, installed discipline, and brought stability among the youth of Great Britain, that was then, maybe they should bring National Service back now, for all the youths who are out of line instead of prison the ''army'' just a thought. '' The end