I joined the W.R.N.S. in 1941 because it was obvious my age group (18-19) were going to be conscripted and the Wrens took hardly any (if any) conscripts and I did not want to go into any other Service or be in a "Reserved Occupation" - a City accountant's office was not my idea of helping in the War effort!
So with my friend Jacky from the same office I volunteered and was duly sent to Portsmouth. A fortnight's training at Bowlands in Southsea - lectures on Naval procedure, squad drill in the road outside, sleeping in double bunks with very hard mattress and pillow. No uniform was available as the factory had been bombed. At the end of a fortnight I was drafted to Commander-in-Chief's Unit, quartered on South Parade Southsea and working in Fort Wallington in the SDO., 48hours at the Fort and 48 down after a night watch. This was signal typing
A day job came up which I was suggested for in the Command Amenities Office, this was in the Dockyard and had to do with the issueing of gift comforts (sea boot stockings, jumpers, balaclavas etc.) to the men in the small ships. Also writing thank-you letters to everybody who knitted them, entermainment etc. I also acted as secretary to several committees and helped at the Empire Rendezous (a residential hostel for boys from Australia, New Zealand, South Africa etc.
Then they asked for volunteers for overseas service, so I put my name down and in due course was told to report to Golden Square after embarkation leave ( my parents were not happy but didn't try to stop me - I was by now 21). Thirteen of us sailed in the MV.Letitia from Gourock with a piper playing and the convoy all formed up around and the escort ships chivvying them all up.
Five days later we arrived in Gibraltar - we had no idea where we were going until we sailed and were very disppointed as we had hoped we were going to Africa. However we settled in and were given our jobs - watch-keeping again in the Cypher Office in the Tunnel. A day job came up working in Captain (D) office so I stayed there for the remainder of the 2 years (March 1945).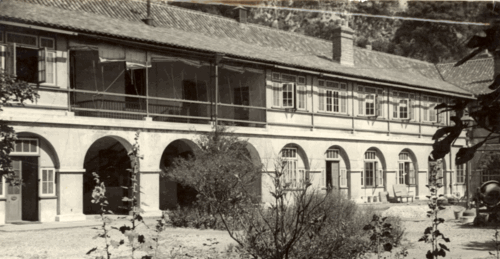 The Wrennery at Gibraltar 1943
There was no local leave as there was nowhere to go - we were only allowed into Spain for a day and only very few passes available. So we worked pretty solidly - I think I had two half-days off a week and sometimes a day. We had a fairly busy social life and had to wear civilian clothes to go out, ( in fact we were told to take an evening dress with us). We were not allowed out after 1800hrs without a male escort, we also did quite a few amateur theatricals.
When I came home (after 3weeks leave), I was sent to HMS Raleigh in Torpoint as a Petty Officer, this was a shock to the system as it was very "pusser" being a Training Establishment with Parade Ground, Squad Drill, (haven't done any for years!!). Divisions, a real Band etc etc.
We were quartered in a stately home, Anthony House, the home of the Carew-Poles, a beautiful place. We were in the Dower House, Maryfield, and had transport into the camp every day - a lorry with a rope to pull ourselves up. I worked as the Commander's Writer. I was demobbed in 1946.
Left to Right - Lorna Young, Daphne John and Muriel Currie MBE. - Royal Navy Reception given to Gibraltar Veterans August 2004 - HMS. Grafton in background.
.Copyright: Text & Images: Daphne John
Email to: Daphne John
(Put in subject: Daphne John)