NATIONAL SERVICE AS A PHONEY REGULAR
by Doug Laidlow
With the school leaving age fifteen, for some reason I had stayed on until I was just short of my 16th birthday. I think it may have had something to do with my disrupted schooling. For I had not returned directly to London following the end of the war. My parents home was bomb damaged and was not fit for children to live in. So it was a year with mother and siblings at her friend's house near Raynes Park in Surrey before eventually returning to the Metropolis. We had been allocated a requisitioned property in South Lambeth Road between Stockwell and Vauxhall and moved in on Christmas Eve 1946. What a time to be moving. More I think to satisfy our Surrey hosts than it being a choice of my mother. Another school for just a few months before being placed in yet one more for my last 3 years. My memory is of the end of summer term being the only time one could leave school so in July 1950 the big day came. That meant that my stop gap job as an office junior off Bond Street in London's West End would only be for a couple of years before I would receive my National Service call up papers. I had no fear of being away from my family for it was only six years previously that a similar time had been spent as a wartime evacuee at Knaphill in Surrey, while my parents remained in London. I had also been to a couple of school summer camps at Swanage in Dorset and Boxmoor in Herts. Now, I was a young man so I thought and would surely handle my call up with no problem. Even so there was a certain amount of trepidation.
For this was going to be another whole new experience. National Service was compulsory but we were supposedly allowed the choice as to which of the three Services we would like to join. It was always my preference to be in the RAF but one's choice was not going to be what one always got. I am not sure if I was informed of that when I was required to attend a pre NS medical in Montague Square W.1. What I do remember is being told at some point that if I signed on for 3 years my choice would be almost guaranteed. Well, I thought an additional year was no big deal. I had no set ambitions for the future, job wise. It would be extra money too, come a payday. 49 shillings (£2-45p in today's money) a week as opposed to 28 (£1-40p). That actually would be more than I had been earning in Civvy Street. My wish was granted and in the October of 1952 I was on my way to RAF Cardington a reception centre in Bedfordshire for the kitting out, swearing in, plus more than a few jabs. Papers also to be filled in and signed. I had been graded medically as 2A with no idea why. Given a service number of 4112665 these details had to be entered along with religion. National Service numbers began with a two but for regulars it was a 4. I was not a bolshie lad, in fact quite shy but the religion question gave me a problem. I had been christened C of E and during the whole of my evacuation had attended Sunday school and been a member of the church choir. In those days it was morning and evening service along with weddings. So religion should not have been difficult to answer. How ever I had not attended church since 1945 and my father was an atheist. So I thought that would do for me also. Came the day of being sworn in and this was done with the deletion of the words "I swear by almighty God". I was already beginning to feel a little awkward but I was going to have to live with that. Uniforms etc., were supplied and injections were given. Typhoid, malaria and tetanus I believe and all at the same time. My memory is of several hundred new recruits standing in columns in a large hall. All with arms forward and bent at the elbows. White coated medical staff worked their way along either side of each column. Now I was never a lover of needles and wondered just how long I would be standing up. I blame the school dentists for my phobia as cocaine or gas I think they would have asked. No question it was gas. The smell of those places too. I kept my gaze towards the ceiling and at the same time could hear the thump of others hitting the deck. So I was not alone in my fear of needles. My turn came and somehow I was still upright. Job done and I was out of the door in double-quick time for some fresh air.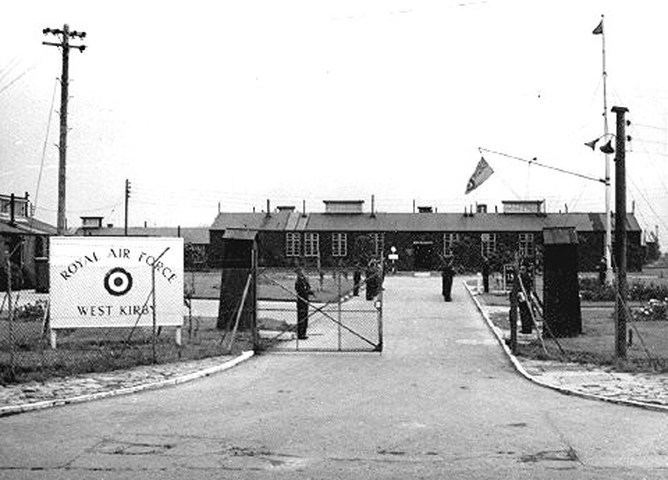 Welcome to West Kirby
Five days at Cardington was my recollection. How that time was filled is a blank. I would have thought that physical training would have been on the programme. Also I believe it was here that we made our choice of trade. Then it was time to depart by train to our allotted square bashing camps. Most of us had heard stories about which ones were the worst and my posting was to be to one of those high up on the list. West Kirby in the Wirral in Cheshire was going to have my company for the next 8 weeks. From boys we were soon to become men even though some of us may have thought we were men already. I encountered the first problem in relation to my choice of religion. It was on the train making it's way to The Wirral. A corporal had been along the corridor of the carriage handing out buff coloured cards that was to remain with us throughout our service pinned to our bedside lockers. Number, name, rank, religion and trade had to be filled in. Later he was back to collect them. I do not suppose that he was much older than my self but he had a couple of stripes to. He took my card, studied it and then said "atheist eh" to which I replied "yes". Then followed my first taste of discipline. What followed next was "stand up AC2 plonk. When you reply to me, it is yes corporal". To be honest I nearly wet myself in fright. Not even my parents or wartime foster parents had spoken to me in such venomous tones. Something that I was going to have to get used to. I am sure at that time I would have been wondering just why I had opted to do an extra year. Discipline in the billet block was so strict. Blankets and sheets squared off to perfection at the head of the bed each morning. Every morning we would have stand to attention by our beds while our efforts and ourselves were inspected. In the early days hardly a bed was satisfactory, though to us they had looked fine. Bedding probed apart by the drill instructor corporal or sergeant with the baton they always carried and made to do again until it was right. Floors polished so we could see our faces in them. In fact if it did not move then polish it seemed to be the requirement. Those early days were a bit of a shock to the system. Several of the supposedly hard nuts in our midst were driven to tears. Our first taste of marching on the parade ground was a shambles. To be honest the first couple of weeks saw little improvement. Arms and legs all over the place. Rifles ending up on the ground. An Irish Sergeant by name of Meehan was really hard on us. Such things would be said as "pick your arms up or I will break them off and hit you over the head with the soggy end of them". I am sure that such was our fright that we would have believed him. Those of us that had decided to go for the 3 year stint were known as phoney regulars. Seemed like we were being told that if we wanted to be regulars we should have signed on for something worth while and not just come in for the extra few shillings. The DI Corporal would also be buzzing around screaming in our ears. Human rights now I believe would require troops being spoken to politely and gently. Looking back, what we got I think was more preferable. It taught us respect, though at the time we may not have thought of it that way. A nightly task as we sat on our bunks was the to blanco our webbing and the polishing up of the toecaps of our boots. I must have been issued with a duff pair for I could not get the sort of shine that others were able too achieve. Back of the handle of a spoon warmed up on the heaters situated down the centre of the living quarters was I believe the way we did it. A bit of four by two to pull down the barrel of the rifle. Cannot see how it got dirty daily for it was only used for square bashing. Religion or lack of it again cropped up with a midweek church parade. I along with two agnostics and a couple of Jewish lads were directed to the Greek Orthodox Church that was on camp. From what I can remember us non believers were given some sort of a sermon. Never did understand why such a mixture was directed to that establishment.
The rifle range was a bit of a farce for me. My eyesight was not so good. At school I had at one time sat at the back of the class, yet by the time I left I was sitting at the front. At home we had gas mantles only nothing as modern as electricity and I used to read a lot in bed. However we were so poor. An old penny –240 made up a pound -- in a slot meter kept the gas supply going. We were poor and mother would not allow the gas mantle to be lit for such purposes, so it was a 2.5v bulb and an 800-size battery for lighting. My score on the range was nil. I reckon that the airmen lying either side of me had a few extra holes in their targets for there were not any in mine. As time progressed we were improving to such a degree that apart from the words of command very little shouting and screaming was to be heard. So came the day of the passing out parade. We had become a pretty impressive squad. Yet another batch of raw recruits had been fine-tuned and I am sure that our DI's would have been pleased that they had knocked us in to shape. How I loved marching, especially so when the occasional band was in place. Our Flight Officer came to the block before our departure to the parade ground to inspect us. He looked at my boots and was unhappy with the lack of shine. A nice chap, he even made an effort to bull them up for me but conceded I had been issued with a pair that he was never going to see his face in. He was however quite sympathetic but I was not permitted out on that final parade in front of the Station Commander who was a Group Captain I believe. He would be taking the inspection and I was not going top be allowed to mess it up. I had to be content watching from the barrack block window. I was envious.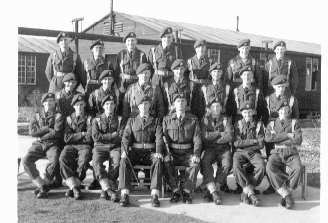 West Kirby, I am back row far left
From the age of twelve I had been an avid cyclist. Racing, club runs, touring etc., Just a few weeks before call up I had done the London to York return trip of 410 miles in less that 3 days. The previous years holiday with my father it had been London-John O'Groats-Lands End-London. 15 days away and 1930 miles in the legs. How I was now missing my bike. I had never been off it for more than a day or so. Around 13,000 miles annually would have been the norm. Now it had been over 8 weeks and I recall my legs giving me a bit of gip, what I would describe as withdrawal symptoms. Soon however I would be home on leave and back in the saddle for a short while before commencing my trade training. There would have been a NAAFI on camp at West Kirby but I cannot remember any socialising. We would have been confined to camp in those early days. May be because of the fear that some of us just might do a runner. I do however recall a trip to Anfield to see Liverpool play Arsenal. Pre Bill Shankley days I reckon. The score of 4-1 in favour of Arsenal, was in a season when Liverpool were relegated to the old Division 2 if memory serves me correctly. Square bashing finished and it was home for a short leave before making my way to Compton Basset a radio training school in Wiltshire.
Riding TT in 1951, its the A3 just north of Ripley, stretch of road known as Fairmile.
My choice of trade was Radio Telephony Direction Finder. No particular reason to want to be an RTDF operator and I was to regret that choice as time went on. Weekends home were frequent. I did not want to take advantage of a travel warrant on the first of these weekend leaves, as my return to camp would be by cycle. I got away around lunch time on the Friday with a half mile walk down to the A4 and then off in the direction of London. I had not gone too far before a car stopped to request my destination. A two seated open top sports car and as luck would have it the chap was going all the way. I would need only to take the tube to my Stockwell home from Hyde Park Corner. Now, I had travelled in military vehicles since joining up but I can honestly say that this was the first time ever that I had been in a motorcar. Sounds ridiculous in this day and age but it is true. At some point the driver of this Jowett Jupiter Javelin said he hoped that I did not mind the speed that they were going. I looked across and saw a dial that indicated 30. No problem I told him 30 is not so bad. He corrected me with the reply that actually we were doing around 60. Wow! I have told that story many times and no doubt have sounded like an idiot to the more informed. Last summer I went to a local village fete and part of it was a vintage and veteran car display. There sat a JJJ to which I made a beeline. For I had always been curious about my observations of 50 years ago. An inspection of the cockpit showed two dials with a rev counter to the left and the speedometer adjacent to it. I could now see that the 30 I had spotted related to 3000 revs. The Sunday morning I went out for ride with my South London club mates. I turned short for I needed to be home for a bite to eat before setting off back to Compton Bassett. 88 miles to camp down the A4, which was just before Calne the home of Harris's Sausages and Pork Pies. You can bet there were a few of them dished up by the cookhouse. Not an unfamiliar ride to me for I had many times previously raced in Time Trials on the Reading-Marlborough section of the A4. Those were the pre Newbury By Pass days when one could ride right through the town unhindered by traffic lights. London to Bath and back in the day had been a twice-annual affair. A small matter of 210 miles with 12 hours about the normal time lapse. The 1950's were a time certainly of great days to be a wheel. Cycling is still in my blood. As my father used to tell me, it is something that one can do from the cradle to the grave. I wonder just how many miles would need to be added to a London-John O'Groats ride these days for a safe and comfortable route. To think that I have cycled the length of the A1 and then onwards without a fear in the world. Today the A1, dual carriageway for the most part and upgraded to motorway in some sections is as busy as the M1. While cycling on the A1 is not barred to cycles it would be in my mind a much quicker way to the grave that father had mentioned. Trade Training was going well and Wednesday afternoons were time for sports. Those with bikes on camp were allowed out and some great rides ensued. A particular chap in our midst named Alan Newton I think, made it quite hard for us. A member of the famous Manchester Wheelers, he had but a few months earlier secured a track medal in the 1952 Olympics. 60 mile rapid rides were the usual thing as we traversed the beautiful Wiltshire Downs. The Manchester Wheelers had been the club of one of my idols Reg Harris. A British sprint champion for years, I had seen him beaten for gold in the '48 Olympics at Herne Hill. Subsequently he turned professional for Raleigh and took the World title on about six occasions. At the age of 57 Reg was to make a comeback and duly won the British Crown. If you have heard the expression "who do you think you are Stirling Moss?" or for motorcyclists it would be "Geoff Duke" or "Barry Sheen". For cyclists the inference would be Reg Harris. Seven Horse Hills is what I remember the area as. Huge white horses cut in the chalky Downs that showed up for miles around. I never managed to see all seven. A training area also for race horses there being a number of racing stables around. Apart from Newton the name of Rand rings a bell with me as an Olympic rower also being on camp. I was lucky enough to have a club mate Ron Vimpany stationed at the Radar Training School at RAF Yatesbury only a couple of miles from Compton Bassett and adjacent to the A4. So a few evening rides together were great. As civilians he had been my best mate with twice weekly evening training rides from London down the A3 to Guildford and then home. Sprinting for every town or village sign. It seemed like that nothing had changed. I am still in touch with Ron.
A few weeks on and I was beginning to feel uncomfortable about my choice of trades. To explain the duties of an RTDF operator. Selecting various frequencies a bearing had to be taken on the speech transmitted from an aircraft. This was done by spinning a large horizontal wheel until a certain spot was reached. A sense plate was then depressed with the thumbs and if the volume went up it was the reciprocal of the bearing needed. I was having difficulty in detecting the difference. Needing to spin the wheel a number of times and even then not being certain whether I had it right. This fortunately was not yet the real thing where one would need to pass that bearing direct to an aircraft or through the Tower.
Those weekends when I was not going home it would be a Saturday evening at the NAAFI club in Chippenham. A great dance night. The problem was, I could not dance or even have the confidence to shuffle around the dance floor. I did however love the big band music. Sunday's would see me out with the Chippenham Wheelers. A great cycling club to have been associated with. Quite used to having servicemen tag along, Yatesbury Radar Training School and RAF Lyneham being just a couple more of the numerous camps in the vicinity.

RAF Stradishall, I am 3rd from left, back row
My Trade Training was completed with 3 weeks at RAF Stradishall. I visited the area a few years ago to find that it had been converted to an HMS Prison. The building that one operates from as an RTDF operator was called a Homer. It could be brick built or mobile. On the airfield or even outside the perimeter of the base. For training purposes we would be operating from a mobile unit. Actually taking bearings from aircraft messages to local airfields. This problem of detecting the variation of signal when using the sense plate was still a problem. I was scared at that stage to make an issue of it for I would have wasted so much time and money. My efforts must have been at least reasonably successful because I passed the course exams in theory and practical though by how much I do not know. At the completion of the course we were given the names of the Stations where we were to be posted in order to carry out our newly won skills. RAF Lyneham a Transport Airfield with mainly Hastings aircraft in use was to be my new home. I could not have been more pleased as it was only about 10 miles from the trade training camp at Compton Bassett, albeit a little further away from London.
I would also be able to continue my association with the Chippenham Wheelers. Again I had been without my bike during the short spell at Stradishall and at the earliest opportunity we were back together again at Lyneham. The Homer unit that I was to be working from at RAF Lyneham was stuck in the middle of a cow field a little away from the airfield. I dreaded my first day of action when I would be talking directly to aircraft. It was a 24 hour airfield. During the day shifts it was usual to have two operators on duty plus a section corporal. I must have been doing something right for I was trusted to be alone during the night shift. I could not though, shake off the butterflies in my stomach each time an aircraft called Lyneham Homer, Lyneham Homer this is ?????. I would have the wheel spinning like mad. Thumbs working the sense plate and bearing passed in the hope I had it right. Certain approaches required a triangle of airfields to pass bearings. Apart from Lyneham there would be RAF Benson and RAF Abingdon involved. It did my nerves no good at all to be phoned by these stations to say that I had given a reciprocal bearing.
On the social scene the NAAFI Club at Chippenham was still with in easy reach for the Saturday night dances. Not intending to be a wallflower any longer I along with a couple of mates booked in to have dance lessons at a Mrs Minto's in Swindon. Soon I would be able to waltz, quickstep, foxtrot and tango. It made dance night that much more interesting. Cycling was also to be an advantage because in off duty hours I did not need to be looking around for something to do. Again there were like-minded airmen on camp so I was never short of company. Those that had a feel for racing as I did were able to get away to represent the Station in races at RAF Benson, RAF Innsworth and others. A Sergeant Slinn who was an airframe fitter was a member of the Swindon Wheelers and was a great encouragement and no mean bike rider. My rides out with the Chippenham Wheelers continued on the weekends when I was not riding back to London. Also when not on duty I was also able to compete in the Wheelers Wednesday evening 10 mile TT's held on a course close to their clubroom at Sutton Benger. A few stories to relate about my near 100 mile each way journey to and from home when on weekend pass. The tyres I used were known as tubular's. They had a sewn in inner tube and were sat on a shallow rim. The need for a rim cement was necessary to keep them firmly attached. It was the type of adhesive that remained tacky so that it would accept a change of tyre should the need arise. But there was a problem, for my cycle shop in Camberwell had posted me two new tyres and I should have applied some fresh adhesive. Except that I did not have any. So I took a chance thinking that I would be able to get some in the town of Marlborough. Goodness knows how long it took me to do those 20 miles for I stopped so many times to bring the tyre back into position for it continually rolled over on to the side wall. Marlborough reached and no cycle shop able to supply the necessary rim cement.. So it was on to a train. It seemed hours for the connection to leave for Swindon. Then another wait at Swindon before getting on a train to Paddington. I needed then to ride in fits and starts the five miles to my home. It took me longer than it would have done had I made it all the way on two wheels.
On other occasions if I was not able to leave camp until lunchtime on Friday I would have an overnight stay on the A4 between Newbury and Reading. I knew this stop well because pre call up days it had been a popular Saturday night digs before racing on the Sunday morning. Mac's Cafe provided breakfast for half a crown and a bed for one and six pence. The sleeping accommodation consisted of five or six old railway carriages arranged as dormitories around the edge of the spacious car park. Weekdays it was used by lorry drivers and the joke amongst us racers was that it was as well we stayed on the Saturday nights for the sheets are only changed once a week, that being a Saturday morning. I found that to be perfectly true as my stop over on the way home was always for the Friday night. For one and sixpence should I have expected better? I said previously that until my Jowett Javelin ride I had never been in a car. Well I had also never been on a motorbike. The weather was not going to be so good and a mate on camp had one such machine. He asked if he could give me a lift as far as Hammersmith from where I could catch a tube train. Offer accepted and quite a nice ride. My pick up for the return would be Hammersmith at 10 pm on the Sunday evening. We were both on time. Both well dressed up for the ride. I had my greatcoat on and gloves. What I should have done was to tuck the sleeves into the gloves. Not having done so meant that the cold air went straight up my sleeves and around the body. No lasting ill effects but if there was to be a next time then I would know what to do.
Cinemas in the 50's may have been a three times a week visit. The camp had a screen but in those days there were usually three circuits in most towns. Odeon, Granada and possibly ABC. While I had no problem generally, my eyesight was not so good when it came to watching films. It encouraged me to visit the camp sick quarters. It was then that I was told that my grade 2A medical on joining up was because of my eyesight. A visit to RAF Wroughton Hospital near Swindon and I became the owner of a pair of spectacles. What I would think were called respirator glasses. Little wire frames with flat sides that would sit nicely if a gas mask ever were needed to be worn. Thankfully I only needed to use them in a cinema and the like.
Coming up to the autumn of '53 I was notified that I was being posted to the 2nd Tactical Air Force in Germany. No base given, for that would be decided once at the transit camp at RAF Buckeburg. There were many stations within 2nd TAF. I was really looking forward to the move. I was still only 19 and in my first year I had already been at five camps and visited a number of others in the course of my cycle racing exploits. Now I was off to Germany and it was all rather exciting. The Isle of Wight was my only previous trip abroad so apart from that short ferry crossing I had not had any experience of the sea. So again it was really another first. The crossing would be around 7 hours from Harwich to the Hook of Holland. What a great life this was turning out to be. Travel documents would have been given out for me to make my own way to Harwich via a short stay at home. The bike had to be got home beforehand for whenever one was posted it was a kitbag to be shouldered. Such an exciting life and I felt that I was growing up fast. I had met many great chaps and can honestly say that I had fallen out with no one. My decision to sign on for three years well justified for how else could I have afforded to see another part of the world. At Harwich I was not alone.

MV. Empire Wansbeck
The ship was going to have a full load. As I recall the ship was the Empire Wansbeck. I had always remembered being told that it was a flat-bottomed boat but recently I have had that assumption corrected by a Don Hazledine www.shipshistory.co.uk The seven hour overnight trip to the Hook was horrendous. My memory is of hammocks below deck as sleeping quarters. I was not ill but can say that no way was I a willing sailor. Maybe it was not rough to those that had sailed before but it rocked and rolled the whole night. My previous experience of 20 minutes on an IOW ferry just could not begin to compare. The history of the Wansbeck was that it was built in 1943 and was a prize of WW2 taken in 1945. It then came under the jurisdiction of the Ministry of Defence and was operated as a Troop Ship on their behalf by Ellerman Lines. I subsequently made another four return trips when coming back to the UK on leave and of course the final return trip for demob. No other ship or trip stands out in my mind like the Wansbeck that had after the war undergone a name change to Empire Wansbeck.
On arrival at the Hook a train entirely for the use of troops was awaiting. It was to be a long old day. Servicemen returning from leave were dropped off at numerous destinations throughout the day and finally it arrived at Buckeburg. This was a transit camp and in a few days I was to be off to the RAF Station allotted that would have the benefit of my questionable skills. RAF Sylt it was to be. Civilian train to Hamburg. An overnight at the Church Army and then a civilian train north for around 150 miles through the Schleswig Holstein district as far as Neibull close to the west coast and just a shade below the border with Denmark. I had heard a little about this posting but I was in for a big surprise. A train change at Neibull and I was on another to Westerland on the Island of Sylt. This was the largest of the North Frisian Isles in the North Sea that I believe had once belonged to Denmark. Four miles off the mainland and possibly several hundred miles east of Newcastle. It had been a long old journey to get there. No ship this time to bridge the gap but a ramp that meanandered across the sea with just a single train track on it. Absolutely amazing. The island was perhaps 25 miles long in a north to south direction and maybe 400 yards wide. Slightly wider in the centre where the town of Westerland was. This was the end of the line. The airfield was just a mile out of town. U boat bases had been at the extreme ends of the island during wartime. Now 8 years later it was to be my home for the best part of the next two years.

A Calmer approach to Sylt
I could not have wished for better. A cushy posting if ever there was one. A beautiful beach by the town and the rest of the island just appeared to be all sand dunes. I was going to love it here. Firstly I had to come to terms with my trade in a new environment. No more dealing with Hasting Transport aircraft. Now it was Venoms and Vampires also Tempests that were used to pull drogues that were for target practice.
The Homer unit was in the middle of the airfield and I was to have an extremely nice Corporal in charge named Judy. A real good looker but she was spoken for as one of the White Caps (Special RAF Police) had already taken a fancy. I was still not at ease with my chosen trade and soon I was to seek an appointment with my Signals Officer, Squadron Leader Wright. I explained my problem and he was sympathetic to my request to remuster to a new trade of Telephonist. The PBX Exchange was attached to the end of the Signals Block accommodation. I was already mates with a couple of the operators and in no time at all settled in to my new trade. Very quickly rising in rank to Leading Aircraftsman and then to Senior Aircraftsman and the princely sum of 77 shillings a week would be my reward for that. That would be £3-85 in new money. How chuffed I was to be able to sew the triple blade prop on to the sleeves of my two uniforms and greatcoat.
Religion again loomed up as a difficulty for on the church parades I was required to march along with everyone else to the church and then to stand out side for the length of the service. On more than one occasion I got a soaking and decided that in future, a believer or not, I would go with the flow. I had thought blow this for a game of soldiers. (Airman does not quite fit with that saying) At some stage I purchased myself a super pair of rimless spectacles from a town optician. Rather like those worn by James Stewart in the Glenn Miller Story. Still only for long distance though maybe I should have plucked up the courage to wear them at all times. I was reprimanded on more than one occasion for failing to salute when crossing with an officer. Having failed to do so it was a case of being stopped in my tracks with the offended officer shouting out "Airman did you not know that you are required to acknowledge an officer by saluting"? Fortunately I avoided being put on a charge.
Full time wearing of spectacles came after demob when on the occasions that I needed to use a London bus I either let it go by or got on the wrong bus. I needed to go to a proper bus stop where I did not have to flag a bus down. Once again I was thinking of my bike and how to best to get it out of the UK. My father made some enquiries and then took it along to the British European Airways depot at Waterloo where for a payment of £2 it was accepted. Within a few days I was notified that it was ready for collection at Hamburg Airport. A train trip down and we were once more together again. In fact this bike with a hand built frame made by Gillott Cycles of Camberwell S.E.5 and purchased on the 24th February 1951 is still with me and in good nick. Five years ago I attended a Kent and Sussex Fellowship of Cyclists Luncheon and met an elderly gentleman named Harry Carrington who had managed the Gillott shop and personally sold me this beautiful frame along with other bits of my choice. I had been able to pay for it as and when I could afford to. A pleasure to meet Harry again after so many years. I explained that I still had the bike he sold me. Jovially, this near 90 year old said it was a good job that they were not all like me for the cycle trade would have gone out of business years ago. So now I had my beloved bike on camp and I set about exploring the island. Not too difficult for there was only one road to the north and one to the south. Roughly of equal lengths. Also with the company of a fellow airman I took a 4 day tour of the Schleswig Holstein mainland area which included going over the border in to Denmark. At one point we rode to the East-West demarcation line near Lubeck. Attempting to take a photo across "no mans land" to the east we were approached by a very excited German policeman who ushered us away, for he said we had a good chance of being shot from across the other side.
Every 4 weeks or so squadrons would come up with their aircraft and supporting staff from main land Germany. Stations such as Celle, Bruggen, Oldenburg and Wildenwrath. I managed to find a very keen officer Flight Lieutenant Etherington who was pleased with my idea to hold weekly 24 KM (15 miles) out and home time trials on the road to the north of Westerland. From there I got word to the cyclists from visiting stations that if they could bring their bikes with them, then Inter Station competition awaited them. Success, for the message got through and as many as a dozen riders were in attendance each week and some rare old battles fought. F/L Etherington was kind enough to give of his time to hold the watch.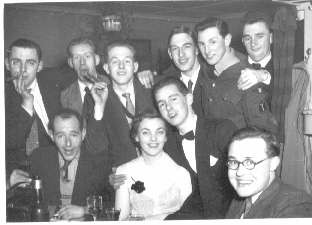 RAF Sylt, me, with good looker, Judy
It was not all bikes. Saturday nights in the town at the Majestic NAAFI club. Also some of the hotels offered dancing. I never learned my lesson that I just could not hold my drink. Always the same pattern a load of bier, Elbschloss was my favourite brand, then a bockwurst-German sausage- to eat on the way back to camp. Head down on the pillow and then everything would begin a spin. Needless to say I was sick. It did not seem to deter me from regular repeat performances. Most of us smoked in those days and at one shilling (5 pence) for twenty it was easily affordable. Some of the cigarettes were almost unfit for smoking because they had been used as a substitute for money at our regular card schools in the billet. They got shifted around the table quite a lot during an evening session. Pontoon I remember as the game that was the most popular.

Known as BAF equal to 5 pence
We did not in fact have cash in 2nd TAF. We were paid in British Armed Forces paper money. Commonly known as BAFS. We could exchange them on camp for German Marks if we were needing to spend off camp. Twelve marks to a pound and six pence. A much better exchange rate than one would have received before they went over to the euro. It had not been much over three marks in exchange for a pound then. I was enjoying my new trade as a telephonist. A good bunch of lads to work with too. Three of them I visited a few years after demob. Pete Staton at Intake that was north of Doncaster and Joe Stott in Garstang near Preston. By bike of course, 1961 was the year and I was on a lone trip to John O'Groats. They were happy to provide me with a bed and breakfast before setting me on my way again. Pete on the way up and Joe as I came back down the west side of the country. Not so lucky when I called in on my old Corporal Ralph Buttigieg at Fishponds, Bristol. Tea and biscuits and a chat but that night I had to find my own digs. He was surprised to learn that I had met his younger brother four years earlier when I was competing in a couple of time trials in the New Forest near Ringwood. The Poole Wheelers '50' was one of them.

RAF Sylt, me left of Pete Staton, at back Joe Stott
We worked a shift pattern that gave us two and a half days off in a 4-day period. On night shift I would often spend time chatting to a lass called Lilo Knoop who worked on the Westerland Telephone Exchange. I took quite a lot of ribbing from my mates who were always asking me how Lilo Laidlow was. It was a purely platonic relationship whereby I used to go to her house once a week for a nice meal with her parents and seven siblings. She was possibly around my age and a very pleasant lady. My German was improving to the extent that I could comfortably hold a conversation in that language. What surprised me was that at no time did I ever feel hated in a country that had lost out in the war just 8 years of so previously. I was never aware of any animosity towards the British. You can be sure that many a day was spent down on the beach. I was surprised that summer was so hot being so far north and stuck as we were out in the sea. But I was not complaining. It was like I was on a super long holiday.
One day our Signals Warrant Officer by name of Scrimshaw told a group of us that were on our way to the beach that if we wanted a real tan then olive oil was the stuff to use. It so happened that in my cycling kit, along with embrocation, I just happened to have a bottle of the said oil. It was for use when wearing shorts and short sleeves if venturing out on chilly mornings. Now it was to serve another purpose. We were going to get a nice red tan. The W/O had been serious about getting a tan but he had not told us that we would end up frying and need to visit sick quarters for treatment. The pain came as we departed the beach after several hours of sun bathing and skylarking about in the sea. We dared not report sick to claim time off from our duties. Time off would have meant being on a charge for causing a self-inflicted injury. Just below the main beach at Westerland there was a section where nudist bathing took place. Abysinnien it was known as. It was not restricted to nudists so you may well imagine that still being young men we often ventured down to that section out of curiosity. At times quite prepared to strip off completely. We were thankful that we had not taken that option on the day we used the recommended sun tan lotion. In the winter of 1954 there was some horrendous weather that caused flooding along the west coast of the mainland and down to Holland. It would have been the year after the East Coast floods that caused such loss of life in the UK. Word went around that the Isle was cut in two. Whether that was right I do not know. I never ventured to find out. What I do know was that for some time there was no train service to the Island for the ramp was several feet under water. As the ramp was normally quite high out of the sea it indicated that there was certainly a lot of water about. This was followed by an especially cold winter. It reminded me a little of the freeze up I experienced in 1947 when a lad in London. So cold in fact that the sea froze from the Isle to the mainland. I did not try it, but I was told that people had in fact walked across. Fishing boats were stuck fast and remained so for quite a while.
Two leaves in the UK a year was not so bad. It meant a train down to Hamburg and the usual overnight at the Church Army Hostel. Then catching the train for the all day zig zag journey through Germany and Holland to the Hook. On one of these trips I got matey with a Corporal SP. He had done a 6-month stint in Hamburg and offered to show me around. I was still only 19 or maybe even 20 and a little green I suppose as we took in a few bars in the St Pauli district. Then we wandered along to an area known as the Reiperbahn. I had no idea what this area was all about. We came across a street boarded up to about 10 feet high. A board from either side of the road, off set and over lapping meant that it was possible to walk through but one could not look through. Painted on the board were large signs stating Out of Bounds to British Servicemen. As I said, he knew the ropes and we wandered in. I had no idea that this was a red light area. Good-looking girls sitting in the windows of houses and men tapping on the glass to enquire of the cost. I'd had a few drinks by this time and remember getting into a fit of laughter. We made no enquiries and were quickly out of the area and back to the digs for a good kip before making an early start the next morning.

Last train for a while 1954
I had expected to see my time out on this fabulous island, but in the March of '55 I was required to serve my last few months at RAF Schleswig. It was a Station with barely more than 50 personnel. Sylt was like a parent station to Schleswig and supplied manpower when needed. It was situated on the east coast of Schleswig Holstein and just below the Danish border. It was another cushy posting and gave me yet another area to explore by bike during my off duty moments and again they seemed to be plentiful. The Schlei Halle Hotel was a favourite place to go for the Saturday evening dance and another place known to us as Wingies where we could chat up the local frauliens. There would have been a curfew time of maybe midnight to be back in camp. Checked in and out at the guardroom I do not think we would have been booked out with number and name recorded for most of us at Schleswig knew the back way in. That was a walk along a railway line for about two miles from the town. There would have been no trains running at the time and if I recall it right the line actually was a feeder to the camp. From the hotel I have to admit to acquiring a souvenir of a coffee pot.
Other reminders of my time in 2nd TAF are beir mats and a selection of Hohner mouth organs. I was never a musician but I found that the mouth organ was quite an easy instrument to master. Just a case of remembering to suck and blow in the right places. The harmonica with the side button was a little more difficult. When a dozen or so of us got together we could make quite an impressive noise. The said items are still with me and will have no value to anyone else come the day that I kick the bucket. But for my own memories I keep them along with two, once white but now cream with age, physical training shirts. How does one throw out items that have been around for over 50 years? So I will leave that for someone else to do. My time was running out. My final return to the UK imminent. Arrangements made in the Maintenance Section to have my bike with wheels removed and strapped to either side of the frame crated in readiness for its return to the UK. I did not know when it would be with me again but I did have another one available in the UK should there should be any delay. A mixture of pleasure and not just a little sadness for I had enjoyed in the main three wonderful years. RAF Innsworth, Gloucestershire in September of '55 was to be my last base. Only for a few days though, as I collected my demob papers and travel documents for the journey home. I was to keep my uniform for I was now on reserve for two and a half years.
Such was my fond memories of Sylt that I decided to return in 1956 for a two-week holiday. I had kept in touch with Lilo from the town telephone exchange. She knew when I would be arriving and I knew what shift she was on. Problem was that I had made no arrangements for accommodation and I did not have the sort of money to be able to stay in a hotel. I was taking a real liberty. So it was my baggage into the left luggage area of the train station and a walk to the exchange to await her shift completion. No problem however for an RAF Sergeant was in digs with his wife and family close to her home. He was happy to oblige. On one of the days I strolled up to the guardroom of the airfield. Got booked through and walked the perimeter to the accommodation blocks. Some of my old mates were still serving time so it was great to see them again. It was nearly lunchtime and I was given a mug and irons and popped into the cookhouse for a free meal. I was grateful for that for I had not come away with too much money. Most of the time I spent on the beach and I managed to survive for the two weeks with the help of a few more free meals.

Sylt as it is today
The scorching summer of ''76 my wife and three children were motoring up to see friends in Aarhus in Denmark. Camping as we went along our route. I made a point of parking up at Neibull Station and we caught the train across to the Island, as I wanted to show my family the delightful place where I had served some time and had spoken of so often. Our return home from Denmark was down the East side to Flensburg with a stop in Schleswig to further reminisce. Shame that the Shlei Halle Hotel was no longer there. No, I did not have a guilty conscience about the coffee pot with a wish to return it. Last year there was a holiday article in the London Evening Standard saying that Brits only went to the Spanish Islands and had never heard of the delights of Sylt. I am told it is now a millionaire's playground. I wrote to the paper telling them that their holiday expert was wrong. For thousands of British Servicemen had had the privilege and pleasure of serving on this North Frisian Isle and possibly like me many would have had the urge to revisit it at some time later.
There reply was, thank you, but that they receive a lot of letters and did not have the capacity to print them all.
Copyright: Doug Laidlow E Mail to Doug
The Amazing Sequel to my story.
In November 2005 my wife and I went a visiting Australia for the 5th and perhaps the final time. Three months was the time we were to be away. An arrangement previously made had me soon in possession of an MTB.
Having gained a degree of fitness over the last year, not experienced since I packed up racing back in 1980 I was of a mind to get a few miles in when I could with out disrupting any plans made by family. To this end I succeeded in putting away almost 1000 miles. Rides generally being of no more that two hours at a time.

One of my favourite rides was a up into the Dandenong Mountain Range. Anyone who has been to Melbourne will be aware of this range that sits east of the city and is around 20 miles from its centre. The Mountain Highway climbs for around 5 miles through 25 bends at 10% up to the Tourist Road and then it is a further grovel for another 3 miles to a height of 2077 feet. Mount Dandenong being the tallest in the range.

Prior to these events, I had chosen one Sunday in November to ride down to Bayswater Village to meet up with a group of cyclists. Knox Bicycle Touring Club was the name of the outfit and I thought that a few hours in their company would be just the ticket. Better than being with the head down arse up groups of which there were many. Had I been in possession of a road bike I no doubt would have chosen differently.
But I was thankful for the loan of a bike whatever the type. My morning out with the Knox Group turned out to be one of the most remarkable days I have ever experienced. The ride got under way when alongside me rode a gentleman who proceeded to ask me where the Wigmore Cycling Club was. Wherever I ride my club top is important to me. Where I live now in Lincolnshire it is a question I am often asked. I explained that the Wigmore Club was based in the Medway Towns and I had been a member since 1969. Although the gent had emigrated in 1956 he was aware that the Towns included Rochester, Gillingham, Strood and Rainham. He had lived most of his UK life in Hastings in Sussex.

He had moved to Oxford in 1950 and for a period he was a member of the Oxford City Road Club. During that time he had broken their club tandem record for Oxford to Cambridge and back in 1951. It still stands on their books. Possibly there is no longer a safe route now to bridge these two cities.
Our conversation continued and his time in the Services came up. He had joined the RAF after completing an apprenticeship so was a little older than the normal call up age of 18. He had spent most of his time (1952-1954) in Germany. Snap to all of that I said, adding that I had gone on for one more year. I mentioned that I had been posted to the glorious RAF Sylt. Sylt is now a millionaires playground and is the largest of the North Frisian Islands just off the west coast of Germany and Denmark. What a coincidence so had he.

At that point I mentioned that I had been responsible for organising a midweek evening Inter Station 15 mile Time Trial Series. Squadrons came up each month with their Venoms and Vampires, plus support staff for target towing air to air practice. Tempests were resident planes that carried drogues. Having put the word around there were always bikies arriving from Wahn, Wildenrath, Bruggen, Celle, Oldenburg and others.
My companion on hearing this told me he had ridden some of the events as a part of RAF Sylt team. You could say I was flabbergasted on hearing that. What came next almost had me off the bike. I asked him his name. John Weller, he replied. Absolutely unbelievable, for I had come half way around the world to stay in an outer suburb of Melbourne called Bayswater. I had chosen to meet up with a group of riders at a point less than a mile from my base.

Now I found myself riding alongside a chap that had been my companion on a 4 day Easter Tour in 1954. Just the two of us had caught the train off the Isle (a 4 mile causeway and to this day there is still no road) and made our way down the west side of Schleswig Holstein to stay over night at the Church Army Hostel in Hamburg. Then it was across to Lubeck and up through Kiel; and Schleswig and on over the border into Denmark before returning to camp. A super tour together using B & B's and maybe putting in 500 miles plus.
I have had so many coincidences occur over the years but this one takes the biscuit. I had travelled 12,000 miles to the other side of the world. A chap I had not seen or heard of for 51 years suddenly appears alongside me for a chat. How can that happen? John was as amazed as I and it is surprising that we did not both end up in a heap in the road together

The following week he came and collected my wife and myself and took us to his home for a splendid meal. His wife said that on the day we met he had arrived home so excited. He just could not believe it either. Later out came his photo album and there I was perched on the parapet of the bridge over the Kiel Canal. Since arriving home on the 7th February I have been through my own album. Sure enough there John stands posing on the bridge with his bike. I went out with the KBTC on five more occasions. Needless to say we will keep in touch.
Copyright: Doug Laidlow E Mail to Doug -----Link to: RAF Sylt Association --Link to: RAF Stations/Associations