I was born in 1918 in Glastonbury, Somerset where the cider apples grow, and my first job was working on the farm until the news of impending war dominated all our lives in 1939.
Jellalabad Barracks Mount St. Taunton (Dave Pruett)
My service life started with the Somerset Light Infantry at Jellalabad Barracks, Mount Street Taunton, 140 paces to the minute and plenty of training. I was Private Frederick John Cottle 5674336. After just a few weeks there I was transferred to the 1st Bucks which was part of The Ox & Bucks Light Infantry and lots more frantic training for we were to be part of The British Expeditionary Force, known as The BEF. Our base was at Newbury Racecourse and our billet the stables, we exercised on the Common, probably Greenham.
We landed at Le Havre in January 1940 and immediately commenced further training up in Belgium until May 10th 1940, when we were taken by lorry, (the only time we were transported) to an area near the battlefield of Waterloo, where we were to meet our enemy for the first time.
(Jack Cottle was in this group and part of the 145th Infantry Brigade:)
145th Infantry Brigade
2nd Battalion Gloucestershire Regiment
4th Battalion Oxford & Buckinghamshire Light Infantry
1st (Buckinghamshire Battalion) The Oxford & Buckinghamshire Light Infantry.

When the BEF was deployed to France at the start of the war, it was based from Bailleul to Maulde, north-east of Douai. On May 9th, one day before the German attack, it comprised of 9 infantry divisions with one other division (the 51st Highland) having been sent to the Maginot Line to bolster the defences in the Saar region.
We faced the 1st Goering Division and felt the full weight of a well trained army intent on its objective and found that our training was not up to their standard, this was something that became more evident over the next couple of weeks. We had been trained well to fight with the bayonet but here was a fully mechanised equipped enemy.

German Tanks on the move in Belgium (/www.historylearningsite)
We fell back to Hazelbruck, about 12 miles from Dunkirk and became surrounded, the French had gone, we had little small arms ammo and our Anti-tank gun was completely out of ammunition, the situation was hopeless. Captain Stevens our commanding Officer gave the order to surrender and so started our five years in captivity, culminating in the Death March.
We gathered in a large field, despondent, wet and hungry, we did have water in a large tank, we slept the night out in the open until the march started heading for the border. As we neared the border we were spat upon by the women and were eventually loaded into cattle trucks to take us into Germany and beyond to Poland, Stalag VIIIB Lamsdorf (now Lambinowice in Poland).
I was only there for 5 days when a group of us were moved to Buchenlost near Gliwicesent to join a railway working group and was then switched to forestry work. The next work party was in the Sugar Beet factory and the final three and a half years working underground for 12hours a day, this continued until January 1945.
POW's - Me kneeling on right
On our way to the woods in the morning a milk cart regularly passed us and the driver would call to our guards "Heil Hitler", we always responded with a rousing ""Heil Churchill", which enraged our guards but was good for our morale.
We were billeted in some old broken down cottages, about 15 to a room, just a bowl of soup and black bread a day and we were over-run with lice, absolutely lousy. If it wasn't for the Red Cross rations things would have been much worse, they came about every two weeks and contained tinned stew, biscuits and tea, the tea being made in a bucket and most of the food being shared.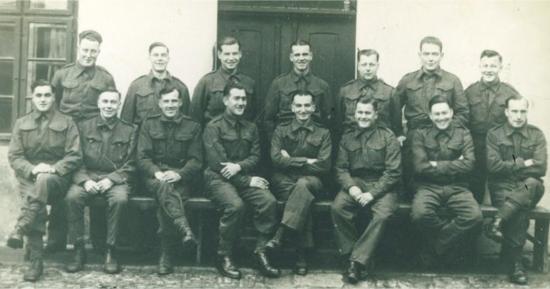 Jack , front row 3rd from right - Jacks best pal is 4th from right, very sadly he died after demob, having been through the whole of WW2 and captivity.
In February of 1945, with the tide of war turning against the Nazis and the Allies advancing, E209 Working Camp was hastily evacuated. We were marched out and were forced to walk towards the French border, a distance of 800 kilometers (500 miles), in what has become known as the Lamsdorf Death March.
Malnourished, infected with disease and parasites, dehydrated, dysentry, inadequately dressed and equipped, the POWs walked 18 to 25 miles a day in sub-zero temperatures. In addition to these conditions were dangers from increasingly hostile guards, passing through villages where residents would throw volleys of bricks and stones at the prisoners, and air attack by Allied forces mistaking the POWs for retreating columns of German troops.
Most of this period I have no idea where were were but knew we must keep going, the Jews were at the front and were the most harshly treated, if they fell out they were often shot by "Dead eye Dick", a hated German guard with one eye. At night we huddled together sleeping in a circle after scrounging in the fields for potatoes, just anything to eat we could get our hands on.
It must have been in April 1945 that we could hear the sound of the guns and we had a chance of slipping away, we hid in a barn, while up in the loft some Germans came in who we recognised as our guards, but they were changing into civilian clothing, they went off and we remained in hiding. Eventually the Farmer found us and said why don't you go to the next village where the Yanks are, one of us elected to go, saying if they did not come back, you will know the farmer is wrong. He made off and came back to say it was safe, but when we got there the Yanks had gone, so we made our way for some miles to an aerodrome and stayed there for 2 weeks, the yanks would not feed us so we scrounged for food wherever we could, by this time there was 12 of us.
Eventually some suggested we ought to make for home so a serious effort was made to get a lift westwards, a lorry took us 100 miles where we boarded a Dakota and landed somewhere in France, more negotiations for a lift to England, this time on board a Lancaster landing I think at Great Missenden.
I was at Great Missenden for 24 hours and then was given leave. This was 6 weeks leave on double rations before I had to return to camp. I caught the train to Wells and set off to walk to Glastonbury. On the way a police car stopped and gave me a lift to Glastonbury, my Father lived at Chilkwell Farm, I then went down to Wincanton where my sister lived.A couple of days later I returned to Glastonbury where the whole of Chilkwell Street in Glastonbury gave me a welcome home party. I then had to go back as it was thought we would have to next fight the Japanese but of course that did not happen.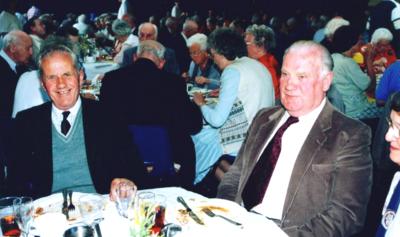 Village Feast Week - Dinner for Senior Citizens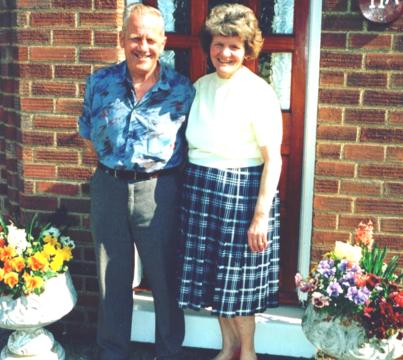 Jack & Joyce enjoy their retirement living in Cambridgeshire, this is their 50th Wedding Anniversary.
Copyright Text and images: Jack Cottle (unless otherwise shown)