1944
"Remembering Cassino"
by

George D. Pringle

Royal Pioneer Corps
Foreword by Webmaster
"Remembering Cassino"
In "Life in Cassino 1944" (Feb 2004), Bill Fitness mentioned that he saw "a train of porters entering into a town". I would like to explain what "portering" meant to all ranks of the 175 Company Pioneer Corps.
First of all it meant a change from being used as infantry at the Salerno Beach landing when everyone had to fight for five days to prevent the landing becoming another "Dunkirk". It was also a change from probing mines as we erected the bridge in darkness over the River Garigliano on 17 January 1944. This action enabled the troops of 46 Division to cross and eventually capture Minturno. It was a change to build sangers for the Guards Brigade on 12th February to enable them to advance in darkness and not to have the labrious task of building their cover when they reached the RV position.
Indian stretcher bearers bringing a casualty down a mountain track, 19 Feb 1944
It was a change from building roads to by-pass dangerous cross-roads which were usually under enemy fire. In between all these tasks, portering was just another job to the Pioneers as their motto is " Labour omnia vincit", but our umofficial motto is " We do the difficult tasks immediately. The impossible tasks take a little longer".
Picture then several mountain peaks with long rugged ledges that often led to nowhere except a steep drop into the valley far below. Snow covered mountains and, below, the infantry of opposing forces fighting to hold on to any gained high ground that will give an advantage. Sited Mortar and Machine Gun lines covering every known track that we must climb, and the endless torrential rain making visibility poor and our existence wretched. But we knew there were small groups of men isolated and exposed to the elements who were depending on their support troops, the Pioneers, for food, water, ammunition and other necessities.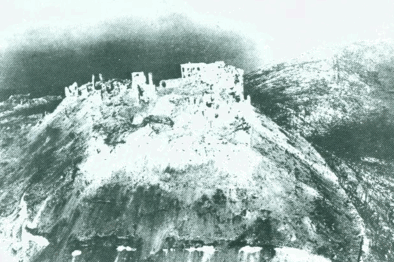 The Monastery in ruins after the bombing.
To help the Pioneers, the RASC brought supplies to the nearest road in the foothills. Mules led by a specially trained Pioneer force took over climbing the narrow, winding trails until the tracks ceased to exist. Then our Company took over carrying the 50lbs loads on our backs, securely fastened to avoid us over balancing into the valley below. We had also given up our rifles so that our hands would be free for climbing. We moved steadily and almost breathlessly, lest we made our presence known to an enemy patrol. Each time a loose rock was dislodged and fell noisily we froze in our tracks as the Germans or our own forces fired an inquisitive flare into the sky, illuminating the mountainside. We clung thereuntil word was passed back that we could proceed and we made our way to the RV point which our leading Corporal, Arthur Sullivan, had correctly located.
We handed over to the infantry the required and very welcome logistics. With no time to rest on our descent, we acted as stretcher bearers bringing down from the mountain ledges the soldiers who were badly wounded to make their own way. Usually four men would handle a stretcher case, but it was often only two, due to the narrowness of the track, slipping and stumbling over the rocks while the wounded soldier would be groaning. On a few occasions it would be only one man in the wind and darkness who would have to carry his burden across his shoulders, because a stretcher could not be used. In this way we carried on until all our wounded men were safe in the hands of RAMC.
Captain H Tristam, a forward observation officer in the 46th Division, recorded in his records, "The Pioneers provided bearers for positions well forward in the Cassino Monastery Hill area. During the fiercest battles, they worked for 72hous without sleep or rest. Towards the end they appeared to walk and work like robots as their limbs seemed to be moving from an unbreakable spirit of duty and discipline and the maxim of not wanting to let the other men down. This wascamaraderie at the highest point".
The Abbey as it is today - entirely restored
It was also recorded that Private J Tancred (187 Company) carried a wounded officer for 16hours through the bitterly cold, continuous rain along treacherous tracks. This he did through the darkness of one night and part of next day until he stumbled into an ADS, then collapsed and died. The cause of his death was given as " died of natural causes - exhaustion". So we just did our tasks as support troops whenever called upon to carry out a mission.
No, we were not just "a train of porters entering a town" but members of an elite and trained force for any emergency - The Pioneer Corps.
Copyright Text & Images: George D. Pringle