Fighter Pilot legend Neville Duke dies:
Webmaster foreword:
Neville Duke's passing is recorded with great sadness as he epitomised those young men who flew time and again into the danger of The Battle of Britain, Neville went on to push the boundaries of speed with his red Hawker Hunter and became a boyhood hero to so many of us. Sleep peaceful Neville, fly high, fly fast. (Keith - Webmaster)
I guess we of the "Greatest Generation" are slowly going home. A wonderful story that I'm sure you are proud to have on your outstanding site. What great young men they were, those heroes of the Battle of Britain, which surely started to turn the tide against the Nazis. (Ken Tipper - Florida)
---
Squadron Leader Neville Duke (1922-2007), DSO, OBE, DFC, AFC was a World War II fighter pilot. In 1953, he became holder of the world air speed record when he achieved 727.63 mph flying a Hawker Hunter F Mk3 over Littlehampton in the UK
Born on 11 January 1922, Duke was educated at The Judd School in Tonbridge, Kent. He started working as an auctioneer and estate agent before attempting on his 18th birthday to join the Fleet Air Arm, but was rejected. He instead joined the RAF in June 1940.
He underwent training and was commisioned at 58 OTU, Grangemouth in February 1941, before being posted to Number 92 squadron at Biggin Hill in April, flying Spitfires. Operating over occupied Europe, Duke obvious talents as a fighter pilot meant he often flew as wing man to Biggin's Wing Leader, Wing Commander [Adolph 'Sailor' Malan]]. By August Duke had claimed two Bf 109's shot down. When the unit was withdrawn for a rest in October 1941 Duke was posted to North Africa to fly with 112 Squadron on the P-40 Tomahawk.
Desert Operations
On 30 November 1941 Duke was shot down by the high scoring German ace Obfw Otto Schulz of Jagdgeschwader 27 , and on 5 December was shot down again by JG 27. His own tally of claims were growing fast however, and by February 1942 had at least 8 kills, prompting the award of the DFC in March. He completed his first tour of operations the next month and then spent 6 months instructing at the Fighter school at El Ballal in the Canal Zone.
He then rejoined 92 Squadron in November 1942, which had been transferred to North Africa , flying the tropicalised Spitfire Mark V. He became a flight commander in February and received a DSO in March. By the end of his second tour in June, Duke had amassed a further 14 kills to his total.
As a Squadron Leader he was posted to 73 OTU at Abu Sueir before in March 1944 returning to operations for his third tour as CO of 145 Squadron in Italy, flying Spitfire Mk VIII's. He claimed 5 more aircraft shot down in May, gaining a bar to his DFC. On 7 June 1944 Duke was shot down by flak and baled out into Lake Bracciano, almost drowning when unable to release his parachute harness.
Downing two FW-190's of Schlachtgeschwader 4 in May, he scored his final kills in September 1944 to become the Mediterranean theatre's Allied top scorer. He claimed 27 and 2 shared shot down, 1 probable kill, 6 damaged, 2 shared destroyed on the ground, in 486 sorties and some 712 operational hours.
Test Pilot
Duke returned to the UK and took up a position as test pilot for Hawkers in January 1945. he joined the RAF's High Speed Flight in 1946. He resigned from the RAF in 1948, and became Chief Test Pilot for Hawker in 1951. He was particularly involved in the development of the Hawker Hunter and was awarded an OBE in January 1953. On 7 September 1953, Duke set a new world air speed record in Hunter WB188 of 727.63 mph. In August 1955 he damaged his back following a forced landing in a Hunter at Thornley Island. In May 1956 another forced landing caused more back problems and he was forced to resign after several months immobile.
Duke took up freelance aviation consultancy work until 1960, when he formed Duke Aviation Limited, selling the company in 1982.
Hia autobiography Test Pilot was published in 1953 and reprinted in 1992.
Sqn Ldr Duke, from Lymington, Hants, was taken ill after flying his aircraft G-Zero with Gwen, his wife of 60 years. He died in hospital in Surrey on Sunday after suffering an aneurysm. A spokesman for Tangmere Military Aviation Museum in West Sussex, where Sqn Ldr Duke was honorary president, described him as a true gentleman. He said: "We were very fortunate and always immensely proud that he should have agreed to serve as our president.
"The unstinting support that he gave us over so many years was outstanding. We have lost a very dear friend and he will be sorely missed."
Sqn Ldr Alan Jones of the Solent Sky museum in Southampton added: "Neville was a tremendous support to us at the museum - he had a tremendous service record."
Medals auction
In December 2005 he auctioned, his medals and memorabilia - including his Distinguished Flying Cross with two bars, his OBE, his wartime diaries, his mother's scrapbook of newspaper cuttings - for £138,000 because of security and insurance fears.
Other Battle of Britain hero's
Robert Stanford Tuck died on May 5, 1987 at the age of seventy.
Group Captain Sir Douglas Robert Bader, CBE, DSO and Bar, DFC and Bar, FRAeS, DL, RAF (21 February 1910–5 September 1982);
Wing Commander Roland Prosper "Bee" Beamont CBE, DSO & Bar, DFC & Bar (10 August 1920 – 19 November 2001
---
Obituary
Squadron Leader Neville Duke DSO, OBE, DFC, AFC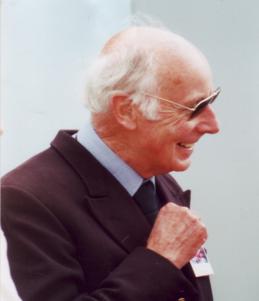 Fighter ace and record-breaking test pilot who played a key role in the development of the Hawker Hunter
Nigel Fountain
Saturday April 14, 2007
The Guardian

The test pilot Neville Duke, who has died aged 85, was an icon of the New Elizabethan Britain of the 1950s. At the dawn of the television era, when media personalities were born within black and white newsreels, picture weeklies and smudgy tabloids, the former Royal Air Force squadron leader had the celebrity of sportsmen such as Stanley Matthews, movie actors such as Dirk Bogarde, or the conquerors of Everest. It was a form of celebrity almost unimaginable now, built not only on Duke's performance as a test flier but on his record as a wartime fighter ace.
Article continues
--------------------------------------------------------------------------------
--------------------------------------------------------------------------------
Duke was far from being the first or only test-pilot-as-hero during that time, but as the country edged out of postwar austerity, his style and achievements singled him out. His understated public persona - in contrast perhaps to American equivalents such as Chuck Yeager - suited the public mood. Duke may have been a technologist doing an extraordinarily hazardous job, but he also provided an ideal image for the domestic aviation industry. In those days the annual Farnborough air display, in a pre-multinational era when it showcased only British aircraft, was a part of middle England's summer season.
Duke's aircraft was the Hawker Hunter jet fighter. He took the machine from its trials, as the Hawker P1067 in July 1951, to a world speed record of 727.6mph in September 1953, achieved in the impeccably English setting of Bognor, Littlehampton and Worthing, just three months after the Coronation.
It was a time when the Eagle comic's Dan Dare Pilot of the Future - RAF fantasia relocated in outer space - fuelled those New Elizabethan dreams of sound barriers, supersonic flight, new empires and interplanetary travel. Duke even showed up, dressed for the part, in the Eagle's "Heroes Of Today" slot. In 1951, the white-overalled pilot had dispensed with old-style leather flying caps for what became part of his trademark, an American white helmet, born of gridiron football, pre-astronaut 1950s modern and soon adopted by teenage ton-up motorcyclists on their Tiger 110s.
In the immediate postwar period, the British fleetingly held a world lead in jet technology. But soon the power of the US made itself felt. In October 1947, Yeager piloted the rocket-powered Bell XI through the sound barrier and the F86 Sabre jet fighter achieved the same in a shallow dive.
In 1950 the Korean war began, and, in a defining moment, the Labour government began its rearmament programme, feeding more money into the aviation industry. Duke took over as chief test pilot at Hawker in 1951, following the death of "Wimpy" Wade in a Hawker P1081. By then both the US and the Soviet Union had high-performance frontline fighters - the F86 Sabre and the MIG15 respectively. The RAF, meanwhile, did not fly its own obsolete Gloster Meteor jet fighters in Korean war combat.
Thus were the Hawker Hunter, conceived in 1948, and the Supermarine Swift - together billed as successors to the Hurricane and Spitfire - heralded as a solution to the RAF's problems and a fillip to national pride.
The Swift flopped, except as a star of David Lean's 1952 feature film about intrepid test pilots, the Terence Rattigan-scripted The Sound Barrier. The Hunter did not flop, and what set the seal on its success, and Duke's fame, was his performance at the 1952 Farnborough show.
Standing in the aircraft park, Duke had watched as the test pilot, John Derry, and his navigator, Anthony Richards, broke the sound barrier in their black de Havilland Dh110. Then catastrophe ensued. The jet disintegrated, its crew perished and 28 spectators were killed by flying debris.
Minutes later, Duke took off in the Hunter. It was, he recalled in his autobiography Test Pilot (1953), a lovely day for flying. Eight miles above Odiham he dived the fighter at 40 degrees, descending at 50,000 feet a minute. Minutes later, the Hunter's sonic boom reverberated around Farnborough. The show had gone on. "It was characteristic of you," prime minister Winston Churchill wrote to Duke, "to go up yesterday after the shocking accident."
Duke was educated at the Convent of St Mary and Judds School in Tonbridge, Kent. In the 1930s, as air shows toured a country newly intrigued by flying, the schoolboy Duke took several flights with Sir Alan Cobham's flying circus.
He enlisted in the RAF as a cadet in June 1940 and later joined 92 Squadron, flying Spitfires. The first plane he shot down was a Messerschmitt Bf109 over Dunkirk in 1941. Later that year he joined 112 Squadron, initially flying American Curtiss Tomahawks with the Desert Air Force. Later he flew the Curtiss Kittyhawk, then returned to later marques of the Spitfire. Duke had two spells as a flight instructor, but as a fighter pilot his spectacular record meant he ended his war in North Africa and Italy as the RAF's leading ace in the Mediterranean, having destroyed 28 enemy aircraft, and having spent a spell with Italian partisans after he was shot down.
In 1945 he became a Hawker test pilot and in 1946 joined the Empire Test Pilots School in England. That June he was seconded to the RAF High Speed Flight, set up for development work - and to break the world air speed record. That September the aim was briefly achieved when Group Captain Teddy Donaldson flew his Meteor at 615.78mph.
Jet aircraft incarnated the future. Landing in Prague that June in a Meteor, Duke was met, and mobbed, by a 150,000-strong crowd. In 1947, he married Gwendoline Fellows.
The following year he left the RAF and joined Hawker as assistant chief test pilot, remaining an officer with the Auxiliary Air Force. In 1949-50 he achieved world records on flights between London and Rome, London and Cairo and London and Karachi.
In July 1954, the Hunter entered service with the RAF. It was beautiful, but, within cold war logic, late, with a performance little better than the F86 which the Americans had been operating since the beginning of the decade. Yet it was a major sales success, with nearly 2,000 produced for many countries, including Chile. It was a flight of Hunters that strafed Santiago's Moneda palace during the 1973 Pinochet coup, and the fighter was still in service with some air forces in the 1990s. Its contours are echoed in the contemporary American B1 bomber.
In 1956 Duke left Hawker, after a forced landing led to serious and long-lasting back injuries. Yet his subsequent career in test flying continued into the 1990s on light aircraft. From 1960 to 1982 he ran Duke Aviation and subsequently worked as a consultant. He published six books, including Sound Barrier, Test Pilot (both 1953), the anthology The Crowded Sky (1959) and The War Diaries of Neville Duke (1995).
He received many awards and decorations, including the DSO, OBE, DFC and two bars, AFC, MC (Czech) and fellowship of the Royal Aeronautical Society. His hobbies were yachting - and flying.
Forty years on from his 1953 world record, he co-piloted a re-creation of the flight in a two-seater Hunter. The Hunter, he observed that day, was the love of his professional life.
A decade ago, interviewed for a BBC2 documentary The 600mph Men, he painstakingly described the technique of flying the Hunter into the sound barrier and coming out across an airfield at 720mph. "Piece of cake," he concluded, in the language of another time, and smiled.
Hours before his death, Duke felt unwell while flying his aircraft with his wife. He landed safely. Gwendoline survives him.
· Squadron Leader Neville Frederick Duke, test pilot, born January 11 1922; died April 7 2007