L129A1 'Sharpshooter' Rifle For UK Forces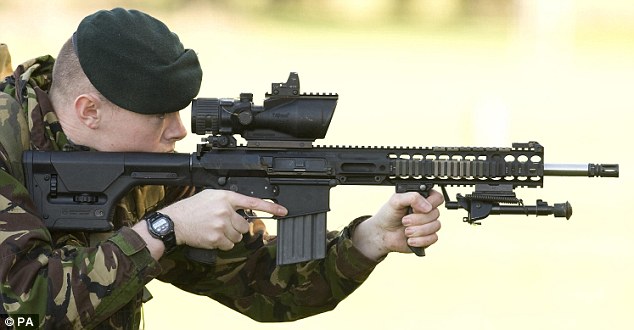 The L129A1 Sharpshooter rifle being demonstrated by a British soldier. As shown, the weapon's Picatinny rail system accomodates a folding foregrip, adjustable bi-pod and an ACOG 6x sight.
photo : PA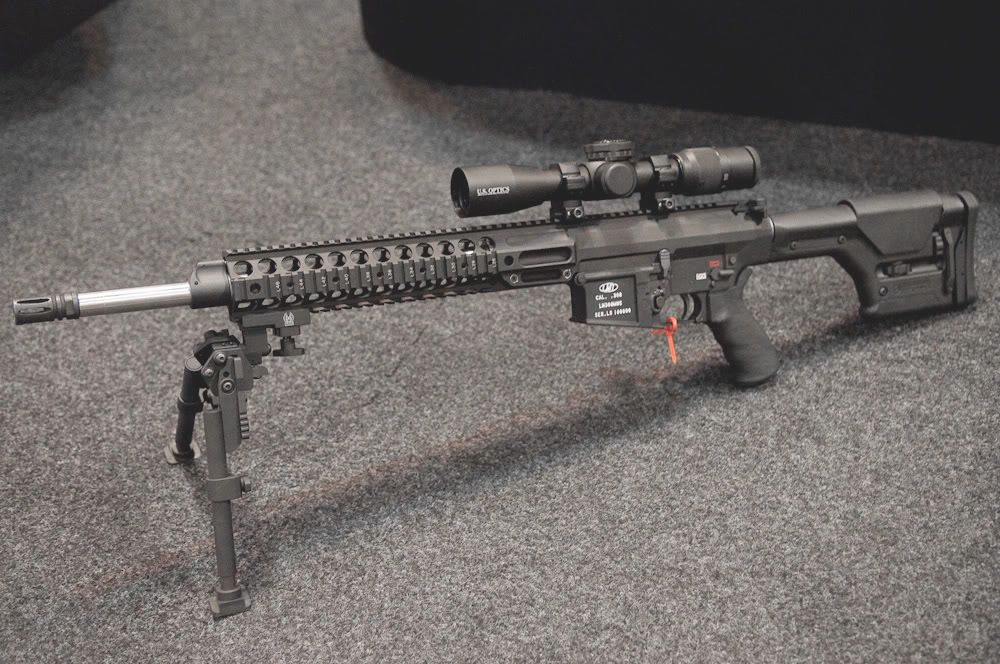 The rifle, designated the L129A1, is a version of the LM7 as supplied by the US firm, Law Enforcement International (LEI). The L129A1 features a 20-round magazine, retractable stock, rails for mounting scopes and accessories and a 16 inch stainless steel, rapid-change barrel.
The L129A1 will replace the aging 7.62mm L96 rifles in the 'sharpshooter' role ie engaging targets out to 800 meters. Sharpshooters are trained to a grade below snipers, who are typically armed with the .338 caliber L115A3 rifle. While the bolt-action L96 is an accurate weapon it is not as suitable for a soldier assigned to an infantry squad as a semi-automatic rifle such as the L129A1. UK Special Forces (UKSF) sharpshooters use the semi-automatic 7.62mmx51mm HK417, a rifle that was reportedly considered for the new MOD procurement, along with other weapons such as the FN SCAR.
The MOD has reportedly ordered 440 of the rifles for use in Afghanistan. Various news reports have stated that the L129A1 will first be fielded with the Parachute Regiment when they deploy with 16 Air Assault Brigade in the upcoming Operation Herrick XIII, Ocotober 2010.
Further information from - martinexsquaddie
--------------------------------------------------------------------------------

UK selects 7.62 mm Sharpshooter weapon for Afghan ops
Andrew White Jane's Land Reporter
London
UK forces are to receive a semi-automatic 7.62 mm x 51 mm 'sharpshooter' weapon to combat Taliban forces engaging beyond the maximum effective range of the 5.56 mm L85A2 assault rifle.
In a USD2.5 million deal the UK Ministry of Defence (MoD) has contracted Law Enforcement International (LEI) to supply 440 LM7 semi-automatic rifles.
The urgent operational requirement follows calls from troops on the ground for a weapon that can be comfortably patrolled with, can be rapidly initiated and provide an increased range for contacts out to 800 m.
To be redesignated the L129A1, the gas-operated weapon carries a 20-round magazine, is 945 mm long and weighs 5 kg. It will be manufactured by Lewis Machine & Tool Company in the United States, with deliveries expected to begin in early 2010.
Features of the weapon include a single-piece upper receiver and free-floating, quick-change barrels available in 305 mm, 406 mm and 508 mm. It has four Picatinny rails with a 540 mm top rail for night vision, thermal and image intensifying optics. Stock options include fixed or retractable versions.
Industry sources told Jane's that LEI beat competition including Heckler & Koch's HK417 (already supplied to specialist units within the MoD), FN Herstal's SCAR (Special Operations Forces Combat Assault Rifle) and an offering from Sabre Defence Industries.
To date UK soldiers must complete a marksmanship course to become qualified as 'sharpshooters' and are regarded as being a grade below that of a sniper. Following the introduction of Accuracy International's (AI's) .338-cal L115A3 sniper rifle, sharpshooters have been armed with AI's outgoing 7.62 mm L96 rifle. However, the latter's bolt action does not make it a suitable option for a patrolling soldier.
With the majority of contacts occurring at either very close range or at ranges out to between 500 m and 900 m, the "only organic asset" available to responding UK forces in a small-arms capacity is the 7.62 mm General-Purpose Machine Gun, with MoD sources saying that "5.56 mm weapons lack the reach to engage the enemy at those ranges".
"The 5.56 mm is sufficiently lethal at the right range, but troops need 7.62 mm for longer ranges. We should be looking at higher performance rounds with higher lethality at longer range. Research is going to filter into user requirements for the soldier system lethality programme," one MoD source told Jane's .