Fleet Air Arm 1955 - 1957

by Roy Hadfield -

Acting Lieutenant RNVR Bsc. (Eng) University of Nottingham
In my second year at Nottingham University I applied to join the Air Squadron but was turned down. I should have applied in my first year . This was disappointing, but I enjoyed my sporting activities, playing for their soccer and tennis teams, which I wouldn't have had time for if I had been in the Air Squadron.
As the last term approached, my thoughts started turning towards my future National Service. I saw an advertisement which was calling for Fleet Air Arm recruits - both National Service and short term commission positions were up for selection. When I replied, expressing my wish to be a Fleet Air Arm pilot, I was sent some attractive brochures and an application form, which was quickly completed and posted.
The next stage was a two day selection process of aptitude tests, medical tests, and group activities where some degree of initiative was required. There must have been well in excess of one hundred applicants of which about 25 were chosen to be pilots, 25 for navigators and I suppose the rest had to serve their 2 year stint in the Army.
So, at the beginning of August 1955, I and 24 other hopefuls reported to the gate at Lee on Solent and became Upper Yardsmen to do our Basic Training in all things naval - morse code, flags, knots, how and who to salute, marching, etc. After the first two or three weeks we transferred to aircraft carrier HMS Theseus to continue our training while the ship embarked on a mission to Cyprus. This was all very interesting, particularly our shore excursions at Gibraltar, Malta, Tangier and Famagusta.
We returned home from the 'Med' in early December and I became Acting Sub-Lieutenant, being posted to RAF Syerston near Nottingham, for the first part of my flying training. I was one of fifteen potential pilots who got through to this stage.
At RAF Syerston our plane was a dual seat Percival Provost whose propeller was driven by a peppy Alvis Leonides nine cylinder rotary engine. The first few hours up to 'first solo' were quite intense but hugely enjoyable. But some didn't take to the air well enough, and were sent off to the army to complete their national service. We were down to 12.
Percival Provost T1 - Military Trainer Aircraft
After trials to find a replacement for it's Harvard and Percival Prentice trainers in February 1950, the Percival Provost T1 was chosen as the RAF's new basic trainer, entering service in 1953, a total of 397 aircraft had been supplied to the RAF and 64 aircraft to other customers when production ended in 1959. The Provost T1 was replaced by the Jet Provost in 1961, a jet engine powered trainer evolved from the Provost T1 design.

Our flying instructors were from both the Navy and RAF. I am full of admiration for the thorough training we received. If we had difficulties an instructor would take personal responsibility to help us overcome our problems . This was one of the best things about being in the Navy. We were a big family who helped each other and took pleasure in the success of others we had helped or shared experiences with.
Our flying training was half lectures and half flying, with or without an instructor on board. We had to complete each stage satisfactorily before progressing to the next. From time to time we would be checked out by the Flight Commander or Wing Commander who, by doing so, would also be judging the instructor's ability.
And so we progressed from first solo to spins, barrel rolls, loops, and always trying to improve the accuracy of our landings: then on to sessions of instrument flying, night flying, formation flying, cross-country trips, and practising engine- failure landings.
My parents lived in Worksop which was only about 25 miles away from RAF Syerston, so occasionally I would drive my old 1932 Riley Monaco to see them, my schoolboy brother and newly married sister.
Taken in 1956 at RAF Syerston during Part 1 of Flying Training
Author - Top Right Acting Sub Lieutenant Roy Hadfield RNVY - Top Left Midshipman Jimmy Young RNVR
Bottom Left Midshipman Keith Wheatley RNVR.
I was quite well off financially at this time. With my base salary and flying pay I was getting over a thousand pounds a year, which would have been about double the average wage then in UK. My living expenses were minimal because I had food and lodging and uniform provided. I had my own room with desk, bed and chair and even some carpet. A batman made my bed, tidied the room and cleaned my shoes. He even brought me a cup of tea each morning to wake me up. My dirty clothes disappeared in the morning and re-appeared clean and ironed in the afternoon. Now and again we had formal dinners in the officers' mess and there would be almost as many hands serving us as there were guests around the table. The white linen table cloth and napkins were spotless and the silver and glasses sparkled as they reflected light from the overhead chandeliers.
I flew 60 hours solo and 62.5 hours dual while at RAF Syerston, of which over 10 hours was instrument flying. At the end of June 1956 I went on leave for a week and then started the next stage - flying jets - at RAF Valley, Anglesey North Wales. By this time there were eight of us left as national service Fleet Air Arm pilots.
At RAF Valley we flew T11 Vampire dual seat or Mark 5 Vampire single seat aircraft. Converting to jets was a fantastic experience akin to driving a very fast sports car. One had to think fast and act decisively and rely on instruments more than previously. The flying was quite demanding, particularly when a long spell of bad weather had us grounded for several days at a time and then we would be rusty and have to catch up with the training schedule by flying several sorties a day. Only three of us finished the course and we got our wings at a special ceremony at RAF Halton in Lincolnshire. By this stage I had flown a total of 126.5 hours dual and 109.45 hours solo and was assessed "proficient" as a student pilot and "average" for instrument flying with a white card rating.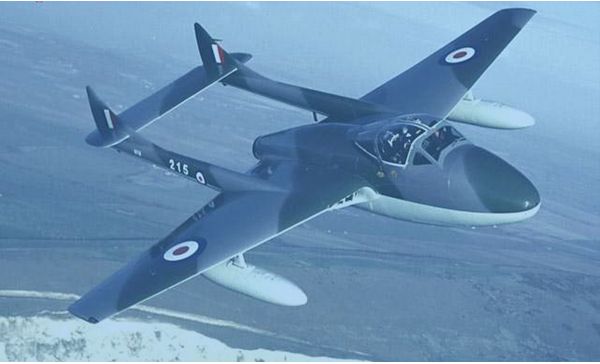 Vampire T11
When I left RAF Valley in my battered old Riley I had the parts from a crashed motorbike in the back and a passenger who wanted to go to Newstead Abbey to meet a girl friend. After a couple of punctures I finally delivered my passenger to his girl friend and they quickly disappeared inside leaving me to spend a cold night in my car waiting for the nearest service station to open and help me get mobile again.
My next posting was supposed to be to Eglinton, Northern Ireland, to join a Royal Navy squadron flying Gannets. I waited at my parents' home for some notification about this and started work on rebuilding my crashed motorbike. This went better than I expected because I was at home for several weeks. The 500cc Triumph Trophy with light alloy engine and spring hub back wheel was a joy to ride and it became my main means of transport because the Riley was literally falling apart and had to go to the scrap yard.
What happened next was due to reductions and re-allocation of military spending by the government of the day. Funding for the Navy was to be drastically reduced resulting in the scrapping or laying-up of all conventional aircraft carriers, retaining only short take-off vessels capable of deploying helicopters or Hawker Harriers. The Harriers would be piloted by RAF personnel. I'm not sure what happened to the Fleet Air Arm squadron of Buccaneers at Culdrose in Scotland but they were soon scrapped. Thus the Fleet Air Arm was almost eliminated, leaving only helicopters and Gannets to be flown by the Navy. All flying duties by National Service or RNVR pilots were immediately curtailed.
The Lords of the Admiralty requested that I remain on leave (still on full pay plus flying pay - I was now a full Sub Lieutenant) and they offered me an opportunity to sign on for a four or eight year short service commission. The squadron of Gannets in Northern Ireland was still in existence, but I was unsure for how long. I have subsequently regretted that I didn't sign on for a four year term as with more flying experience and correspondence courses I would have been well placed to get a job with British Airways or Qantas just as commercial flying was expanding quickly. But my view of commercial flying then was akin to a racing driver's attitude to driving a bus.
After a couple of months indefinite leave I was recalled to join a minesweeper, HMS Beachampton which was based at Portsmouth. My main duty was Navigation and commanding the ship from the bridge when at sea. We had a fairly relaxed time most days, practising minesweeping around the Isle of Wight. After heading out of Portsmouth Harbour around 8am and putting sweeping gear out a couple of times we would stop engines and drift around while we had drinks in the wardroom (brandy and ginger ale) and then lunch. The Captain and First Lieutenant liked to have a nap after lunch which allowed me to take charge of the ship for a while before heading back to port about 4pm and off to the Nuffield Club or a movie in the evening.
Things were much more hectic during NATO Exercises where every ship came under the spotlight of the Admiral running the show. I enjoyed these times even though we got little sleep for a week because exercises went on 24 hours a day.
HMS Beachampton - (Pic by Peter Langsdale)
Photographed during a naval exercise in the Persian Gulf, November 1969.
Built at Goole and launched on 29th June 1953. Displacement 360 tons.
Paid off in January 1985 and sold to Hong Kong.
The second anniversary of my national service occurred when HMS Beachampton was on a goodwill trip to Salcombe, Devon. I got no official word that my national service time had ended but told the Captain I was leaving anyway. There was a tennis tournament starting at the local club which I entered, and one of the families involved gave me food and a room while I was there. Just as I was preparing to go home I noticed a bit of a commotion in the harbour. HMS Beachampton was in trouble. While hauling up the anchor, the chain had wrapped itself round the propeller in a serious way. It took divers several days to free the ship which then limped back to Portsmouth with possibly a court martial for the captain. I was torn between offering some assistance and keeping well out of the way of possible courts of enquiry and discipline action. I'm afraid I took the easy way out.
When being recruited into the Fleet Air Arm for my National Service I had agreed to spend a couple of weeks each year with the Royal Navy Volunteer Reserve keeping up my flying skills. Being still in the RNVR after National Service, I spent a couple of weeks in 1958 doing a Navigation Course and in 1959 did a Gunnery course and then I was promoted to Acting Lieutenant RNVR. RN Officers did not always like RNVR part-timers but I was treated with great respect due to the' Wings' on my sleeve which set me apart from the crowd, as it were.
I got a pilot's licence and flew a Tiger Moth from Newcastle aerodrome a few times with my friend Keith, but didn't keep up the flying and eventually lost my licence to fly. Half a century later when I look into the cockpit of a Vampire at an Air Show, I'm amazed at how complicated the instruments and controls seem.
Most of my flying kit was very useful for years after National Service. There was a watch (with stop-watch), fur lined boots, Mark VII goggles, leather gauntlet gloves, and flying overalls. I still have the two suitcases that were issued with a pair of linen sheets and pillowcases on completion of our basic training as Upper Yardsmen.
Looking back, it's evident that during National Service I was treated with an indulgence associated with an elite class. This was a reflection of British society in those days. Of the many who aspired to become National Service Fleet Air Arm pilots, the Navy and RAF selection process (on the surface, totally egalitarian), managed to produce two ex-public school and one university graduate as pilots. I was indeed very privileged.
I never had a photograph taken of me in RNVR uniform but there is one of me in flying gear in front of a Provost with my other two colleagues, Keith and Jimmy, who also became Fleet Air Arm pilots in 1957.

Author:- Roy Hadfield, ex Acting Lieutenant RNVR, BSc (Eng) University of Nottingham.
driver of a clapped out 1932 Riley Monaco.
co -pilots:- Keith Wheatley, ex sub Lieutenant RNVR, ex Durham School scholar
driver of fast , new, red Triumph TR2 sports car.
Jimmy Young, ex sub Lieutenant RNVR, ex Gordonstoun School scholar
driver of immaculate Jowett Jupiter saloon.
"Those were the days , my friend"
Copyright Text & Images: Roy Hadfield
Back to: National Service Stories