| | | |
| --- | --- | --- |
| | Gallery No 39 - Troopships | |
Images of 112,000 ships - there are 150 Images of Troopships relating to 1925/1965 shown in the first section listed below, with another 51 Empire troopships which can be accessed in the EMPIRE section.
Aba - Asturia 1 & 2 - Almanzora - Andes 1 & 2 - Aragon - Aquitania - Britannic - RMS Cameronia - SS Canberra - Cheshire - Derwent - Devonshire - Dilwara - Dominion Monarch - Dorsetshire - Dunera - Dunottar Castle - Durban Castle - Empire Brent - Empire Bure - Empire Call - Empire Clyde - Empire Dynasty - Empire Fowey - Empire Halladale - Empire Helford - Empire Ken - Empire Medway - Empire Orwell - Empire Parkeston - Empire Pride - Empire Star - Empire Test - Empire Trooper - Empire Wansbeck - Empress of Australia - Empress of Britain - Empress of Japan/Empress of Scotland - Ettrick - Euripides - Franconia - Georgic - Highland Monarch - Highland Princess - Highland Chieftain - SS Inervia - Imperator - Ile De France - Laconia - Lancastria - Lancashire - Laurentic - Leonardo De Vinc - (Empire Clyde 1) - Llangibby Castle - Majola - Mooltan - Nevasa 2 & 3 - New Australia - Neuralia - Ormode - Orbita - Orontes, - Oxfordshire - Otranto - Orduna - Oransay - Orion - Osmaneih - - QE2 - Queen of Bermuda - RMS Queen Elizabeth - RMS Queen Mary - Rajula - Rewa - Rhona - Saga - Somersetshire - Tairea - Talamba - Taliwa - Talma - SS Transylvania - Vienna - Warwick Castle - Windrush - Winchester Castle - Windsor Castle - Worcestershire - Zaria
If you are an ex-serviceman and also an oldie you will probably have travelled overseas in a troopship. So scroll down these images and find your "cruise ship".
These images have been made available to this website by Bryan Tab Hunter, Roy Nixon, Hector, Mike Smith, Harry Furr, Karlz Glover, Jim MacDonald, Leslie Youdell, Phil Booth, David Armstrong and Ian Girvan. Extra information from Derek Lovemore, Ron Flood, Chris Madden, Graham Hibbert, Roy Haskett, Terry Fitzpatrick, Stanley Embling, Ernie Huntley, James Ignis, B J Jayne, Ian White, Peter Smith, Ex L/cpl K.Phillips Royal Signals, John Parsons (RN retired), Sib Browne , Janet Martin, John Dougherty .
Encyclopædia Britannica, Inc. - Cunard Shipping Line - www.liverpoolships.org
For which I extend grateful thanks.
Memory of - Ernest Graham Rutherford
The Army Children Archive (TACA) - This Link will interest former and current army children who will have travelled the world, who, on the one hand, may find that it ignites some sparks of recognition that in turn trigger a string of memories or, on the other, may enjoy the sense of having a rich history all of their own.
The World War II 'Empire' ships covers a wide range of vessels, ranging from tugs, coasters, tankers and cargo ships to passenger liners, both wartime built and requisitioned, and post war reparations ships. Also included are a few ships which were renamed 'Empire' at the time of the Suez crisis.
This directory lists each ship, together with previous and subsequent names and owners and is purely a guide to subsequent research. Managers while under Ministry of War Transport ownership are also given, where known.
Any information on errors or additional information on ultimate dispositions of ships, or on managers while under MOWT ownership, where this is not given, will be gratefully received and should be sent to -
mariners-L@efinch90.fsnet.co.uk
In the days before air travel, the British Armed Forces travelled by sea to all corners of the Empire. The Ministry of Transport gave contracts with civilian shipping lines to build and manage troopships and often made financial contributions to their construction.
After the World War Two, many German and Italian commercial vessels were seized and distributed to British companies as war prizes. EMPIRE section.
(Be patient with loading)
ABA / GLENAPP / MATRONA 1918
The ABA was a 7,937 gross ton passenger ship, 450ft x 55.8ft, twin screw motor ship, speed 14 knots, accommodation for 225-1st, 70-2nd and 70-3rd class passengers. Laid down in 1916 by Barclay, Curle & Co., Glasgow for the Imperial Russian Government, work was suspended when the October Revolution occurred and she was taken over by the Shipping Controller. Completed Sep.1918 as a funnelless, four masted cargo ship and named GLENAPP for the Glen Line (McGregor, Gow & Holland). 1920 purchased by the British & African Steam Nav. Co. (Elder Dempster & Co.), she was rebuilt with one funnel, fitted with passenger accommodation and renamed ABA. In Nov.1921 she commenced Liverpool - West Africa sailings.
Dec.1929 damaged in heavy weather off Kinsale and towed to Queenstown after her steering gear failed. Jun.1931 grounded at Lagos but refloated and Nov.1931 laid up at Dartmouth. Apr.1933 back in service for Elder Lines Ltd and in Sep.1939 was requisitioned by the Admiralty and converted to a Naval Hospital Ship. Mar.1940 transferred to the Army and took part in the evacuation from Norway and was then transferred to Alexandria. May 1941 bombed and damaged off Crete and then used variously on Eastern Mediterranean and Middle East - South Africa services. Mar.1944 clearly marked as a hospital ship, she was again bombed at Naples.
After repair, she was used on the North Atlantic and after D-Day was used on the Southampton - Cherbourg service. Decommissioned in Jan.1947 and returned to Elder Dempster & Co., she was too old to be worth reconditioning and was sold to Bawtry SS Co., Liverpool and renamed MATRONA for conversion to an emigrant carrier. However, when her ballast was removed, she fell onto her side in Bidston Dock Eventually righted in Jun.1948 by seven locomotives on specially built tracks, she was towed to Barrow-In-Furness where she was scrapped. [Merchant Fleets, vol.20 by Duncan Haws]
MV Asturias (1)
In role as Hospital Ship - Prior to being sold to Japan after WW1
HMT. Asturias (2)
HMT. Asturias (2)
Built: 1926 by Harland & Wolff, Belfast - When she was launched she was the largest motor ship in the world and also the first Royal Mail passenger ship which had a cruiser stern, her forward funnel was a dummy. She made her maiden voyage on the South American service with Commodore E.W.E. Morrison in command, at the time it was reported that not only was the ship slow but that she suffered from severe vibration as well. Due to the aforementioned irresolvable problems she was re-engined with two Parsons Single Reduction Geared Turbines, her bow was reshaped and she was fitted with new propellers. This increased her horsepower to 20, 000 SHP and for aesthetic purposes as well as soot the height of her funnels was increased. She was Royal Mail's representative at the Silver Jubilee Spithead Review in 1935 for George V and Queen Mary.
At the outbreak of hostilities she was converted to an Armed Merchant Cruiser for use on the South Atlantic patrols, her fore funnel and mainmast were removed to improve the capabilities of her anti-aircraft guns. In July of 1943 she was torpedoed in the South Atlantic but was successfully towed to Freetown some five hundred miles by Zwarte Zee. With her Engine Room flooded she lay there for two years and was finally abandoned by Royal Mail. In 1945 she went undertow again by Zwarte Zee with an escort of seven Corvettes she made her way to Gibraltar for temporary repairs before being towed to Belfast for an extensive refit. She became a Government Emigrant ship and in 1953 repatriated British troops from Korea. She underwent further refurbishment in 1954 and emerged in full trooping colours. In 1957 she was sold for breaking but before she sailed on her final voyage played the part of Titanic in the film 'A Night to Remember' at Faslane.
At the outbreak of WW2 she was converted to an Armed Merchant Cruiser for use on the South Atlantic patrols, her fore funnel and mainmast were removed to improve the capabilities of her anti-aircraft guns. In July of 1943 she was torpedoed in the South Atlantic but was successfully towed to Freetown some five hundred miles by the tug Zwarte Zee. With her Engine Room flooded she lay there for two years and was finally abandoned by Royal Mail.
In 1945 again under tow by Zwarte Zee with an escort of seven Corvettes she made her way to Gibraltar for temporary repairs before being towed to Belfast for an extensive refit.
She then became a Government Emigrant ship and departed Southampton 12-10-1946 for Sydney on her first run for the Australian Migrant Service.
She continued on this Service without a break until arrival at Southampton 30-10-1952 after her final return from Sydney.
On these homeward journeys she carried Australian troops who disembarked for duty at Malta or other ports en route.
In 1952 she was commissioned as a British troopship and on her first voyage departed Southampton on 20 Nov 1952 - carrying Australian Naval Personnel. A number of these passengers are visible on the forward open deck in the
photo taken (by Terry Fitzpatrick) as HMT Asturias arrived at Singapore 11 Dec 1952.
Following this first run to Hong Kong the ship continued trooping from UK to the Far East (including repatriation of British troops from Korea and Japan) until her last return to Southampton 27 Aug 1957. She was released from Sea Transport service 12 Sept 1957 and played the part of Titanic in 'A Night to Remember' filmed at Faslane before being sold for scrapping.
SS. Almanzora
Built 1915 - 1915-1919 Armed Merchant Cruiser, 1939-1945 troopship, 1945-1947 Government emigration ship, 1948 scrapped. 16,034
Memory of - Ernest Graham Rutherford
National Service number 1908762 Ernest Graham Rutherford DOB 6th April 1923 (now living at 13 Walton place, Chesterton, Newcastle, Staffs, ST5 4QY) - Was transferred from KOYLI in 1947 to DLI
1947 Set sail from Southampton in the June on SS Almanzora , an old troupe ship had hammocks in), destination to Port Said Egypt to Suez Canal (10day) in transit camp then moved to bottom of Suez Canal. Then on train to top of Suez awaiting for ship to Thessaloniki Greece, stayed there till 1948 transferred back on SS Sithier(??spelling) arrived back Liverpool and de-mobbed at York. April/May 1948.
Submitted by: Mrs K Chatterton (daughter of Mr Rutherford)
Andes (1)
Andes (1) - RMSP Atlantis - Andes (1) (1913-1929 - 15,620gt)
Atlantis (1929-1952)
1913 1915-1919 Armed Merchant Cruiser, 1929 renamed Atlantis cruise ship,
1939-1946 Hospital Ship, 1948-1952 Australia / NZ emigrant ship, 1952 scrapped. 15,620 tons
RMSP Atlantis, built by Harland & Wolff for the Royal Mail Line in 1913 and served as an hospital ship in WW1
Converted to a hospital ship in 1939, she was initially based at Alexandria, used in the Norwegian evacuation in 1940 and then sent to the Indian Ocean for the next two years.
She took part in the Madagascar campaign in 1942 and in 1943 repatriated Italian prisoners of war to Lisbon and Germans to Gothenburg. She continued hospital and repatriation duties until 1946, was reconditioned to carry
900-3rd class passengers and used to carry emigrants from the UK to Australia and New Zealand.
Laid up in 1952, she was scrapped the same year. [Merchant Fleets by Duncan Haws, vol.5, Royal Mail Line]
RMV. Andes 2
Operating life: 1939 - 1971 - Tonnage: 25,689 - Passengers: 607
Constructed: Harland & Wolff, BelfastAndes was launced 6 months before the outbreak of World War Two. She was immediately requisitioned as a troop carrier and spent the war on active duty. In 1947 she was released back to the Royal Mail Line and, after a major refit in Belfast, she commenced her commercial service on routes to South America. In 1959 she was refitted for cruising. In 1971 she made her last voyage to the breakers in Belgium.
SS. Aragon
Leaving Durban Harbour 1917 Aragon (1) 1905 1917 torpedoed and sunk off Alexandria while
trooping; loss of 610 lives. 9,588tons.


RMS Aquitania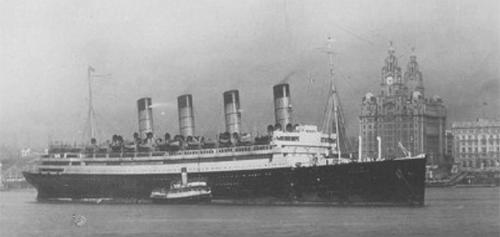 RMS Aquitania in The Mersey at Liverpool
Owner: Cunard Line - Liverpool, England - Builder: John Brown & Co. Ltd. Clydebank, Scotland

Year Built: 1914 - Scrapped at Faslane, Scotland 1950. Dimensions and machinery
Length: 901ft Engines: 4 Parsons direct drive steam turbines by John Brown Beam: 97'
Tons: 45,647 tons
Lusitania and Mauretania are sometimes viewed as sister ships but these were much
smaller in size and tonnage. Aquitania was designed by Leonard Peskett, the designer of the Mauretania, and was based on the Mauretania design.

Over 100,000 people attended the launch ceremony. During World War 1 Aquitania transported over 25,000 wounded.
In World War 2 Aquitania sailed over 500,000 miles transporting over 400,000 people. The only liner to serve in both world wars. Sailed a total of over 3,000,000 miles during her career carrying over 1.2 million
passengers.
Made 443 transatlantic voyages.
The last liner with four funnels in service.
(The Arundel Castle was the last of the four funnel liners in service but, two funnels had been removed in 1937.)
MV. Britannic ( Leslie W. Youdell)
The Britannic (3) - 1930 to 1960 Specifications:
Length: 712 feet (217.5 m)
Beam: 82 feet (25 m)
Tonnage: 26,943 gross tons
Engines: Burmeister & Wein diesels powering two propellers.
Service speed: 18 knots
Passengers: 1,553 people
For a lot more information on this ship: Click here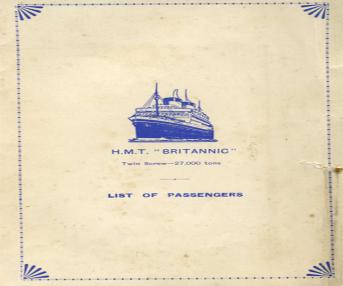 First page of Passenger List (Karlz Glover)
A lovely colour aerial photograph of the third Britannic. (Picture courtesy of Kevin R. Tam)
MV. Britannic
RMS Cameronia (1921

RMS Cameronia (1921)
Built by William Beardmore & Company, Limited in Glasglow Scotland in 1921, Cameronia was 578 feet long and 70 feet wide, displacing 16,280 gross tons. She was powered by steam turbines geared to twin screws for a service speed of 16 knots. Passenger capacity was 1,785 (265 First Class, 370 Second Class and 1,150 Third Class).
Cameronia was built for the Anchor Line (British Flag) and sailed the Glasgow – New York route. She was requisitioned as a troopship in 1940 and used as such until 1947. She was then rebuilt as an Australian immigration ship for the British Ministry of Transport and put to sea in 1948. In 1953 she was renamed Empire Clyde. She was decomissioned in 1956 and broken up in Wales in 1957.
SS Canberra
SS Canberra
SS Canberra was an ocean liner, which later operated on cruises, in the P&O fleet from 1961 to 1997. She was built at the Harland and Wolff shipyard in Belfast, Northern Ireland and was launched on March 16, 1960. The ship was named after the federal capital of Australia, Canberra, and entered service in May 1961.
Tonnage: 1961: 45,270 gross tons
1962: 45,733
1968: 44,807
1994: 49,073
Length: 249.9 m (818 ft)
Beam: 31.2 m (102 ft)
Draft: 9.97 m (32.7 ft)
Height: 55.9 m (183.5 ft) keel to funnel
Power: 85,000 horsepower
Propulsion: Two British Thompson Houston (AEI) synchronous three-phase, 6,000 volt air-cooled electric motors; power supplied by two 32,200 kW steam turbine driven alternators; twin screw
Auxiliary Power: Four auxiliary steam turbines, each driving a 1,500 kW, 440 V, 3 Phase, 60 Hz alternator and a tandem driven 300 kW exciter for the propulsion alternators
Speed: Trials: 29.27 knots (54.3 km/h)
1961-1973: 27.5 knots (51 km/h)
1973-1997: 23.50 knots (43.5 km/h)
Complement: 1961-1973: 548 First class, 1,690 Tourist class, 960 officers and crew
1973-1997: 1,737 passengers, 795 officers and crew
Cost: UK £15 million
After the Argentine invasion of the Falkland Islands in 1982, which initiated the Falklands War, the Ministry of Defence requisitioned the Canberra as use as a troopship. Nicknamed the Great White Whale, the Canberra proved vital in transporting the Parachute Regiment and Royal Marines to the islands more than 9,000 miles (14,000 km) from the UK. Whilst Queen Elizabeth 2 was held to be too vulnerable to enter the war zone, Canberra was sent to the heart of the conflict.
Canberra anchored in San Carlos Water on [[May 21]] as part of the landings by British forces to retake the islands. Although her size and white colour made her an unmissable target for the Argentine Air Force, the Canberra, if sunk, would not have been completely submerged in the shallow waters at San Carlos. However, the liner was not badly hit during the landings as the Argentine pilots tended to attack the Royal Navy frigates and destroyers instead of the supply and troop ships. After the war, Argentine pilots claimed they were told not to hit the Canberra.
When the war ended, Canberra was used to repatriate the Argentine Army, before returning to Southampton to a rapturous welcome. After a lengthy refit, Canberra returned to civilian service as a cruise ship. Her role in the Falklands War made her very popular with the British public, and ticket sales after her return were elevated for many years as a result. Age and high running costs eventually caught up with her though, as she had much higher fuel consumption than most modern cruise ships. She was withdrawn from service in September 1997 and sold for scrapping, leaving for Gadani Beach, Pakistan the next month. She did not give up without a fight however; her deep draft meant that she could not be beached as far as most ships, and due to her solid construction the scrapping process took nearly a year instead of the estimated three months.
Cheshire
Cheshire (F 18) - Type: Armed merchant cruiser - Tonnage: 10.552 tons
Completed: 1927 - Fairfield Shipbuilding & Engineering Co Ltd, Glasgow
Owner: The Admiralty , Homeport: Liverpool , Date of attack: 18 Aug, 1942 Nationality: British

History: On 29 Aug, 1939, the motor passenger ship Cheshire from Bibby Brothers & Co, Liverpool was requisitioned by the Royal Navy as armed merchant cruiser and became HMS Cheshire (F 18)
At 21.28 hours on 14 Oct, 1940, the HMS Cheshire (F 18) was struck by one torpedo from U-137 (Wohlfarth) northwest of Ireland (Grid AM 4561). She reached Liverpool but had to be laid up for repairs for six months.
On 9 Jun, 1943 the ship was returned to the owner and then used by the Ministry of War Transport (MoWT) as troop transport. Used as repatriation ship in 1945 and on 5 Oct, 1948 finally returned to the owner.
Derwent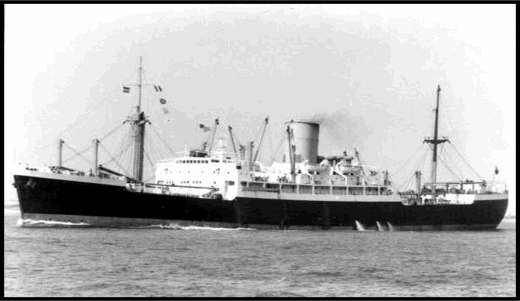 SS Derwent (3) 1949
Ex- Persic, 1969 transferred from Shaw Savill & Albion Line renamed Derwent, scrapped 1971. 13,594tons
MV. Devonshire
Operating life: 1939 - 1967 - Tonnage: 11,275 - Passengers: 1,344
Constructed: Fairfield, Glasgow

Devonshire was delivered to the Bibby Line just before the outbreak of World War Two. After her war service she continued trooping until her sale in 1962 to the British India Line. She was then refitted as an educational cruise ship and renamed the Devonia. She was scrapped in 1967.
Dilwara
SS. Dilwara - Launched 1935:

--------------------------------------------------------------------------------
built by Barclay Curle & Company Glasgow,
Yard No 654
Engines by Barclay Curle & Co Glasgow/ Doxford
--------------------------------------------------------------------------------
Last Name: KUALA LUMPUR Port of Registry: Hong Kong Propulsion: 2 x Diesel
Launched: Thursday, 17 October 1935
Built: 1936 Ship Type: TroopShip
Tonnage: 12598 grt | 7512 nrt | 3435 dwt Length: 517 feet Breadth: 65 feet Draught: 25 feet
Owner History: British India Steam Nav Co - China Nav Co Hong Kong
Status: Arrived for Scrapping - 01/12/1971
Dominio Monarch

SS. Dominion Monarch in 1939
One of Shaw Savill Line's principal ships for many years was Dominion Monarch, which lived up to her regal status by having only first- class accommodation for 523 passengers.Built by Swan Hunters in the late 1930s, the 26,500-ton liner was designed for a new service from Southampton to South Africa, New Zealand and Australia.Dominion Monarch had the distinction of being the last really big British motor liner. A quadruple-screw vessel 650ft long, with an 85ft beam, she set a new fashion by having a single mast set well forward, while her two funnels were aft of midships.The ship had only just begun her career when the Second World War broke out and she was taken over for troopship duties. When peace returned Dominion Monarch was welcomed back to Southampton when she brought in valuable food from New Zealand.By the 1960s Shaw Savill, worried about rising fuel costs, decided to have her broken up.The last commercial voyage started from Southampton on December 30, 1961, returning the following April when all the ships in port saluted her on their whistles.

Dorsetshire

TSMV Dorsetshire
Built Belfast Harland and Wolff 1920 450 feet long, 57.0 feet wide, 34.4 draft, 2-6 cyl 4SC SA
Burmeinster and Wain diesel engine, 7,450 tons, but 9,345 tons as trooper. Cargo liner from 1920 -1927, Trooper from 1927. Hospital ship WWII Trooper post war,. Migrant service. 1952 hostel, Little Aden Oil refinery. BROKEN UP 1954
-------------------------------------------
I have just seen your web site and saw a picture of the old HMT Dorsetshire, in which I sailed to Egypt in in April 1938. I have a postcard of her with some specifics about her which might be of interest to you.

Printed below the photo (picture) are the following ponts: 9,647 tons Length 466ft. Breadth 57ft Speed 12 knots

I recall vividly my surprise to find the `Bay' very smooth, however a few hours after dropping a few members at Gibraltar, we ran into a very bad storm and we seemed to have lost the use of a `Screw' so had to return to Gib. in order to correct the situation. That storm resulted in more than 95% being Seasick. A far from pleasant experience, especially on a Troopship. However I also recall acting as a steward in our (RCofS) Sgt's. Mess and having to collect and hang the Hammocks for them before collecting my own. But what a wonderful experience awaited me when actually sleeping in a Hammock.
Strange how memories are recalled after so long and now at the age of 88 I am completing my memoires as far as possible and at the end I have a picture gallery including the picture of the old Dorsetshire..

Now a Canadian Citizen and belonging to several `Old Comrades Groups' I still wear uniform at special functions. - Ernie Huntley
Dunera
Dunera in 1937
The 12,615-ton Dunera made her maiden voyage from Southampton to China in September 1937.She was closely associated with the port, first as a troopship for 24 years and then as a pioneering educational cruise liner for seven years.
The ship was ordered by the British India Steam Navigation Company from the Barclay Curle shipyard in Glasgow and when completed was chartered by the government to carry troops.She and her sister ship, Dilwara, represented considerable advance on the older troopships. During the Second World War the ships took part in the evacuation from Singapore and landings at Madagascar, Sicily and southern France.
Modernisation and refit work in 1950 at Glasgow cost nearly £1m and Dunera continued in service until trooping by sea finished. She still had plenty of life left in her and British India embarked on a bold experiment.The company decided she should continue in service as Britain's first permanent schools cruise liner. During the first year in her new role, she carried more than 10,000 youngsters.
Her achievements paved the way for the introduction of other retired troopships into cruising operations.Sadly, Dunera was finally broken up for scrap in Spain in 1967.
MEMORIES "SNIPPETS" OF A RAMC MEDICAL ORDERLY, HMT DUNERA 1958
The send off from Southampton was always a nostalgic occasion with military bands, flag waiving with lots of tears from wive's and girl friends. Sailing down Southampton Water for the first time I wondered if I would ever see England again. little did I know than in 39 years I would be doing this again on the liner Oriana.
Very few of the young men on board had been abroad before, like me, for most overseas was crossing the Menia bridge to Anglesey or the ferry to the Isle Of White. The bay of Biscay was always rough; we gave out sick pills but I don't think they were any good.
When ever we past another troop ship (it would be announced on the ships tannoy) there was always lots of waving and if the other ship was homeward bound shouting of "You lucky Bas-----ds", (not that they could hear.")
Everyone knew about the sinking of the Windrush so life hboat drill was actually taken seriously, Gibraltar was always the first port of call (or the last), outward bound no shore leave was permitted to prevent troops going AWOL and disappearing across the border into Spain.
The weekly FFI (free from infection) inspections were an undignified procedure with personnel lined up in four rows in PT shorts, the shorts would be dropped while we inspected hair and pubic hair, the penis and other areas. If anything abnormal was found or suspected the poor initial would be refered to the MO, officers were examined by the MO and women QA.'s.
The MOD issue French letters (now called condoms) were the thickness of bicycle innertubes and inverably thrown away"
Dunnottar Castle
15,000tons - Princesa Victoria was built in 1936 by Harland & Wolff, Belfast, for Union-Castle Line as the Dunnottar Castle. She was used on the London (Tilbury) - round Africa service until the outbreak of WW2, when she was converted to an armed merchant cruiser, and then later used a troop transport. In 1949 she resumed her London - round Africa service.

In 1958, Dunnottar Castle was sold to Incres SS Co, who renamed her as Victoria and substantially rebuilt her in Rotterdam. Victoria entered service in 1960 on New York-West Indies cruises. In 1964, Victoria was sold to Victoria SS Co, a subsidiary of the Swedish company Clipper A/B, but retained her name, service and Incres Line as her agents.

Victoria was bought by Chandris in 1975, resuming sailings as The Victoria in June 1976. She cruised in Europe and the Caribbean until 1993, when she was sold to Louis Cruise Lines who used her on cruises from Cyprus as Princesa Victoria. She was then the oldest large cruise ship (over 10000grt) then still in passenger service. She was sold for breaking up in 2004.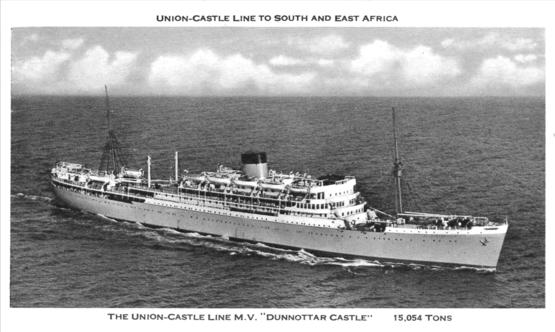 Dunnottar Castle
Another view, it is from a postcard mailed in March 1958 at which time it had reverted to commercial service to East Africa. (Supplied by Ian White.)
Durban Castle

Durban Castle

Durban Castle
DURBAN CASTLE was built in 1938 by Harland & Wolff at Belfast with a tonnage of 17382grt, a length of 594ft 7in, a beam of 76ft 4in and a service speed of 18.5 knots.
She was Built for the Round Africa service and inaugurated the practice of naming ships after non-existent South African castles.
In September 1939 she was converted into a troopship. When Greece fell in 1941 the King of Greece and his family first took refuge in Egypt and then South Africa from where the Durban Castle transported him, his family and entourage from Durban to the United Kingdom.
In 1942 she was converted into a Landing Ship Infantry with nine landing craft on each side and on 6th November took part in the North African landings at Arzue. During July 1943 she landed the 41st Marine Commando on Sicily and later landed troops at Salerno and Anzio. On 15th August 1944 she landed troops near Cannes during the invasion of southern France.
She returned to commercial service in 1946 still carrying her AA gun platforms and with 9 lifeboats on each side replacing the landing craft.
This austere situation was rectified when she was later re-furbished. In July 1947 she resumed service, initially on the mail service pending the return of the larger ships which were themselves being refurbished after war service, and then on the Round Africa service.
On 28th March 1962 she completed her final voyage in London and in the following month was sold to Eisen & Metall GmbH of Hamburg for breaking up.
Empire Brent
Empire Brent/Cook
Letitia (2) (1925-46)
Empire Brent (1946-51)
Captain Cook (1951-60)
In the early twenties, Fairfield Shipbuilding and Engineering Co Ltd of Glasgow built two very similar sister ships for the Donaldson Line. One was called ATHENIA, and was to achieve a certain kind of fame by being torpedoed and sunk by U30 on September 3rd 1939, the first passenger liner to be sunk in the war. She second ship was to have a varied and much longer career and was named LETITIA.
She was launched on October 14th 1924 and completed in April 1925. She grossed 13,475 tons, was 538' long overall, and had a beam of 66.3'. Geared turbines drove the ship through twin screws at a speed between 14 and 16 knots and she was built to burn either coal or oil. Her crew numbered 300 and she could carry 516 Cabin Class passengers with 1,023 in Third Class. She began her maiden voyage on April 25th 1925 and thus introduced herself to the Glasgow-Montreal service on which she was to run until 1939. In 1933 she was given a refit in which her passenger accommodation was modified to take 298 in Cabin Class, 310 in Tourist, and 964 in Third.
At the start of World War Two, LETITIA was converted first to an AMC and later to a troopship. Her role changed again in 1944 when she was taken over by the Canadian Government for conversion to a hospital ship. She survived in this role until the end of the war when she was bought by the British Ministry of Transport. She remained under Donaldson management but was renamed EMPIRE BRENT. On November 20th 1946 she was involved in a collision with the British steamer STORMONT which sank.
A refit on the Clyde between December 1947 and mid-1948 prepared EMPIRE BRENT for her post-war employment and she began her first trooping voyage to the Far East in July 1948. By 1950 she was being run outward bound to Australia with emigrants and being used as a troopship on homeward journeys as required. During this period of her life the ship might best have been described as an "associated unit" of the peacetime trooping fleet. In June 1951 she began yet another refit, which was to last until January 1952, to convert her fully to an emigrant carrier. Her gross tonnage was increased to 13,876 tons and she was able now to carry 1,088 passengers in one class. She left Glasgow for New Zealand for the first voyage after this refit on February 5th 1952.
The latest refit had been brought about by the ship having been chartered to the New Zealand Government in 1951. She was kept under Donaldson management but renamed CAPTAIN COOK and ran from Glasgow to New Zealand via Panama. Still she made the occasional voyage home from the Far East with British military personnel. Between April and October 1955 her itinerary was varied somewhat when she ran seven voyages from Glasgow to Liverpool and Montreal for Donaldson, the route of her maiden voyage thirty years earlier.
CAPTAIN COOK'S New Zealand charter expired in the summer of 1959 and was not renewed. The vessel was old, and as no further employment could be found for her, she was sent for breaking by TW Ward at Inverkeithing where she arrived on April 29th 1960.
Empire Bure
Empire Bure formerly the Charlton Star
Stanley Embling writes: I sailed on the troopship Empire Bure to Jamaica in late February 1949 from Liverpool.... I returned from Jamaica on the Empire Test I do believe in the early part of 1953
Lineage of the ship see below.
Elizabethville/HMT. Empire Bure/Charlton Star ( Details supplied by James Ignis)
History SS Charlton Star, Built by John Cockerill Shipyards,Hoeboken,Belgium
8178 Gross Tons, 439 Feet long
57 Feet wide Steam quadrepal expansion engines,twin screw
Service Speed 14 Knots
700 one class passengers
1921 Elizabethville, Cie Belge-Maritime Du Congo,Antwerp
1930 Cie. Maritime Belge,Antwerp
1940 MOWT Troopship, Managed by Lamport & Holt, Liverpool
1946 Cie Maritime Belge
1947 Empire Bure MOWT managed by Lamport & Holt Line, Liverpool
1950 SS Charlton Star,Charlton SS Co London (CHANDRIS)
1958 Maristrella AJ & DJ Chandris, Liberia
1960 Scrapped at Osaka

A very early picture of the Elizabethville
Empire Call

Empire Call (1944~1945) - SS Ingenieur General Haarbleicher
Name: Empire Call (1944-45)
Ingénieur Général Haarbleicher (1945)
Owner: Ministry of War Transport (1944-45)
Ministère de la Marine Merchande (1945)
Operator: Gibbs & Co Ltd (1944-45)
Compagnie Générale Transatlantique (1945)
Port of registry: United Kingdom Greenock (1944-45)
France Marseilles (1945)
Builder: William Hamilton & Co Ltd
Yard number: 462
Launched: 10 February 1944
Completed: July 1944
Out of service: 21 November 1945
Identification: United Kingdom Official Number 169509 (1944-45)
Code Letters GCWK (1944-45)

Code Letters FPPK (1945)

Fate: Ran aground 1945, scrapped in situ 1947.
General characteristics
Tonnage: 7,067 gross register tons (GRT)
4,759 NRT
Length: 433 ft 5 in (132.11 m)
Beam: 56 ft 2 in (17.12 m)
Depth: 34 ft 2 in (10.41 m)
Installed power: Triple expansion steam engine
Propulsion: Screw propellor
Empire Call
Empire Call was built for the MoWT. She was operated under the management of Gibbs & Co Ltd. She was allocated the United Kingdom Official Number 169509 and used the Code Letters GCWK. Her port of registry was Greenock.
Empire Call was a member of a number of convoys during the Second World War.
SC 159
Convoy SC 159 departed Halifax, Nova Scotia on 18 October 1944 and arrived at Liverpool on 2 November. Empire Call was carrying a cargo of flour, destined for Cardiff.
ONS 97
Convoy ONS 97 departed Belfast Lough on 29 November 1944. Empire Call was bound for New York.
The troopship 'Empire Call' which transported the 43 Wessex Division to Normandy in 1944.
Mike Lewis
Empire Clyde
Empire Clyde/Cameronia
TSS. Cameronia - later renamed SS. Empire Clyde - 7515tons built 1925 Passenger ship.
The first large British passenger liner laid down after the 1914-18 war was Anchor Line's CAMERONIA. She was one of a large group of very similar looking vessels laid down at about the same time which included, fir instance, Donaldson's LETITIA and Cunard's TYRRHENIA. Beardmore and Company of Glasgow launched her on December 23rd, 1919 after a construction period of only nine and a half months and she was completed in March 1921.
As built, the ship grossed 16,280 tons, was 678' long overall, and had a beam of 70.2'. Steam turbines and twin screws gave her a service speed of 17 knots and her initial capacity was for 265 passengers in first class, 370 in second, and 1150 in third with a crew of 320. She began her maiden voyage on May 11th, 1921 and continued in the Liverpool to New York service until she was laid up in the Clyde in December 1934 as a result of the Depression. The only events of great note in her career to this date were her collision with the small Norwegian steamer HANK in the Clyde in 1925 and her Beardmore refit of 1928-29. Some rebuilding forward was part of this refit and was designed to counteract the ship's inclination to pitch heavily. By May 1929vthe work was completed and her passenger capacity had been altered to 290 Cabin Class, 431 Tourist Class, and 698 Third.
In 1935 CAMEROMIA was taken over by the British government for a few trooping voyages to the Middle and Far East after which she was refitted and placed in the Glasgow-New York service starting on July 10th 1936. The Coronation Fleet Review of 1937 provided another short spell of government employment when CAMERONIA was hired by the Admiralty as a VIP grandstand.
The ship continued in unescorted commercial service to New York for a short while after the start of World War Two. She was, in fact, the first British vessel to enter New York after the war had been declared. She left New York on what was to be the last Anchor Line Atlantic passenger voyage on November 4th, 1940 and was taken over for conversion to a troopship on arrival at Glasgow. Her conversion was rapid and she was ready for trooping service in January 1941. During her war service CAMERONIA was damaged by air attack in the Mediterranean. She had to return to the Clyde for repairs after having been disabled by aerial torpedo off Bongie on December 22nd, 1942. She was the largest troopship to take part in the allied landings in Normandy and was on the scene the day after the initial assaults. In August 1944 she was present also at the landings in Southern France.
At the end of the war CAMERONIA was laid up until she was needed again by the government in the spring of 1947. This time she was needed for trooping to Palestine which occupied her until she was taken in hand by Barclay Curle and Company for conversion into an emigrant ship in the Australian trade. Her gross tonnage was increased to 16,584 tons and she was given accommodation for 1,266 passengers in one class. She made her first voyage as an emigrant carrier between Glasgow and Sydney, leaving the UK on November 1st, 1948. She continued in this trade until being bought by the Ministry of Transport in 1953 for conversion to a permanent troopship, possibly as a result of increased trooping demand in connection with the Korean War. Renamed EMPIRE CLYDE, she became a regular on the Far Eastern trooping run. Her career as a peacetime trooper, however, was not long, for as the need for such vessels declined she was sold eventually for scrap, arriving at Newport, Monmouthshire in early October 1957 for breaking by John Cashmore Ltd.

Memory by Derek Lovemore
My own experience was on the Empire Clyde in February 1954 outbound from Liverpool to Bermuda carrying the 1st Battalion Duke of Cornwall's Light Infantry. The Irish Sea was at its most turbulent for many years and the decks were literally awash with vomit for many days, until the ship sailed well out into the North Atlantic. How sweet the smell and scents of Bermuda after 8 days.
Memory by L/Cpl K Phillips Royal Signalss
I was in a Royal Signals draft to the Middle East in August 1947. We went to Greenock and boarded the Camoronia,with some ceremony, a band playing amongst other numbers,Goodbye Dolly Grey. We were due to sail at 1200 hours but made no move.Sailing was now 1800hours .No move, sailing now 0600on the following day. Still no sailing.This continued until an hour or so after 1200 when the ship moved about 100yards from the dock.I think the the crew decided it was enough as we returned to the dock and after two more days aboard we returned to our depots.In late August I eventually sailed for the ME on troopship Cheshire from Liverpool. Both of these troopers were old style ships with hammocks slung over mess tables.There were about 650 troops on each troopdeck.


Empire Dynasty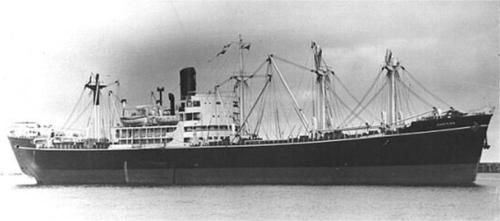 Empire Dynasty - Eastern - Dori.
EmpireDynasty 9905gross tons, 475length, 64beam, 24draft, built1944 MOWT managed by Lamport & Holt Line.
1946 EASTERN, Eastern & Australian SS Co, London.
1964 DORI, Eddie SS Co, Taiwan.
1969 Scrapped Taiwan.
Empire Fowey

Empire Fowey (Supplied by Mike Smith)
Empire Fowey
Copy of a card sent by my father to his mother. It is not dated, but the back states "It is a lovely ship and is on the maiden voyage after being refitted at some tremendous cost" I think it must have been sailing to Kenya during the Mau Mau troubles when my father was serving with the Buffs.

Christopher Excell.
Operating life: 1935 - 1976
Tonnage: 17,528 - Passengers: 286 - Constructed: Blohm & Voss, Hamburg
Empire Fowey was originally called the Potsdam and was seized by the Allies in Flensburg in 1945. She sailed for one year as the Empire Jewel before taking the name of Empire Fowey in 1946 under the management of P&O. In 1960 she was sold to Pakistan and became the Safina-e-Hujjaj. She was scrapped in Karachi in 1976.
Empire Halladale
HMT. Empire Halladale - Operating life: 1922 - 1956
Tonnage: 13,589 - Passengers: 1,886 - Constructed: Vulcan, Hamburg The Empire Halladale was formerly known as the Antonio Delfino. She was built for the Hamburg South American Line and sailed on the Hamburg to River Plate route until 1932. During the war she performed various duties and was captured together with Pretoria in Copenhagen in May 1945. She trooped under the management of the Anchor Line until her break-up in 1956.
Empire Helford
Empire Helford
In 1946 to 1950 this was Empire Helford
Built 1915 - 6598tons 440length 53beam 1Passenger Ship.
1915 CZARITZA, Russian American Line.
1917 The Shipping controller managed by Ellerman's Wilson Line.
1917 The Shipping controller managed by Cunard SS Co.
1920 LITUANIA, Baltic American Line.
1930 KOSCIUSZKO, Gdynia America Line, Poland.
1939 GDYNIA, Polish Navy.
1945 KOSCIUSZKO, Polish Navy.
1946 EMPIRE HELFORD, MOWT managed by Lamport & Holt Line, Liverpool.
1950 Scrapped Blyth
Empire Ken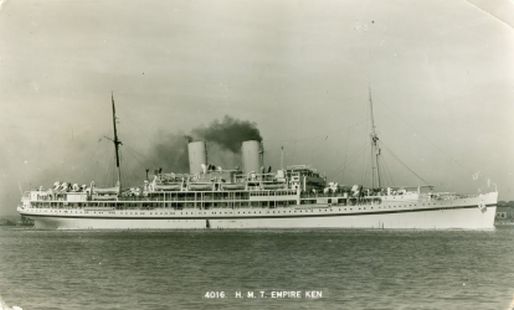 Empire Ken
This photo was supplied by Phil Booth, the caption reads:
The Ship that took my Grandad Randolph Shelby to Rhodesia Africa
HMT. Empire Ken
9523tons, built 1928 Passenger ship.
1928 UBENA, German East Africa Line.
1939 German Navy, U-Boat depot ship.
1945 German hopital ship.
1945 Seized by Allies at Travemunde.
1945 EMPIRE KEN, MOWT troopship.
1957 Scrapped Dalmuir
Jim MacDonald has submitted this image: His Bedding Card for the trip from Malta to Southampton aboard Empire Ken in 1953.
Another view of Empire Ken
Empire Medway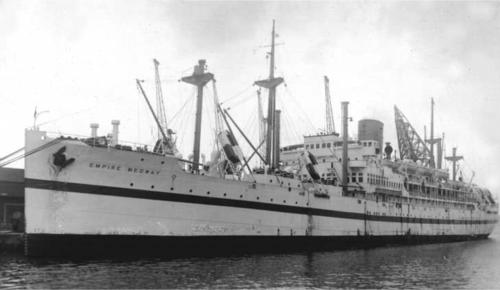 Postcard supplied by Janet Martin - It was sent by her father while doing his National Service.
Empire Medway/Eastern Prince
EASTERN PRINCE (4) was built in 1929 by Napier & Miller Ltd. at Glasgow with a tonnage of 10926grt, a length of 514ft, a beam of 64ft 11in and a service speed of 16.5 knots. Sister of the Northern Prince she was launched on 29th January 1929 and delivered in the following June. In 1932 she rescued the crew of D. Falangas's Artemis which had run aground off Bahia.
During 1940 she made seven round trips between the UK and Canada with children and civilian personnel before being converted into a troopship at Liverpool on 20th-21st December. During conversion she was damaged by German bombers but was commissioned for 1200 men in the following June. In 1943 she was refitted at Baltimore when US standee bunks were installed and her capacity increased to 2150 men.
She was used as an accommodation ship during the Yalta Conference in 1945 and on 30th March 1946 was acquired by the Ministry of Transport for use as a troopship. Renamed Empire Medway in 1950, with Prince Line as managers she was given a white hull with blue band and yellow funnel and deployed between Southampton - Gibraltar - Trieste or Cyprus - Port Said and Lebanon. In November 1952 she arrived at Faslane where she was broken up during 1953.
Empire Orwell
HMT. Empire Orwell - Operating life: 1936 - 1987 - Tonnage: 16,662 - Passengers: 490
Constructed: Blohm & Voss, Hamburg

Empire Orwell started her life as the Pretoria. During the war she became a hospital ship and was used for the evacuation of the Eastern territories in early 1945. Taken as a war prize in Copenhagen in May 1945 she served as the Empire Doon under Orient Line management until 1950 when she underwent a major refit and became the Empire Orwell. She was sold to the Blue Funnel Line in 1958 and became the Gunung Djati pilgrim ship sailing between Indonesia and DJeddah. In 1979 she was sold again to the Indonesian navy and spent her last years trooping as the Tanjung Pandan. She was scrapped in Taiwan in 1987.
Empire Parkeston
Ex- Prince Henry, 1946 purchased from Canadian Government and renamed Empire Parkeston, 1962 scrapped. 6,893 tons
MEMORIES "SNIPPETS" OF A RAMC MEDICAL ORDERLY - Graham Hibbert
There are two troop ships that you hear very little about, thy Empire Parkston and the Wansbeck, these were known as ST's (sick tubs).
They operated a a night crossing several times a week from Harwich to the Hook of Holland (for onward rail transport to Germany) and return.
Medical staff consisted of two RAMC Lance-Corporals only, provided by Netley on secondment to movement control Parkston Quay Harwich, I spent several winter months on these ships; we had a small medical room and were always busy. For serious incidents we were totally reliant on any doctors and QA's in transit and radio advice.
Unfortunately I do not have any photos, at the time these ships did not have the sence of adventure and excitement as deep sea trooping. - Graham Hibbert.
Another view of Empire Parkeston
Empire Pride
9248tons, built 1941 Troop Transport.
MOWT managed by Bibby Bros & Co.
1954 CHARLTON PRIDE, Chandris Ltd, London, converted to cargo liner.
1956 CALGARIA, Donaldson Line, Glasgow.
1963 EMBASSY, Cia Nav.Fortaleza, Panama.
1963 Scrapped Hong Kong
Empire Star
Empire Star
Built: Harland-Wolffs, Belfast - Dimensions: 524.2 x 70.4 x 32.3 feet
Tonnage: Gross: 11093 Net: 6810
Propulsion: Two 6-Cyl. 2 S.C.D.A. Burmeister & Wain oil engines by shipbuilder driving twin screws
Type: Refrigerated Cargo Liner
Launched: 26/9/1935 ( Yard No.957) as Empire Star for Frederick Leyland & Co. Ltd. (Blue Star Line managers) - Completed: 12/1935
Bombed: 12/02/1942 and damaged by Japanese aircraft in the Durian Strait, during the evacuation of Singapore. She received three direct hits and repairs were later carried out at Fremantle and Sydney, Australia. Fourteen military personnel and two civilian refugees were killed
Torpedoed: 23/10/1942 and sunk by the German Submarine U-615, north of the Azores in position 48.14N 26.22W [20]. She was on a voyage from Liverpool to East London, South Africa with 10,555 tons of general cargo and Government stores. Twenty crew , six gunners and six passengers were lost.

Sister Ships: Imperial Star (1) , New Zealand Star (1) , Sydney Star (1) , Australia Star (1) , Melbourne Star (1) , Brisbane Star (1), Wellington Star (1), Auckland Star (1), Adelaide Star (1) , Empire Star (3) , Imperial Star (2) & Melbourne Star (2)
Empire Test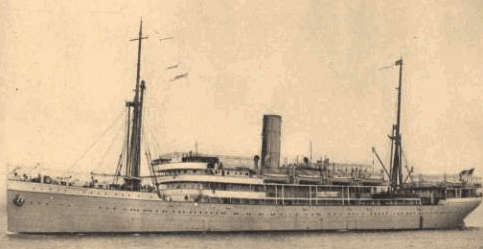 S/S THYSVILLE in 1922
(Empire Test)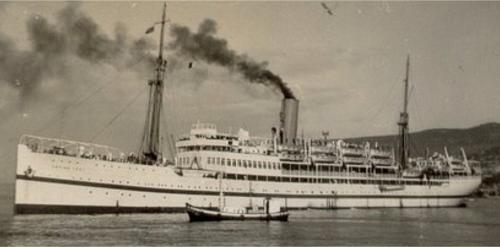 Belge-Maritime du Congo, Antwerp. 8176 tons.
1947 EMPIRE TEST, MOWT managed by Lamport & Holt Line - troopship.
Scrapped Faslane in 1953
EMPIRE TEST / THYSVILLE 1922 - picture supplied by Ron Flood - The Empire Test at Trieste Docks Italy, in 1952 with The South Lancashire Regiment aboard who were heading for the Middle East.
8,300 gross tons, length 459ft x beam 57ft, one funnel, two masts, twin screw, speed 14 knots. Accommodation for 178-1st and 136-2nd class passengers. Built by John Cockerill, Hoboken for Cie Belge Maritime du Congo, she was launched as the THYSVILLE and commenced her maiden voyage from Antwerp to the Belgian Congo on 2nd Oct.1922. In 1930 the company was merged into Cie Maritime Belge (Lloyd Royal) and in 1940 on the invasion of Belgium by the Germans, she was operated by the Belgian Government on charter to the Allies. Acquired by the Ministry of Defence in 1947 for relief trooping, she was renamed EMPIRE TEST, and was painted white with a blue band round her hull, yellow funnel and cream masts. There was capacity for 800 passengers/troops. Her final trooping voyage was in Oct.1952 and arrived at Faslane on 19th June 1953 for scrapping.
I sailed on this troopship from Trieste to Port Sudan in October 1951 with the 1st Bn The South Lancashire Regiment.The photograph showing it in Trieste was taken in 1951 not 1952. It was, of course coal burning and I remember that once it arrived in Port Sudan a lighter came alongside laden with coal. It was then unloaded into the bunkers by hand with native labour (Fuzzy-Wuzzys) running up a series of planks carrying baskets of coal. This process went on for nearly three days until the lighter was empty.

Cheers
Gordon Clark
Another view of Empire Test - courtesy of www.photoship.co.uk
HMT. Empire Trooper
The EMPIRE TROOPER, ex CAPE NORTE ex SIERRA SALVADORE, was an ex German 13,942 gross ton passenger steamer built in 1922, by Stettiner Maschinbau AG Vulcan of Hamburg. When built there was capacity for 2,886 passengers. On the 3rd of September 1939, while attempting to return to Germany, and in a position just off Peenambuco, Iceland, the vessel was captured by H.M.S Belfast. During the capture the German crew managed to sabotage the ships engines. Scrapped in 1955
SS. Empire Wansbeck
Built 1943 ex- Linz, (North German Lloyd), war prize, 1946 renamed Empire Wansbeck, Harwich-Hook of Holland, 1961 sold to Greece, renamed Esperos. 3,508tons
MEMORIES "SNIPPETS" OF A RAMC MEDICAL ORDERLY - Graham Hibbert.
There are two troop ships that you hear very little about, they were Empire Parkston and the Wansbeck, these were known as ST's (sick tubs).
They operated a a night crossing several times a week from Harwich to the Hook of Holland (for onward rail transport to Germany) and return.
Medical staff consisted of two RAMC lance-corporals only, provided by Netley on secondment to movement control Parkston Quay Harwich, I spent several winter months on these ships; we had a small medical room and were always busy. For serious incidents we were totally reliant on any doctors and QA's in transit and radio advice.
Unfortunately I do not have any photos, at the time these ships did not have the since of adventure and excitement as deep sea trooping. - Graham Hibbert.
Empress of Australia
Built as TIRPITZ for Hamburg-Amerika Line by Vulcanwerke, A.G at Stettin, Germany
21,861 GRT - 615 x 75 feet - Twin screw, turbines - 17 knots
370 First class, 190 Second Class, 415 Third Class, 1,000 Steerage
In 1938 she went to Harland & Wolff at Southampton for an overhaul returning for the 1939 season, but after only three cruisesshe was selected to act as the Royal Yacht to take King George VI and the Queen to Canada. She sailed from Portsmouth May 6, 1939and arrived two days late in Quebec due to dense fog. She continued on the Quebec run until the outbreak of War whereupon she became a troopship.It was in this role that she would remain for the next 13 years. EMPRESS OF AUSTRALIA worked world wide in trooping in every theatre of war. In 1946 while anchoring off Liverpool her anchor tangled with that of a cargo liner DEBRETT, the two ships collided and seven tugs were needed to separate them. In December of 1946 she was altered for peace-time trooping, offering better accommodations, however she was never repainted from the wartime grey. She continiued to carry troops up to another overhaul in Liverpool in 1951. The following year after her 70th trooping voyage she was sold. Bought for scrap, she sailed from the Mersey to Inverkeithing, May 8, 1952.
Empress of Britain
On the 25th Sept 1939, she was officially requisitioned to be used as a troop transport. Once she had been converted into such, she made two trooping crossings from Halifax to Clyde, each time escorted by destroyers.
In March 1940, the Empress was sent to Australia and New Zealand to transport troops to Europe. On May 12th she left Freemantle in a troop convoy
The Empress of Britain burning after having been attacked by German aircraft.
together with the Empress of Canada, Queen Mary, Aquitania, Mauretania and Royal Mail's Andes.
In the autumn of 1940, the Empress of Britain was on trooping mission between England and Suez via the Cape. On her way back, she called at Cape Town. Leaving with 643 people on board, no one knew that this was to be her last voyage. On October 26th, when the Empress of Britain was off the West Coast of Ireland, she was suddenly attacked by a German long-range Focke-Wulf Condor aircraft. The ship was set on fire in the attack, and it did not take long before the crew had lost control of the raging blaze. The Captain ordered abandon ship, but a skeleton crew remained in an effort to save the ship.
The Polish destroyer Burza and the two tugs Marauder and Thames managed to take the burning vessel in tow, and headed for safe waters. But the German aircraft had reported the ship's position via radio, and soon the German U-boat U-32 was on the Empress' tails. The U-boat stalked its prey for almost 24 hours before, on October 28th, she was able to fire three torpedoes against the Empress of Britain. One of the torpedoes detonated prematurely, but the other two found its target, and mortally wounded her. The Empress of Britain went down, the casualties being counted to 49, most of whom had been killed in the air attack. Two days later, the U-32 was sunk by the destroyer Harvester.
Five years later, when the bloody conflict of World War II came to an end, no larger liner than the Empress of Britain had been sunk. She was the greatest loss for the Allied forces during the entire war.
Empress of Japan/Empress of Scotland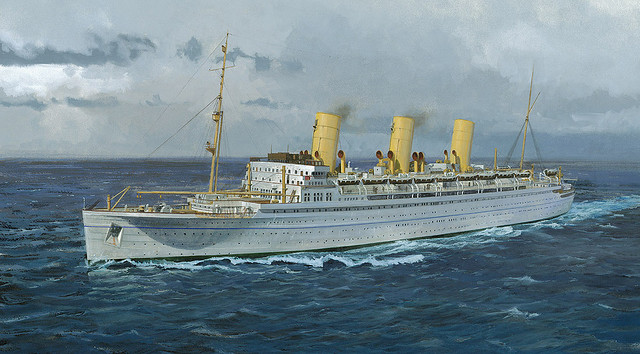 Built by the Fairfield Shipbuilding & Engineering Company, Govan, in 1930 - Yard No: 634 Official Number: 161430 Signal Letters: G M L V
Gross Tonnage: 26,313 Nett: 14,486 Length: 644 feet Breadth: 83.8 feet - Owned by the Canadian Pacific Railway Company
(Canadian Pacific Steamships - Managers) - 6 steam turbines, single-reduction gearing to twin screws.Speed: 21 knots, max 23.
The EMPRESS OF JAPAN was built at the Fairfield Yard at Govan at a cost of about £1.5 million. The ship's twin screws were driven by Parsons' single-reduction geared turbines. Six Yarrow oil-fired water tube boilers supplied steam at 425 lb/psi and 725 degrees superheat. The main engines developed 30,000 shp on five boilers (leaving one in reserve) for a normal service speed of 21 knots. The third funnel was a dummy, but served as a ventilator for the engine room, and the first and second-class galleys.
On 26th November 1939 the EMPRESS OF JAPAN was requisitioned as a troopship. She had been in Shanghai when war was declared and after a crossing to Honolulu and Vancouver, she sailed for Esquimalt where a certain amount of work was carried out to fit her for trooping. Her hull and superstructure were painted grey and she then left for Sydney, arriving on 22nd December.
Shortly afterwards she sailed for Suez with a contingent of Australian troops. Returning to Melbourne, she sailed again with troops to Suez in the company of the QUEEN MARY, AQUITANIA, MAURETANIA, EMPRESS OF BRITAIN and the EMPRESS OF CANADA. In 1941 the EMPRESS OF JAPAN completed trooping voyages from Glasgow to the Cape and Singapore, returning to the UK via Panama: 35,000 miles in 141 days.
On 9th November 1944 the EMPRESS OF SCOTLAND was subject to an air attack off Northern Ireland; three bombs being such near misses that they actually glanced off the ship's rails and a lifeboat, exploding in the sea. Captain J.W. Thomas had given evasive-action orders to the quartermaster who swung the wheel whilst lying on his stomach to avoid machine gun bullets which were raking the bridge! Both men were later decorated for their bravery.
Following the cessation of hostilities the EMPRESS OF SCOTLAND continued trooping, repatriating troops and their families until she was released at Liverpool on 3rd May 1948. During the years 1939/1948, the EMPRESS OF SCOTLAND had steamed three times round the world, twice westbound and once eastbound; had sailed five times to South Africa and Singapore; and visited Australia and New Zealand five times. She had called at Canadian and U.S. ports on twelve occasions; sailed eight times to India; and post-war twice to Japan. In all the EMPRESS OF SCOTLAND had steamed 713,000 miles on war service and had carried 292,000 troops as well as other passengers.

The EMPRESS OF JAPAN (by now renamed EMPRESS OF SCOTLAND) as a troopship in the Second World War.

ETTRICK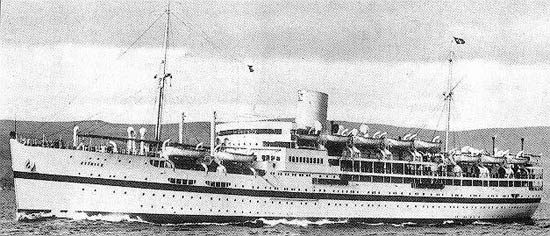 ETTRICK - P. & O. Steam Navigation Co Ltd, London
Ettrick MV was a British Passenger Motor Vessel of 11,279 tons built in 1938 by Barclay Curle & Company, Glasgow, Yard No 669 for the Peninsular & Oriental Steam Navigation Company. She was powered by two five cylinder Doxford~type opposed piston 2SCSA oil engines, diesels, twin screw, giving 20 knots. Engines by the shipbuilders. The vessel was on charter to the Admiralty as a Troopship. On the 15th November 1942 she was torpedoed by German submarine U-155 at 0315, 150 miles W of Gibraltar.
She sank at 0836. She was on a voyage from Gibraltar to the Clyde in ballast, with a crew of 204, 66 naval ratings, and 41 gunners. 18 naval ratings and 5 Asian crew were lost; another Asian seaman died of his injuries. Survivors were taken to Gibraltar by the Norwegian destroyer HMS GLAISDALE (L44) and returned to the UK in P&O´s MOOLTAN the following day.
(The large luxury troopship the 'Ettrick' at Southampton dock. L/S's and M/S's of the 2nd battalion Shropshire light infantry boarding the ship. Good footage of the soldiers waving from the deck of the ship as she embarks for the West Indies on her maiden voyage.
SS. Euripides - Aberdeen Line
EURIPIDES / AKAROA 1914
The EURIPIDES was a 14,947 gross ton ship built in 1914 by Harland & Wolff, Belfast for the Aberdeen and Commonwealth Line. Her details were - length 550.7ft x beam 67.4ft (167,85m x 54,00m), one funnel, two masts, refrigerated cargo space, triple screw and a speed of 15 knots. There was accommodation for 140-1st, 334-2nd and 750-3rd class passengers. Launched on 29th Jan.1914, she was the company's largest ship and made a "shake down" cruise in June with guests. Her maiden voyage from London to Brisbane started on 1st July and she arrived on 24th August.
On 26th Aug.1914 she was taken over at Brisbane for Australian trooping duties, but reverted to UK government control in 1915 and continued London - Australia voyages, her third class accommodation being used mainly for troops. In Feb.1919 she commenced repatriating Australian troops, and during this and her war service steamed 208,307 miles and carried 38,439 troops.
After overhaul at Belfast she resumed the Aberdeen Line's London - Australia service in Nov.1920. In March 1923 she made the company's last inbound call at Plymouth and subsequently sailed direct to Southampton. She was laid up in the Clyde for five months in 1927 and then went into the Liverpool - Australia joint service of the Blue Funnel and White Star-Aberdeen Line.
In 1929 she was transferred to White Star's Oceanic Steam Navigation Co managemant and in July 1932 was taken over by Shaw Savill & Albion. Rebuilt to 15,128 gross tons by Hawthorn Leslie & Co, and with accommodation for 200-cabin class passengers she was fitted with a swimming pool, her 3rd class accommodation converted to cargo space, her engines converted from coal to oil burning and she was renamed AKAROA. She entered Shaw Savill & Albion's Southampton - Panama - Wellington service on 28th Feb.1933 and in November made her fastest passage to New Zealand in 37 days.
Between 1939-45 she remained in commercial service under the Ministry of War Transport and was reconditioned on the Tyne in 1945 to 15,320 gross tons and with accommodation for 190-cabin class passengers. Her final sailing to Wellington started on 2nd Jan.1954 and in May of that year she went to shipbreakers at Antwerp.[Merchant Fleets by Duncan Haws, vol.17, Aberdeen and Aberdeen & Commonwealth Lines]
Franconia
SS Franconia.
Built 1923 by John Brown Clydebank, - Yard No 492 - Engines by Shipbuilder

Port of Registry: Liverpool - Propulsion: Steam turbine, twin screws, 13500shp
Launched: Saturday, 21/10/1922 - Ship Type: Passenger Vessel
Ship's Role: N.Atlantic and cruising
Tonnage: 20155 grt - Length: 624 feet - Breadth: 73 feet
Owner History:
Cunard Steam-Ship Company, Liverpool
1934 Cunard-White Star Ltd., Liverpool
1950 Cunard Steam-Ship Co., Liverpool
Status: Arrived for Scrapping - 18/12/1956
Georgic
Georgic (II) 1932 - 1956
Length: 712 feet (217.5 m) Beam: 82.5 feet (25.2 m) Tonnage: 27,759 gross tons
The Second World War began in 1939, and the Georgic was requisitioned for British trooping duties. Earlier the same year the Georgic had been transferred back to the Liverpool-New York service and made five voyages back and forth. The actual converting into a trooping-vessel did not occur until April 1940, on the Clyde. The Georgic was now able to carry 3,000 soldiers. The first use that was made of the Georgic was to have British troops evacuated from Andesfjord and Narvik in Norway and landing them at the Clyde. The next assignment was to evacuate British soldiers from Brest and S:t Nazarie. She also carried Canadian troops across the Atlantic to the Middle East via the way around Africa.
In 1941, the Georgic was sailing in a convoy that had left the Clyde on May 22. This convoy was the very convoy, which hunted and sank the famous German battleship Bismarck. After having been left almost unprotected by the attacking British war-ships, the Georgic anyway managed to reach her destination: Port Tewfik in the Gulf of Suez on July 7. When she was at anchor here, German aircraft spotted the British trooper and bombed her. The Georgic was hit twice, and the stern of the ship was set afire by the bombs. The fire reached the ship's fuel, and the ammunition carried on board exploded, thus wrecking the entire stern area. The ship was beached by her captain, and when evacuated the half-submerged Georgic was left to be burned out.
Even though the vessel was almost totally destroyed, it was decided that she should be salvaged on September 14. In October the Georgic was raised, and two months later the plugging of the hull was completed. She was towed, stern first, to Port Sudan where she was made seaworthy. A year later she had arrived at Bombay and finished hull cleaning and further reparations. In January 1943, she left Bombay at 16 knots for Liverpool where she arrived on March 1. Her next port of call was Belfast. There she would undergo a complete refit, which took 17 months. When completed in December 1944, her exterior was much different from what she had once looked like. The main changes was that her fore funnel and aft mast had been removed and the forward mast been shortened. Now every possible difficulty in separating Georgic from her sister Britannic had been reduced. On December 16, she was returned to her managers. During the last year of the war, the Georgic made some trooping to Italy, the Middle East and India. The last war duties continued until 1948.

The Georgic was offered for sale in 1955, and in May she was chartered by the Australian Government. The last voyage ever completed in service for the Georgic was on November 19, when she carried 800 troops between Hong Kong and Liverpool. In December she was laid up at Kames Bay at Isle of Bute, and in January 1956 she was sold to the Shipbreaking Industries Ltd. at Faslane where she arrived one month later. The last of the ships built for the White Star Line had finally come to rest.
Highland Monarch

Highland Monarch - 14,139tons - Built at Harland & Wolff, Belfast - 1932-1960 - Steel Screw motorship
Highland Monarch was built for Nelson Line in 1928. She passed to Royal Mail in 1932, with the take over of Nelson Line. Highland Monarch was scrapped in 1960.
Highland Princess

Highland Princess 14,100 Harland & Wolff, Belfast 1932-1959 Steel Screw motorship
Highland Princess was built for Nelson Line in 1929. She passed to Royal Mail in 1932, with the take over of Nelson Line. In 1959 Highland Princess was sold to John Latsis, Piraeus, and renamed Marianna
Highland Chieftain
Highland Chieftain
(Royal Mail: 1932-1958 - 14,131gt)
Highland Chieftain was built by Harland and Wolf of Belfast for Nelson Line in 1928, the first of the five "Highland" Class. Sister ships were Highland Brigade, Highland Monarch and Highland Princess. Her maiden voyage on the London to River Plate service, on the 21st of February and later transferred to Royal Mail in 1932. She commenced wartime trooping duties in 1939, but was damaged on the 11th of October, 1940, during a bombing raid on Liverpool.She ran aground in 1946. In 1959 Highland Chieftain was sold to Calpe Shipping Co, Gibraltar, and renamed Calpean Star.
The Fate of this Ship.
As you come up the River Plate to Montevideo you can see the mast of the Highland Chieftain sticking out of the water from miles away. The un-initiated on the ship thought that this was the remains of the Graff Spee. No such luck as she lies broken up underwater some 3 miles away. After the war she did not resume her commercial operations until 1948 on the River Plate service, and was sold out of the fleet in January of 1959 to the Calpe Shipping Company of Gibraltar and converted for use in the whaling industry,and renamed Calpean Star.
In March of 1960 she suffered rudder damage when off Montevideo, and after leaving under tow she suffered a boiler room explosion which resulted in her being abandoned.The wreck wasn't cut up for scrap until 1965.
She took webmasters brother Charles Petvin (RAF) to North Africa in 1943
With thanks to Andrew Faulkner
SS Ivernia

SS IVERNIA

Ivernia was built in 1900, by C.S. Swan & Hunter Ltd. in Newcastle. She was the sister ship to Saxonia. Her tonnage was 14,058 tons gross, 11,057 under deck and 9,052 net. She was 582 feet long with a 64.9 foot beam and holds 37.8 feet deep; She had twin screws, 4 masts, 3 steel decks. The upper and main decks were partly sheathed in wood. Steel orlop deck forward, orlop beams aft, steel shelter deck were also sheathed in wood. She was fitted with electric lights and refrigerating machinery.
There was a cellular double bottom, aft 163 feet long, under engine and boilers 113 feet amidship and forward 205 feet. Propulsion came from a quadruple expansion steam engine with 8 cylinders operating at 210 p.s.i.; 1,668 nominal horsepower; 9 single ended boilers; 27 corrugated furnaces. The engine was built by Wallsend Slipway Co. Ltd. in Newcastle.
At the time of her construction, Ivernia had the largest funnel of any vessel afloat. At 60 feet in height, it was as large as the later 52,000 ton German Imperator's funnels. Ivernia had accommodations for 164 First class, 200 Second class, and 1600 Third class passengers. She started on her maiden voyage from Liverpool to New York on April 14th 1900. Her normal service was Liverpool – Queenstown (Cobh) – Boston.
Following the outbreak of World War I in August 1914 the Ivernia was hired by the British government as a troop transport and was placed under the command of Captain Turner (made famous for being the captain of RMS Lusitania at the time of her sinking).
At the time of the attack the Ivernia was carrying about 2,400 troops of the Argyle & Sutherland Highlanders, Royal Scots Fusiliers, Rifle Brigade and Yeomanry. Of these three officers and 82 other ranks were drowned. The ship's surgeon, the chief engineer and 34 of the crew were also drowned.
At 10:12am on 1 January 1917 the Ivernia was torpedoed by the German submarine UB-47 58 miles south-east of Cape Matapan in Greece. Within one hour the ship sank. HMS Rifleman rescued a number, and armed trawlers towed the bulk, who had taken to lifeboats, to Suda Bay in Crete. Over 120 lives were lost from the sinking.

Imperator
SS. Imperator - Launched 05-23-1912, Vulcan Shipyards, Hamburg
Gross Tonnage - 52,226, Dimensions - 269.09 x 29.96m ,Number of funnels - 3Number of masts - 2, Builder - A.G.Vulcan, Hamburg, Commisioned 05-24-1913Size: 52.117 gross tons (European); 15,000 tons., Length over all: 277.06 m (269.07 registered), Width: 29.87 m, Depth: 19.20 m, Machines: 4 turbines AEG-Vulcan, Speed: 23 knots normal, 24 knots maximum, Capacity: 714+194 first class, 401+205 second class, 962+1772 third class passengers, 1180 crew. 1938 sold for scrap
As the cost of renovation would be so high it was decided to withdraw the Berengaria from service altogether, on 23 March 1938. For the next few months she lay idle in Southampton dock until 19 October when it was decided to dispose of her. Sir John Jarvis MP bought the ship for demolition on the Tyne at Jarrow for £108,000. The ship sailed from Southampton on December. The furniture and fittings were auctioned in January 1939 and over 200 Jarrow men were employed in breaking up the old ship. The outbreak of war, however, meant that the men were required elsewhere so it was not until 1946 that the remains of the hull were towed to Rosyth for the final process of dismantling. By this time few people were interested in the remains of an old liner that had been built in the Imperial Germany of 1913.
Ile De France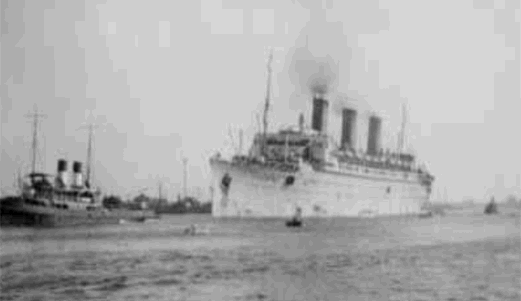 Ile De France
The ship was involved in extensive trooping during World War II. Returned to the French Line in 1947, she underwent a massive two-year reconstruction which modified her profile with the removal of one funnel, giving her a more modern appearance. She was also given some of the furnishings of the Normandie, which had been destroyed by fire in 1942.
Laconia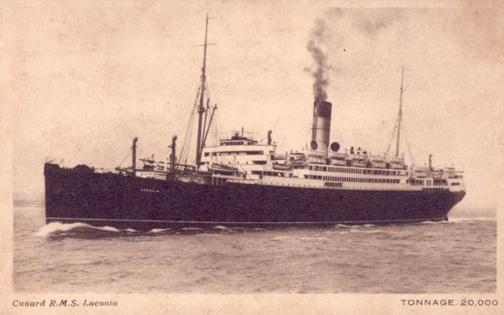 RMS Laconia
Owner: Cunard Line - Port of registry: Great Britain
Route: Liverpool-Boston-New York route
Builder: Swan, Hunter & Wigham Richardson Ltd, Wallsend-on-Tyne
Launched: 9 April 1921 - Maiden voyage: 25 May 1922
Fate: Torpedoed and sunk on 12 September 1942
General characteristics
Class and type: Ocean liner - Tonnage: 19,860 gross tons
Length: 183 m (600 feet) - Beam: 22.5 m (74 ft)
Installed power: Steam turbines - Propulsion: Twin propellers
Speed: 16 knots
Capacity: Passenger accommodations: 350 1st class - 350 2nd class - 1,500 3rd class


Lancastria
SS. Lancastria - sunk at St Nazaire 17th June 1940
Name: RMS Tyrrhenia (1920–24) -RMS Lancastria (1924–40)
HMT Lancastria (1940)

Owner: Cunard Line Builder: William Beardmore and Company
Launched: 1920
Maiden voyage: 19 June 1922 - Out of service: 17 June 1940
Nickname(s): as Tyrrhenia her crew called her
"Old Soup Tureen"[1]

Fate: Sunk by air attack on 17 June 1940 - Notes: 3,000 to 5,800 total dead
1,738 identified (named) dead - 2,477 survivors
Tonnage: 16,243 GRT p- Length: 578 ft (176 m) - Beam: 70 ft (21 m)
Height: 43 ft (13 m) - Draught: 31.4 ft (9.6 m)
Decks: 7 decks and a shelter deck
Installed power: 6 steam turbines, 2,500 nhp - Propulsion: twin screw
Speed: 16.5 knots (31 km/h; 19 mph) - Capacity: 1,300 passengers
3 cargo holds:
438,000 cubic feet (12,400 m3) Grain Capacity
400,000 cubic feet (11,000 m3) Bale Capacity
29,000 cubic feet (820 m3) Refrigerated

Crew: 300
Notes: Sister ship: RMS Cameronia
Lancashire
HMT. Lancashire (2)
Built 1914 for Bibby Line, in 1930 converted to permanent troopship, scrapped at Barrow in 1956. Length 502 ft. Breadth 57 ft. Depth 35 ft. 10 ins. Tonnage 9,543 tons, H.P. 6,000.
Lancashire took my father to Malta in April 1934. They appeared to have arrived at Malta on 22/04/1934. He was posted to RAF Flying Boat base at Calafrna, attached to 202(FB) Squadron. Lancashire seems to have taken service personnel as far as India and was out in the far east at the fall of Singapore. I also have heard it was still in far east service (pos.
Hong Kong) as late as 1956. (Roy Haskett)


Another view of HMT. Lancashire - supplied by B J Jayne.
I sailed on the last voyage of the Lancashire, Embarking with the HQ Ist guards Brigade at Port Said at the end of March 1956 arriving in Liverpool approx 14 days later, she suffered a minor engine problem resulting in a short stay in Grand harbour Malta, She left Liverpool to go to the Breakers Yard.

Regards B J Jayne Welsh Guards (ret)
Laurentic
SS Laurentic was a British ocean liner of the White Star Line.
Career - Name: SS Laurentic
Owner: White Star Line Ordered: 1907
Builder: Harland and Wolff - Yard number: 394
Launched: 1908 - Maiden voyage: 29 April 1909
Fate: Struck two mines and sank, 25 January 1917
General characteristics - Tonnage: 14,892 Gross Register Tonnage
Length: 565 ft (172 m) Beam: 67 ft 3 in (20.5 m)
Decks: 3
Installed power: Triple-expansion steam engines driving outboard propellers, with low-pressure turbine driving the centre propeller. Total 11,000 indicated horsepower.
Propulsion: Triple screws - Speed: 16 kn (30 km/h; 18 mph)
Capacity: 1st Class: 230; 2nd Class: 430; 3rd Class; 1,000
Laurentic was launched in 1908 and entered service between Liverpool and Montréal on 29 April 1909. She only ever served on the Liverpool-Canada route, and gained notoriety in the capture of murderer Hawley Harvey Crippen, in which Chief Inspector Walter Dew of the Metropolitan Police used the Laurentic's speed to arrive in Canada before the fleeing suspect on the SS Montrose.
Being in Montréal when the Great War began, Laurentic was immediately commissioned as a troop transport for the Canadian Expeditionary Force. After conversion to armed merchant cruiser service in 1915, she struck two mines off Lough Swilly in the north of Ireland on 25 January 1917 and sank within an hour. Only 121 of the 475 aboard survived.
In addition to her passengers and crew, the ship was carrying about 35 tons of gold ingots stowed in its second class baggage room. At the time the gold was valued at £5 million, approximately £250 million in 2007. Royal Navy divers made over 5,000 dives to the wreck between 1917 and 1924 and recovered all but about 1% of the ingots. Still to this day 22 bars of gold remain on the sea bed, perhaps under parts of the hull, the last of the gold recovered by the Royal Navy was some 10 metres (33.8 feet) under the sea bed, thus the remaining gold would be difficult to reach.



Empire Clyde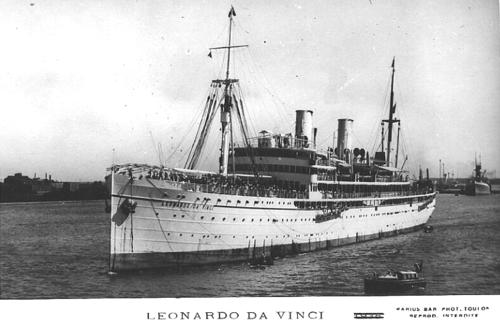 LEONARDO DA VINCI (Empire Clyde 1)
1925 LEONARDO DA VINCI, Transatlantica Italiana Soc.di Nav, Genoa.
1937 Lloyd Triestino, Trieste.
14.2.41 Captured by R.N at Kismayu, Italian Somaliland.
1941 MOWT managed by Ellerman Lines.
1943 EMPIRE CLYDE (1), managed by Ellerman City Line - Hospital Ship.
1948 MAINE, The Admiralty. Hospital Ship.
1954 Scrapped Hong Kong.
Llangibby
Llangibby Castle
Name Llangibby Castle
Type: Troop transport
Tonnage 11.951 tons
Completed 1929 - Harland & Wolff Ltd, Govan, Glasgow
Owner Union-Castle Mail SS Co Ltd, London
Homeport London

Llangibby Castle (12053 tons) was torpedoed by U-402 (Lt at 46.04N, 19.06W - Grid BE 5716) while part of convoy WS15.
At 11.15 hours on 16 Jan, 1942, the Llangibby Castle (Master Bayer) was torpedoed by U-402 north of the Azores. One torpedo hit the stern and blew away the after gun and the rudder, but the propellers remained intact. The ship limped to Horta in the Azores at 9 knots, fighting off attacks by German Fw200 aircraft on the way. The neutral Portugal allowed only 14 days for repairs and on 2 February, the ship had to leave with the troops still on board and set course to Gibraltar, assisted by an Admiralty tug and escorted by three British destroyers.
On 3 February, the small convoy was followed by several U-boats, but none managed to hit the ship, while the HMS Westcott (D 47) sank U-581 (Pfeifer). On 8 February, the troopship arrived at Gibraltar in tow of the tug and disembarked the troops.
On 6 April, the Llangibby Castle left Gibraltar under escort after temporary repairs, but still without rudder, for the UK, arriving on 13 April. Altogether she sailed 3400 miles without a rudder and with a badly damaged stern, only using her engines for steering, a feat for which her master was awarded the OBE.
---
I was searching through the list of troopships (WW) looking for for a ship which I think was called Llangliby Castle. I sailed aboard her, with other Royal Navy personnel, from Greenock Sept.13th 1943. She was designated MHT G3. Finshed the journey Durban. Is there any info. about this transport available?
Sid Browne. 113 Thirteenth Street, MILDURA. Vic. Australia.3500.
---
Her Service Career
Three years later the last of the "LLANS " appeared, the LLANGIBBY CASTLE of 12 000 tons. She was really just an enlarged sister to the original pair but was a motorship, the first to appear in the intermediate fleet of the Union-Castle Line, and the first in the "Round Africa" service. Built by Harland and Wolff of Belfast, but in their shipyard at Govan, Glasgow, she was, as Marischal Murray points out in his book "Ships and South Africa", built for an English firm by an Irish Company in Scotland and with a Welsh name! She was the finest of the "LLANS", perhaps not in looks but certainly in the luxury of her cabins, wide deck space and speed. In appearance she resembled the mailship CARNARVON CASTLE of 1921 except that her boats were slung above deck-level as in the mailships WINCHESTER CASTLE and WARWICK CASTLE, which appeared a few months after she did. She became exceedingly popular in the Round Africa service and also in the West Coast intermediate service. She carried 450 passengers in two classes.
She had an eventful life during the war (1939 – 1945), taking part in many dangerous convoy trips. In January 1942 she was a unit in a convoy rushing troops to Singapore. She had 1500 of them on board. In the morning of January 16, four days after leaving Britain, she was hit on her stern by a torpedo, which destroyed her rudder , blew her stern gun overboard and killed 26 men. The weather was bad, a strong wind blowing and the waves were high. Captain R.F. Bayer was instructed to make for the Azores independently, in itself a very dangerous move. Fortunately neither of the propellers had been destroyed so the ship could be steered, although with great difficulty, by "jockeying" the screws. Three hours later the LLANGIBBY CASTLE was again attacked, this time by a long-range plane which dropped bombs, which fortunately missed, and by machine-gun fire which wounded the ship's bosun. The vessel's A.A. guns hit back and the attacker was hit and made off with black smoke streaming from it.
It took the LLANGIBBY CASTLE three days to cover the 700 miles to the Azores, but on January 19 she reached Horta Bay, where the Portuguese authorities gave the ship 14 days in which to make repairs. There were no proper repairing facilities at Horta, nor were any of the troops nor the ship's company allowed ashore (except for the captain, on business!), but all hands enjoyed seeing the lights and having the ports of their cabins open, after the normal "black-out" conditions in Britain and at sea.
Meanwhile the R.N. was making arrangements to succour the ship. On February 1 three destroyers and an Admiralty tug arrived, to escort the LLANGIBBY CASTLE on the next stage of veritable battle occurred, with U-boats that had been waiting for the liner and escorting destroyers fighting it out with guns, starshells, depth-charges and torpedoes. Meanwhile the LLANGIBBY CASTLE had been having trouble in steering, , so she was taken in tow by the tug. After daylight she cast off the tug and again proceeded under her own steam, steering a rather "wobbly" course which, however, served as the necessary zig-zags which were compulsory for ships in submarine-infested waters! The destroyers managed to keep the U-Boats at bay until four days later, when land was sighted and the tug again took the liner in tow. On 8 February she anchored safely at Gibraltar, where her passengers were disembarked to wait for another vessel. Then followed a long period of just over 8 weeks at Gibraltar while decisions were being made in high quarters about the vessel's future. It was found impossible to replace the ship's rudder, so apart from some strengthening of her stern she was in much the same state as before. Finally she was ordered to return to Britain. This last haul of nearly 1500 miles was done safely in six days, the ship steaming by herself except for a few hours in the Straits of Gibraltar when she was towed by the tug. In all she had steamed about 3400 miles without stern or rudder and got through it all safely, which must be a record!
After full repairs she resumed service as a troopship and was one of the great armada that brought Allied soldiers to French North Africa in November 1942. In the early hours of 8 November she was hit by an 8? shell fired from a shore battery which destroyed the Engineers quarters, killing one Electrician and wounding two Engineers. She replied with her stern 6? gun and after some 16 shells had been fired at only 4 500 yards range the battery ceased fire. When her troops were disembarked she, with the WARWICK CASTLE, WINCHESTER CASTLE and DURBAN CASTLE and several other troopships made an unescorted dash for Gibraltar. Most of the ships got through safely, but a major casualty was the beautiful P. & O. Liner VICEROY OF INDIA (1929; 19648 gr. tons), one of the pioneers of turbo electric propulsion for liners, which was torpedoed on 11 November 1942. Next day the homeward convoy sailed from Gibraltar, for England, which was reached in safety several days later.
When in July 1943 the "soft underbelly of Europe" was attacked in accordance with Churchill's plans the LLANGIBBY CASTLE was there again. She brought a contingent of Canadian commando troops to Sicily and, in spite of bad wind and weather, saw them safely onto the shore.
In March 1944 the LLANGIBBY CASTLE was sent unexpectedly to the Clyde where she was fitted out as a Landing-Ship, Infantry (Large). Her boats had already been replaced by assault landing-craft, now she was painted in a new style of dark and light blue camouflage, and the Royal Marine Flotilla 557 embarked. The ship then sailed, via Milford Haven, for the Solent. There she and a huge number of other ships were exercised with as much secrecy as possible in night manoeuvring, anchoring in formation, shipping landing craft and, of course, signalling. She then received the troops she would carry for her greatest operations so far, the attack on Hitler's "Festung Europa" and with them made an "invasion" of the English coast at Bracklesham. Her troops were again Canadians, the Regina Rifles, the Winnipeg Regiment and some unattached personnel. The 120 men of the Marine Flotilla party were also on board. For a week before "D-day", the ships and their crews and passengers were isolated from shore for security reasons.
There was one more delay when bad weather on Sunday, 4 June, 1944, caused the Supreme Commander of the great invasion force, General Dwight Eisenhower, to postpone the sailing of the invasion of the fleet for one day. But on the next day the armada set forth, with the greatest number of ships under cover of the greatest number of aircraft ever used for one undertaking. The LLANGIBBY CASTLE was taking her precious cargo of about 2 500 fighting-men to "Juno" beach on the coast of Normandy. As each ship of the Southampton fleet passed the huge Nab Tower in the Solent its personnel gave a great cheer, as there was a gigantic "V" in electric lights shining towards the oncoming ships: Churchill's "V" for Victory sign, to encourage the troops!
Following the huge flotilla of 250 minesweepers which was making certain that no hidden perils in the sea would sink any of the ships, the LLANGIBBY CASTLE and her consorts steamed in safety towards the enemy-held coast, while friendly aeroplanes prevented any possible attack by the Luftwaffe. Soon those in the ships could see the vivid flashes of gunfire and exploding bombs and shells on the coast to which they were sailing. As 05h30 next morning, as planned, the LLANGIBBY CASTLE anchored off Coursailles on the Normandy coast. At last the "Second Front", so long discussed and longed for, was a reality.
By this time all the troops on board had already taken their places in the 18 L.C.A.'s (Landing Craft Assault) which the ship carried in lieu of her boats, and within 3,5 minutes all the landing craft were on their way to the shore. As not all o return to the ship to pick up the rest. these had to slide down canvas "Shutes" or climb down nets suspended overside, but at last all were landed. The cost: ten landing-craft eventually destroyed with the loss of 12 officers and men of the liner.
She had carried the biggest contingent to that particular part of the beach, so it was not until 14h15 that all were ashore. By 15h00 she and the rest of her division could weigh anchor and return to Southampton, where her crew could listen to the radio reports about the men she had carried.
Then came the great build-up of troops in Normandy, all of whom had to be carried over by ships. Thus the LLANGIBBY CASTLE crossed the channel more than sixty times, carrying more than 100 000 troops, a wonderful record. Incidentally, in all these operations she frequently met her former colleague in the "Round Africa" service, the LLANDOVERY CASTLE, which had been taken over for use as a hospital-ship, just as her predecessor of 1914 had been.
When peace had finally been restored the LLANGIBBY CASTLE was one of the many British liners which, after much hazardous and valuable war service, had to be refitted for her proper role. In 1946 she rejoined the Union-Castle Fleet and again sailed in the "Round-Africa" service. But newer and larger ships were built for this purpose and so in 1954 this grand vessel, once the pride of her owners, was sold to British ship breakers to produce scrap-metal for British industries.


Thanks to the Stamps of Helena
With thanks to Bruce Dennis.
RMS Majola
19 Apr 1923: Launched by Harland and Wolff - Christened by Miss Elsie Mckay
25 Oct 1923: Completed trials and delivere
11 Sep 1939: Requisitioned by the admiralty for service in WW2 - converted to an armed cruiser at Bombay. At some time during the war the second dummy funnel was removed as it impeded the anti-aircraft gun
6 Nov 1941: Returned to owner for use as a troopship
15 Jan 1947: Returned to P & O and reconditioned
10 Jun 1948: Returned to commercial service
2 Apr 1954: Sold to British Iron and Steel and scrapped at Inverkeithing
Displacement: 20914 BRT
Armament: 8x 152mm, 2x 76mm
Speed: 17 knots
Wartime requisition
On 11 September 1939 Maloja was requisitioned by the Admiralty and converted to an armed merchant cruiser in Bombay, India. The conversion included having one funnel removed, to increase her anti-aircraft guns' arc of fire. After the conversion she joined the Northern Patrol as HMS Maloja (F26). The Northern Patrol covered the area between Shetland and Iceland. On 13 March 1940 Maloja intercepted a ship southeast of Iceland in position 63.00N, 10.20W, which claimed to be the Japanese vessel Taki Maru. Maloja's captain suspected otherwise, but he was unable to send a boarding party due to the adverse weather conditions. As the weather cleared it became clear that the unknown vessel was the German La Coruña of the Hamburg-South America Line. The German crew scuttled her to evade capture, and after they had abandoned ship and been picked out of the water by the British crew, Maloja turned her guns on the German ship and hastened its sinking.
On 6 November 1941 Maloja was returned to P&O and was converted to troopship duty. A shorter version of the funnel was re-installed.
Described by one passenger, as "very crowded" (with troops) she sailed from Liverpool on 28 July 1942 for Calcutta, but heading first for Greenock on the Firth of Clyde (arriving 29 July) to join the rest of the convoy, which included seven battleships and destroyers. The convoy left the Clyde on 30 July. On Monday, 10 August the Maloja anchored at Freetown, Sierra Leone until 15 August. While at Freetown the convoy was joined by two battleships, and a further three US ships joined on 18 August. She put in at Cape Town on 27 August and left on the 30th. She arrived in Calcutta on 19 September 1942.
In December 1942, some weeks after Operation Torch, she took Allied troops to North Africa. According to the records of No.255 Squadron, RAF, the vessel sailed from Liverpool at 13:00 on 27 November 1942.
RMS Mooltan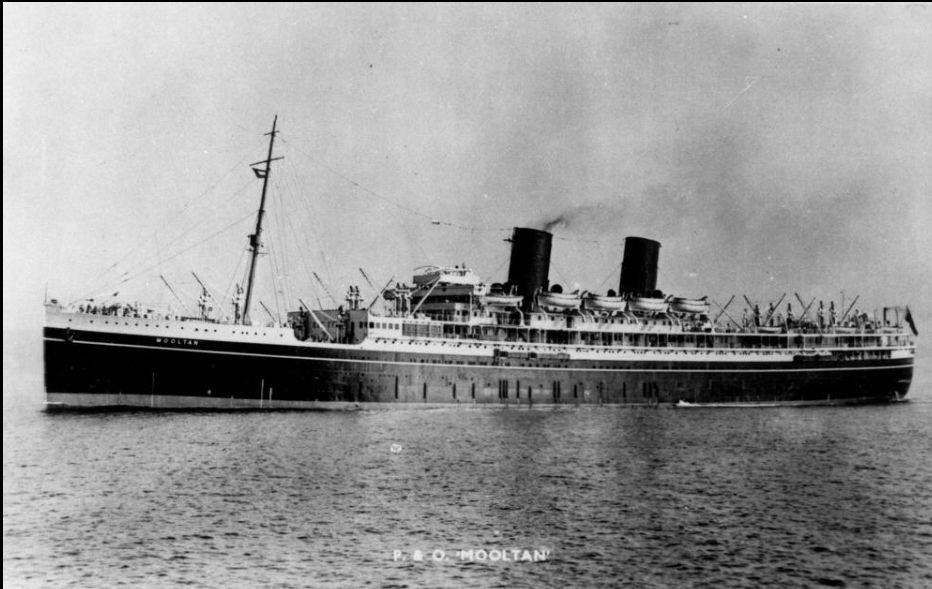 MOOLTAN (1923) was the first P&O ship over 20,000 gross tons. All her cabins were above the main deck, all of them had portholes, and there were special suites on the promenade deck in Louis XVI style.
War Service
Navy The Royal Navy -Type Armed Merchant Cruiser - Pennant F 75
Built by Harland & Wolff Ltd. (Belfast, Northern Island)
Launched 15 Feb 1923 - Commissioned 15 Oct 1939

On 9 September 1939 the passenger ship Mooltan of the P. & O. Steam Navigation Co Ltd, London was requisitioned by the Admiralty and converted to an armed merchant cruiser. Conversion was completed on 15 October 1939.
Displacement: 20952 BRT
Armament: 8x 152mm, 2x 76mm
Speed: 17 knots
Career:
October 39 - April 40: South Atlantic Station
May 40: Freetown Escort Force
June 40 - July 40: South Atlantic Station
August 40 - January 41: Freetown Escort Force
On 20 January 1941 returned and used as troopship by the Ministry of War Transport (MoWT). On 16 July 1947 returned to owner. Transported migrants to Australia in the early 50's.
HMT. Nevasa
Built to celebrate the company's centenary in 1956, SS Nevasa spent her first few years trooping. However, as National Service came to an end and air transport became more efficient, the ship was made redundant and laid up in the River Fal in 1962 for two years. SS Nevasa was converted to B.I.'s third and largest educational cruise ship at Falmouth in 1964/5. Her powerful machinery gave her a greater range than the other educational cruise ships and her anti-roll stabilisers provided greater comfort. She ran alongside the SS Uganda between 1968 and 1974. However the SS Nevasa was suddenly withdrawn in January 1975 and sent to breakers in Taiwan, a victim of the 1970's oil crisis.
HMT Nevasa
The earlier Nevasa which operated in WW2, see picture below
HMT Nevasa was 9071 gross tons, length 480.5 feet x beam 58.1 feet, one funnel, two masts, twin screw, speed 14 knots, accommodation for 128-1st and 98-2nd class pasengers. She was launched 12th December 1912 by Barclay, Curle & Co., Glasgow for British India Steam Navigation Co., she started her maiden voyage from London to East Africa and Calcutta on 22nd March 1913. In August 1914 she was taken over and converted to a troopship, and from January 1915 to 1918 was fitted as a 660 bed hospital ship. Used in the East Africa, Persian Gulf, Salonika and Mesopotamia campaigns. Later in 1918 she was used as a North Atlantic troopship, ferrrying US troops and later repatriating Allied forces. In late 1919 she resumed commercial service on the UK - East Africa and UK - Calcutta services. In 1925 she was rebuilt as a permanent troopship with capacity for 1,000 men. In 1935-37 she carried out a series of off-season educational cruises for the School Journey's Association, London and in 1937 attended the Spithead Coronation Naval Review. Between 1939 and 1945 she trooped steadily and was used between the UK, India, Basra, Madagascar and for the Normandy Landings. She resumed commercial service in 1946 but was basically a troopship. January 1948 she was laid up in the River Blackwater and then scrapped at scrapped at Barrow in Furness in 1948.
See another view below
HMT Nevasa (Norway)
This photo of the first HMT Nevasa. My father was and Able Seaman aboard her 1942-43. This photo was taken during her trip to Norway when she dissembarked troops. Ironically I sailed back with her to the UK December 1959 from Active Service with the Army in Malaya.
Regards
John Dougherty
Royal Artillery.
I had found a tiny (6x4cm) photo in my father's effects, with the wording on the reverse - Ron Flood
"Convoy through porthole HMT Nevasa, Red Sea 1940"

New Australia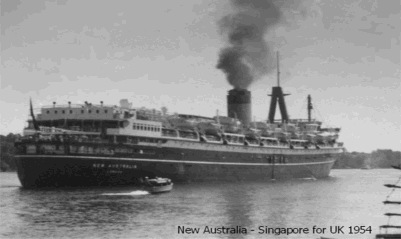 New Australia
Leaving Singapore for the UK 1954. The SS New Australia rose from the charred remains of a burnt out wreck which had been written off and destined for scrap. She became a migrant ship, transporting thousands of British settlers and their families to a new life in Australia and also, as a troopship, played an important role in Australian military action in the Korean and Malayan conflicts.
Neuralia
S.S./H.M.T. Neuralia
Built in 1912 in Glasgow as a passenger liner for the British India Line. At the outbreak of World War I she was quickly converted for service as a troopship, as the prefix H.M.T. suggests. She undertook passenger duties and educational cruises between the wars but returned to troopship duties in World War II. She survived several U-boat attacks, but was finally sunk by an Italian mine on May 1st, 1945 with the loss of 4 lives.
Taking 27,000 troops to the beaches
From the Bolton Evening News, first published Friday 4th Jun 2004. - ALLAN WOODHEAD was a Sergeant pharmacist of No 3 Coy, Royal Army Medical Corp, the sea-going company, which provided medical staff for hospital and troop ships. On June 2, 1944, Mr Woodhead, from Quarlton Drive, Hawkshaw, joined HMT Neuralia in King George V Dock in London
Neuralia embarked 1,800 troops and sailed on June 6. In line ahead, the convoy rounded North Foreland into the Dover Straits, with all troops below deck, and the ship at "Action Stations". We had to pass the German guns on the French coast in Pas de Calais. As it turned out they were strangely silent. This was fortunate, as at 12 knots we would have been in range for an hour or so. Later we found that the guns had set on fire and sunk SS Sambut which had sailed earlier.
Neuralia was delayed in the Solent and travelled overnight to disembark troops off Gold Beach by scrambling nets over the side into landing craff. The ship then returned to the Solent to embark for the next trip. This went on all summer, mostly taking American troops to Omaha beach -- 27,000 troops in all.
Archive Home
From the Bolton Evening News
http://www.boltoneveningnews.co.uk
© Newsquest Media Group 2004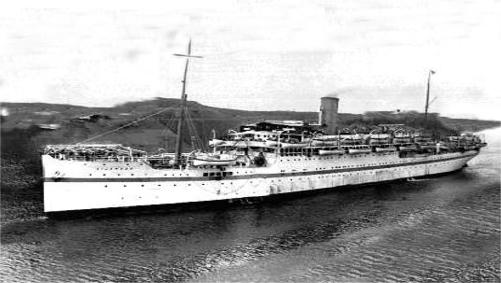 HMT Neuralia seen on Whangpoo River off Shanghai November 8th 1929 — Shanghai is not on the River Yangtsze as is generally thought, but on its tributary, the Whangpoo.
1st Battalion Worcestershire Regiment (1922 to 1938)
Bombay to Shanghai and home again (1929 to 1931)
The 1st Battalion embarked in H.M.T. Neuralia at Bombay on the 22nd of October, 1929, and all enjoyed the 17 days voyage to Shanghai. There were few troops on board besides the Battalion, and they had plenty of accomodatjon and deck room.
Ormonde
SS.Ormonde
Orient Steam Navigation Company - 1917 14,982 tons - "Ormonde" was built by Orient Lines in 1917 as a troopship. She served the UK - Suez - Australia route between the wars. Converted to one-class in 1933. Troop carrier in WWII. Returned to commercial service in 1947, again on the Europe - Australia route. She was scrapped in Dalmuir in 1952.
Orbita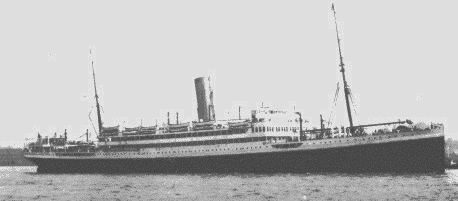 SS. Orbita
Built by Harland and Wolff at Belfast, launched Jul 7th 1914, 15495tons, sister ship to Orduna. Troopship from 1941 to being broken up in 1950 by Thos. W. Ward at Newport, Monmouthshire.
Chris Madden writes: As a small boy, my family travelled to join my Army Father, from Liverpool to Singapore on HMT ORBITA leaving UK in December 1949, and arriving in Singapore in Jan 1950. The voyage took 6 weeks, with one of the four engines u/s throughout, and one other working intermittently. The ship was certaily on its last legs and I think was scrapped soon afterward. It was not painted in normal HMT colours, but retained the black hull, white superstructure, and yellow funnel.
To confirm Chris Madden's observation - the RMS Orbita sailed from Liverpool on 4th July 1950 conveying Royal Signals and Guards service personnel to Singapore where the vessel arrived on 8th September having stopped on the way at Port Said, Aden and Colombo . Its final voyage was that of returning to the UK in September 1950 - Geoffrey Garner [Ex Royal Signals} .
Orontes
SS. Orontes (Orient Line)
Usually on Capetown run. approx 20,000tons - Operating life: 1929 -1962
Tonnage: 19,970 - Passengers: 1,612 - Constructed: Vickers, Barrow

The last of the five 20,000 tonne sisters, Orontes was distiguished by her curved and more modern bow. She too served during the war as a troop ship and was refitted by Thorneycroft in 1947 prior to resuming her commercial service.
HMT. Oxfordshire
Leaving Gibraltar - built by Fairfield Govan,
Yard No 775
Engines by Fairfield SB&E Co Ltd Glasgow
--------------------------------------------------------------------------------
Last Name: RIPA, Previous Names: FAIRSTAR
Port of Registry: Liverpool
Propulsion: 4 Steam turbines geared to 2 sc shafts 18000shp 20 knots
Launched: Thursday, 15 December 1955, Built: 1957
Ship Type: Troopship, Ship's Role: Cruising latterly
Tonnage: 23180 grt, Length: 609 feet 5, Breadth: 78 feet 3, Draught: 267 feet 7t
Owner History:
Bibby Line Liverpool.latterly SITMAR
Status: Scrapped - 10/04/1997 Alang India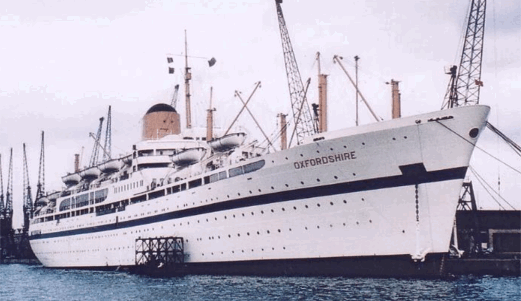 HMT Oxfordshire
Operating life: 1957 - 1997 - Tonnage: 20,586 - Passengers: 500
Constructed: Fairfield, Glasgow

The Oxfordshire was built by the Bibby Line and the Ministry of Transport as a troop carrier. In 1962 she was released to the Bibby Line who sold her on to the Sitmar corporation in 1964. Renamed the Fairstar, she commenced sailing between the UK and Australia carrying 1,870 passengers in one class. In 1973, she was stationed in Sydney and commenced a new life cruising between the Antipodes, South Pacific and South-East Asia. Nicknamed the "FunShip", she provided many with memorable holidays in the tropical sun. She was refitted and repainted following P&O's takeover of Sitmar cruises and sailed for another eight years before escalating maintenance costs took their toll and she was depatched to the breakers in India.
Otranto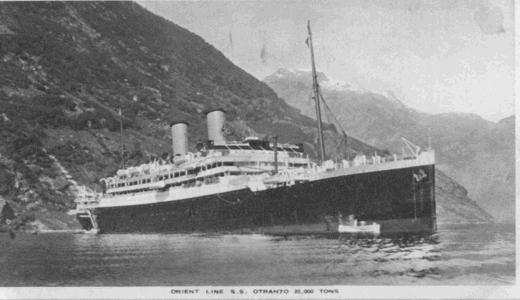 SS. Otranto
Tonnage: 20,032tons - Length: 200,6 m - Beam: 22,9 m - Speed: 20 kn - Operating life: 1929 - 1957 Orient Line. - Built: 1929 Vickers-Armstrongs, Barrow-in-Furness, England - Passengers: 1,686 - She was built for London - Brisbane line.
In 1939 she became a troopship for the Ministry of War Transport, London.
In 1949 she resumed passenger service on the route London - Sydney. In 1957 she was scrapped at Faslane, Scotland.
Otranto was one of five liners of 20,000 tonnes built to replace tonnage lost during the first world war. She survived the second conflict serving as a troop ship, although three of her sister ships, Orama, Orford and Oronsay were lost.

SS. Otranto
RMS. Orduna - (Leslie Youdell)
Built : 1914 :Harland & Wolff, Belfast
Tonnage : 15,507g, 1941 : Taken over as troopship 1946 : Government trooping service. Boat deck derrick posts removed prior to this. 1950 : Nov : Decommissioned and laid up
1951 : Broken up at Dalmuir after 37 years exemplary service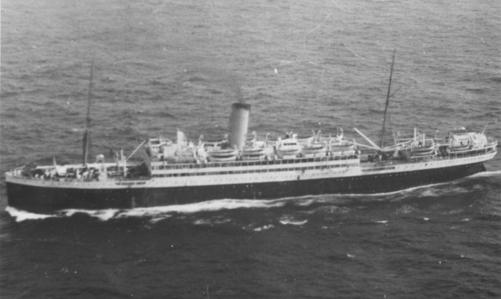 Another view of RMS Orduna - (Peter Smith)
Peter Smith writes: In 1949 my mother and I sailed to Sri Lanka (Ceylon) to join my father who was in the RAF. I notice that the photo in your gallery is not of a too high standard and I attach one that may be of interest. The picture was taken by my father, flying a Douglas DC3, of the RMS Orduna when she was 150 miles out from Colombo. We returned to the UK as a family arriving December 24th 1951 on the Empire Trooper.

SS. Oronsay
20,000tons Torpedoed 9th October 1942 - This ship picked up many survivors from Lancastria sinking and returned to England.
Orion
SS. Orion at Gibraltar - RMS ORION
Tonnage: 23,371 GRT (gross registered tonnes) - Length: 665ft (202.7m) - Beam: 82ft (25.6m) -Draught: 30ft (9.1m) - Engines: Six Parsons SRG Steam Turbines (24,100 SHP) - Screws: Two - Service speed: 21 knots. - Passenger Decks: Seven - Passengers: 708 Cabin Class, 700 Tourist Class. Later 1,691 One Class (Tourist) - Crew: 466, later 565
Osmanieh
OSMANIEH - 123890
Owner -Khedivial Mail S.S. & Graving Dock Company - 1906.
Date launched - Wednesday - 09th May, 1906.
Builder - Swan, Hunter & Wigham Richardson Yard 761., 4,041 tons, 360-2x45-2x24-3. 650n.h.p, 17 knots. Quadruple-Expansion Engines. The liner Osmanieh, Lieutenant Commander D. R. Mason, was taken over for service as a fleet auxiliary during the First World War. On Monday - 31st December, 1917, she was carrying troops and medical staff to Alexandria when she struck a mine laid by UC 34 under the command of Oberleutnant zue See Horst Obermuller at the entrance to the harbour. She sank very quickly taking with her: Lieutenant Commander D.R. Mason. (Commemorated - Alexandria (Hadra) War Memorial Cemetery) Two other officers. 21 of its crew. One military officer. 166 other ranks.Eight nurses.

Queen Elizabeth 2
RMS Queen Elizabeth 2
Gross Tonnage: 70,327 (originally 69,053) - Net Tonnage: 37,182 (originally 36,038)
Deadweight Tonnage: 11,649
Dimensions - Length: 963 ft (293.52m) - Breadth: 105 ft (32.07m)
Draft: 32 ft
Machinery
9 MAN B&W Diesel Engines - 10,625 kW at 400 rpm
2 propellers - 22 ft diameter, 42 tons - 2 bow thrusters - 1,000 hp, variable pitch
4 Brown Brothers stabilizers - 12 ft length, 70 sq ft area each
Rudder - 75 tons
Capacity - Passengers: 1,900 - Crew: 1,015 - Total: 2,915
QE2 requisitioned for Falklands War as a troop tansport. On 12 May 1982 she set sail for St Georgia with 3000 troops aboard. QE2 arrived safely back in Southampton on 11 June 1982.
Queen Bermuda
QTEV. Queen of Bermuda - (Leslie W. Youdell)
Queen of Bermuda, completed in 1933, was slightly larger at 22,575 gross tons and a foot longer at 580 feet than her sister ship Monarch of Bermuda. Service speed for both ships was 19 knots. She had capacity of 731 first and 31 second class passengers.
RMS Queen Elizabeth
RMS Queen Elizabeth
Gross Tonnage - 83,673 tons - Dimensions - 300.94 x 36.14m (987.4 x 118.6ft)
Number of funnels - 2 - Number of masts - 2 - Construction - Steel
Propulsion - Quadruple screw - Engines - Single reduction steam turbines
Service speed - 29 knots - Builder - John Brown & Co Ltd, Glasgow
Launch date - 27 September 1938
Passenger accommodation - 823 1st class, 662 cabin class, 798 tourist class
In 1942 the Admiralty drew up plans to convert the two Queens into aircraft carriers but these were later abandoned as it was considered that their troop carrying role was too important. In April 1942 the Queen Elizabeth relocated from Sydney to New York. Here the troop accommodation was altered to make its capacity 10,000. In June 1942 it began to make voyages from New York to Gourock and then to Suez, via Cape Town. In August it began a shuttle service between New York and Gourock. Despite the ever present threat of U-boats the ship continued its service unscathed, although the German press stated that a U-boat had hit the vessel with a torpedo on 11 November.
By the end of the war in Europe the Queens had brought over a million troops to the war zone. The ship's next duty was to repatriate these troops and redeploy troops for the war against Japan. The repatriation of American troops continued until October 1945 when the Queen Elizabeth was released from US service and allocated to the repatriation of Canadian troops. On 6 March 1946 it arrived back in Southampton and was released from Government service as the need for troop movements had diminished. During the war it had carried over 750,000 troops and travelled 500,000 miles.
Another view of: RMS Queen Elizabeth (Troopship)


Encyclopædia Britannica, Inc.
Queen Mary
RMS Queen Mary
Cunard Line (then Cunard White Star Line) ocean liner that sailed the North Atlantic Ocean from 1936 to 1967. Built by John Brown and Company, Clydebank, Scotland, she was designed to be the first of Cunard's planned two-ship weekly express service from Southampton to New York, in answer to the mainland European superliners of the late twenties and early thirties. Queen Mary and her slightly larger and younger running mate RMS Queen Elizabeth commenced this two-ship service after their release from World War II troop transport duties and continued it for two decades until Queen Mary's retirement in 1967.
Tonnage: 81,237 gross tons
Displacement: 81,961 tonnes
Length: 1,019.4 ft (311 m) oa; 965 ft B.P.
Beam: 118.5ft (36.1 m)
Draft: 39 ft (12,00 m)
Height: 181 ft (55.17 m)
Main Engines: 160,000 shaft hp (119 MW) Parsons double reduction steam turbines; max. 200,000 shaft hp (149 MW) steam turbines, 4 shafts
Speed: approximately 30 knots (56 km/h) - 29.5 knots (55 km/h) cruising in service; maximum sustained speed was 32.6 knots (60 km/h)
Passenger Capacity: 2139: 776 first (cabin) class, 784 tourist class, 579 third class)
Crew: 1101
RMS Queen Mary together the Queen Elizabeth, were the largest and fastest troopships involved in the war, often carrying as many as 15,000 men in a single voyage, and often travelling out of convoy and without escort. During this period, because of their wartime grey camouflage livery and elusiveness, both Queens received the nickname "The Grey Ghost". Because of their size and prestige their sinking was such a high priority for Germany that Adolf Hitler offered the equivalent of $250,000.00 and the Iron Cross to the U-boat commander who could sink them. However, their high speed meant that it was virtually impossible for U-Boats to catch them. Once, Germany was nearly successful; whilst The Queen Mary was in South American waters, a radio signal was intercepted which indicated that spies had reported her last refuelling stop and a U-Boat was waiting on her line of voyage. After being alerted, The Queen Mary changed course and escaped.
On 2 October 1942 Queen Mary accidentally sank one of her escorts, slicing through the light cruiser HMS Curacoa (D41), with the loss of 338 lives.
In December 1942, the Queen Mary was carrying nearly 15,000 American troops from New York to Great Britain. While 700 miles from Scotland during a gale, she was suddenly hit broadside by a rogue wave that may have reached a height of 28 meters (92 feet).
HMT. Rajula
Built 1926 - 1973 sold to Shipping Corporation of India, renamed Rangat. 8,478tons
Rewa
HMT. Rewa
Built 1905 - 1918 torpedoed and sunk in Bristol Channel while serving as hospital ship; loss of 3 lives.
Rohna
RMS Rhona - The Sinking - 26th Nov. 1943
The ship was part of convoy KMF-26 (Annex) travelling east from Oran to the Far East via the Suez Canal.
Of the 1,138 men lost, 1,015 were American. The attack still constitutes the largest loss of U.S. troops at sea in a single incident. A further 35 American troops of the 2,000 originally on board later died of wounds. As well as the troops, five ship officers and 117 ratings (out of 200) died, along with 11 of the 12 gunners on board and one hospital orderly.
The heavy loss was in part due to a flotilla of seven empty large landing craft (LCI(L)) failing to stop to pick up survivors, for which the commanding officer was relieved of his command.[citation needed] However, 606 survivors were rescued by the minesweeper USS Pioneer.
The details of the loss were revealed slowly over time and were only released in full in 1967 following the introduction of the Freedom of Information Act. However, already by February 1944 the US government had acknowledged that over 1000 soldiers had been lost in the sinking of an unnamed troopship in European waters, though it hinted at the time that a submarine was responsible. By June 1945, the government had provided accurate casualty figures, the ship had been identified by name as Rohna, and the cause of the sinking had been identified as German bombers. This account did not mention the fact that a guided missile was responsible.
The sinking was done with a Henschel Hs 293 radio-controlled glide bomb, launched and controlled by a Heinkel 177 bomber piloted by Hans Dochtermann. HMT Rohna was not the first casualty of a guided missile, however, as the British HMS Egret was sunk on the Bay of Biscay with the loss of 198 men on 27 August the same year by a Henschel Hs 293. Additional ships sunk by Hs 293 missiles prior to Rohna include HMHS Newfoundland, HMS LST-79, SS James W. Marshall, HMS Rockwood, HMS BYMS-72, HMS Dulverton and MV Marsa.
A memorial to the sinking was unveiled at the Fort Mitchell National Cemetery in Seale, Alabama in 1996.
Saga

SS. Saga
Built 1946 Gothenburg-London, 1956 sold to French Line, renamed Ville de Bordeaux. 6,458tons
Somersetshire
HMT SOMERSETSHIRE
HM Troopship Somersetshire was 7,456 gross tonnes (Bibby Line). She was built in 1927 and converted into a troopship with accommodation for 1,300 troops. In October 1927 the ship sailed to China and from January to May 1928 she transported troops to Karachi and was laid up in Dartmouth.. During another voyage to China in 1931, influenza broke out which affected 300 person but fortunately there were no deaths. In September 1939, the Somersetshire was requisitioned and converted into HM Hospital Ship No. 25 with 507 beds, 118 medical staff and 171 crew members. She participated in the withdrawal from Narvik in April 1940 and on 6 December 1940, was bombarded from shore as her launches brought off the wounded at Tobruk. In February 1941, the ship joined her sistership Dorsetshire in evacuating the wounded from the besieged Tobruk, before operating from the Red Sea to South Africa, Australia and New Zealand repatriating wounded soldiers.
At 12.57 hours on 7 April 1942, German u-boat U-453 fired a spread of four torpedoes at a steamer of 10,000 gross tonnes and heard three detonations after 47 seconds. HMT Somersetshire was not recognised as a hospital ship by the U-boat and fortunately she was carrying no patients. She was hit was on the starboard side, forward, and settled by the head with a list. One crew member and six Royal Army Medical Corps staff were lost. 114 crew members, 64 medical staff members and two stewardesses abandoned ship in 13 lifeboats. The crew later reboarded her and managed to reach Alexandria on the port engine and assisted by tugs. The remaining survivors were picked up by a Greek destroyer.
From 1944 to 1946, the Somersetshire sailed all over the world as a hospital ship and finishing up in the Pacific. In February 1948, the ship was decommissioned and rebuilt by Harland & Wolff to a passenger ship with accommodation for 550 passengers. In 1953, the ship briefly returned to trooping to East Africa during the Mau Mau troubles and in 1954 was broken up by Thos. W. Ward in Barrow-in-Furness.
Before and during the 1939-45 War the movement of troops between England and overseas garrisons was by sea. In 1962 it was decided that overseas trooping would be carried out by air, and the day of the troopship came to an end. Before the War the best known troopships in regular service were the British India Steam Navigations Company's Dilwara, Dunera, Neuralia and Nevasa and the Bibby Line's Devonshire, Dorsetshire, Lancashire and Somersetshire. They were all ships of rather more than 9,000 tons gross with a service speed of 15 knots, designed to carry a complete battalion and a number of drafts and individuals. In the main the military staff on board were RAF.

Tairea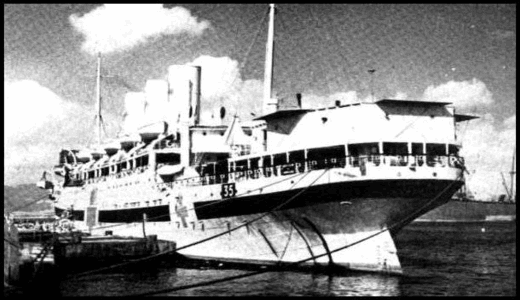 SS. Tairea
Built 1924 - in 1952 scrapped UK. 7,934tons
Talamba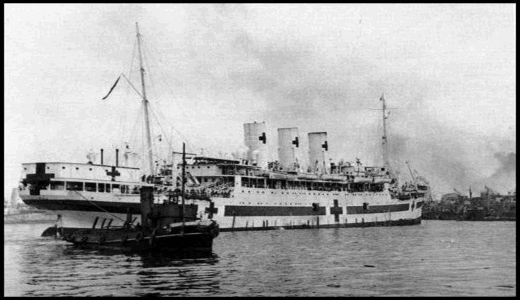 SS. Talamba
Shown here as a Hospital Ship - bombed and sunk off Sicily while operating as hospital ship; loss of 5 lives. 8,018 tons
Built: 1924 by R&W Hawthorn, Leslie & Co., Ltd. Hebburn.
Tonnage: 8,018 g, 3,844 nt, 8,100 dwt.
Engines: Twin screw, 2 x Triple expansion four cylinder,, 8,000 IHP, 16.5 knots by Builder.
Passengers: 56 1st Class, 72 2nd Class, 2,777 Deck and Crew of 175.
Launched 16th July 1924, completed 2nd October 1924, Yard No. 533.
Talamba is a town near Multan in the Punjab, now Pakistan.
Taliwa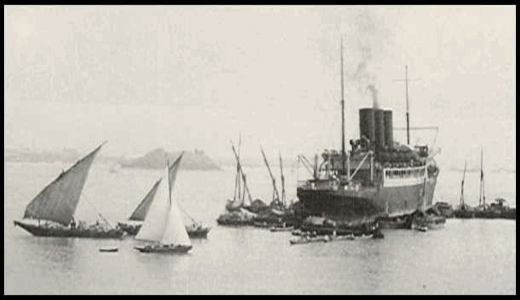 SS. Taliwa
Built 1924 - in 1945 stranded and burnt out Nicobar Islands. 7,936 tons
Talma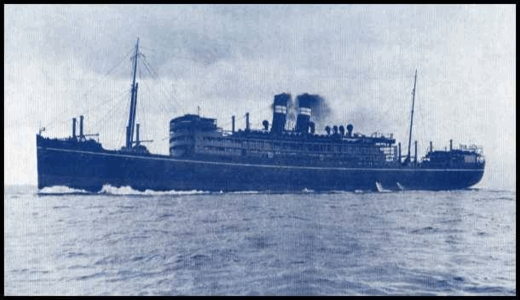 SS. Talma
Built 1923 - in 1949 scrapped in UK. 10,000 tons
Transylvania
SS. TRANSYLVANIA
--------------------------------------------------------------------------------
built by Scotts Greenock,
Yard No 451 - Port of Registry: Glasgow
Propulsion: steam, turbines, 17.5 knots
Launched: Saturday, 23 May 1914
Built: 1914
Ship Type: Passenger Vessel
Tonnage: 14348 grt
Length: 548.3 feet
Breadth: 66.6 feet
Draught: 42 feet
Owner History:
Anchor Line
Status: Torpedoed & Sunk - 04/05/1917 - Remarks: Commissioned as a troopship in May 1915 with accommodation for 200 officers and 2860 men. On 04/05/1917 torpedoed off Cape Noli (40 miles from Genoa) sank with heavy loss of life.
Photo supplied by The Book of the Anchor Line 1931
Vienna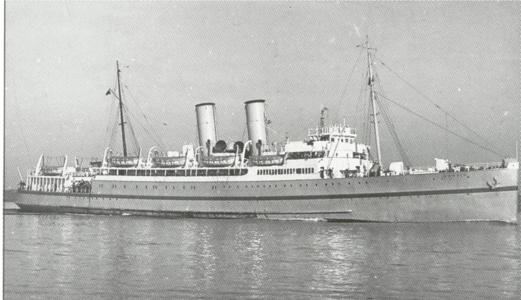 SS. Vienna
Built 1929 in 1941 purchased from London & North Eastern Railway, troop and hospital ship, 1945 Harwich-Hook of Holland, 1960 scrapped. 4,227tons
HMT. Empire Windrush
14651tons, 1930 Passenger Ship.
1930 MONTE ROSA, Hamburg South America Line.
1940 German Navy barracks and troopship.
1945 Seized by Allies at Kiel.
1946 EMPIRE WINDRUSH, MOT managed by New Zealand Shipping Co.
30.3.54 Sank off Algeria in tow after engine room explosion.
Another view of MV Windrush in Hong Kong harbour ( David Armstrong ex - Royal Signals Ist Commonwealth Div Korea)
HMT Empire Windrush - on fire off the coast of Algeria, March 1954.
Warwick Castle
Warwick Castle - Type: Troop transport

Tonnage 20,107 tons - Completed 1930 - Harland & Wolff Ltd, Belfast
Owner Union-Castle Mail SS Co Ltd, London - Homeport London
Date of attack 14 Nov 1942 Nationality: British

Fate Sunk by U-413 (Gustav Poel) - Position 39° 12'N, 13° 25'W - Grid CG 4546
Complement 462 (96 dead and 366 survivors).
Convoy MKF-1X - Route Gibraltar (11 Nov) - Glasgow - Cargo Ballast
History Completed in January 1931 as motor passenger ship for Union-Castle Mail SS Co Ltd, London. In Sepember 1939 requistioned by the Admiralty as troopship.

Notes on event At 08.44 hours on 14 Nov 1942 the Warwick Castle (Master Henry Richard Leepman-Shaw) in convoy MKF-1X was hit by one of two torpedoes from U-413about 200 miles northwest of Cape Espichel, Portugal. The U-boat hit her with two coups de grâce at 08.57 hours, that caused the ship to sink about one hour later. The master, 61 crew members and 34 service personnel were lost. 201 crew members, 29 gunners, 5 naval personnel and 131 service personnel were picked up by HMS Achates (H 12) (LtCdr A.H.T. Johns, DSO, RN), HMS Vansittart (D 64) (LtCdr T. Johnston, DSC, RN), HMCS Louisburg (K 143)(LtCdr W.F. Campbell, RCNVR) and the British motor merchant Leinster and landed at Greenock.
The Warwick Castle had been in convoy KMF-1 for Operation Torch and landed her troops on 10 November


Windsor Castle
Windsor Castle - leaving Cape Town

Windsor Castle arriving at Southampton
Windsor Castle (1937) after removal of 2 Funnels
The Windsor Castle - Specifications:
Length: Originally 661 feet (201.9 m), 686 feet (209.6 m) after 1937 refit.
Beam: 72.5 feet (22.2 m)
Tonnage: Originally 18,967 gross tons, 19,141 after 1937 refit.
Engines: Steam turbines turning two propellers.
Service speed: Originally 17 knots, 20 knots after 1937 refit.
Passengers: 870 people, reduced to 604 during 1937 refit.
When the Second World War erupted in September 1939, she was requisitioned for use as a troop transport. For this purpose, she was painted entirely grey, and many of the windows in her superstructure were covered.
On November 4th 1940, Windsor Castle was attacked by German aircraft while travelling in the waters west of Ireland. During the attack, a 500-pound bomb dropped from one of the German planes landed in the first class smoking room. Fortunately, the device failed to explode. Had it done so, the devastation would most certainly been horrific. Surviving this extremely close shave, Windsor Castle could continue on her way. The bomb was removed when the ship docked at Greenock the following day.
Having survived such an incident, it was perhaps thought that Windsor Castle was a ship with great fortune. Sadly, this was not the case. Three years later, on March 23rd 1943, Windsor Castle was sailing in a convoy that had left Greenock a few days earlier and was now in the Mediterranean Sea, about 110 miles Northwest of Algiers. Early that morning, the convoy was attacked by German bombers. A torpedo launched from one of the aircrafts hit the Windsor Castle, which began to sink by the stern.
With 290 crew and 2,699 troops on board, the death toll might have been devastating. Fortunately, the Windsor Castle managed to stay afloat for thirteen hours after the attack, thus making it possible for other vessels to come to the rescue. In the end, all people on board were rescued, except for one crewman who had been killed. With the rescue ships still gathered around her, the Windsor Castle finally sank, stern first.
Her captain gave her final position as 37° 27' N – 00° 54' E. There she remains to this day, unexplored as far as I know.
Winchester Castle

Winchester Castle
Built: 1930 by Harland & Wolff, Belfast.
Tonnage: 20, 109g, 12, 228n.
Engines: Twin Screw, 4 Stroke Double Acting B & W Type, 2 x 8 Cylinder, 3, 360 NHP, 20 Knots.
Passengers: 260 First Class, 243 Second Class, 254 Third Class, 350 Crew.
Launched 19th November 1929, completed 11th October 1930.
Her maiden voyage was made on the 24th of October. In 1936 she stranded near Portland and Armadale Castle was brought out of reserve to replace her. She underwent modernisation at the yard of her builders and was fitted with Burmeister and Wain diesels producing 26, 000 BHP which increased her service speed by three knots reducing the passage time by two and two-third days. In 1941 she made one trooping voyage to Bombay and after became the Headquarters ship for Montbattens Combined Operations after which she spent a year in Scottish Waters training men for Seaborne Assault Landings. She was the Headquarters ship for the Allied Landings of the Vichy controlled Island of Madagascar and was accompanied by Keren, Karanja, Llandaff Castle, Sobieski which were escorted by the Battleship Ramilles. After the successful landings the Merchant ships sailed round the coast to Diego Suarez where Winchester Castle code-named Radio Diego Suarez for the exercise made propaganda broadcasts. For the action she ship's Master, Captain S.F. Newdigate was awarded the Distinguished Service Cross. On the 22nd of July during a trooping voyage from the U.S.A. to the U.K. she picked up 39 survivors from the U.S. Freighter Honolulan which had been torpedoed by U-582. She took part in the North African Landings at Sidi Ferruch, Algiers code-named Operation Torch on the 6th November. September of the following year she saw action at the Salerno Landings code-named Avalanche in which Lt. General McCreery's 56th Division, British X Corps were landed between Paestum and Maiori either side of Salerno. On the 15th of August 1944 she took part in Operation Dragoon landing troops near Cannes for the Allied invasion of Southern France. 1947 - 1948 found her on the emigrant service with berths for up to 877 passengers after which she returned to Harland & Wolff for a major overhaul. On the 22nd of September 1948 she once more entered onto the mail run with passenger compliments of 188 First Class and 400 Tourist. She was sold for scrapping in 1960 being replaced by Windsor Castle, and arrived at the yard of Nichimen K.K., Mihara, Japan on the 5th of November.
Warwick Castle was delivered in January of 1931 and in May Lord Kylsant was issued a summons in connection with the prospectus issued to launch Royal Mail's debenture stock, he subsequently resigned from the Board and Walter Runciman replaced him. He left to become President of the Board of Trade, also this year Britain went off the Gold Standard and a National Government was formed.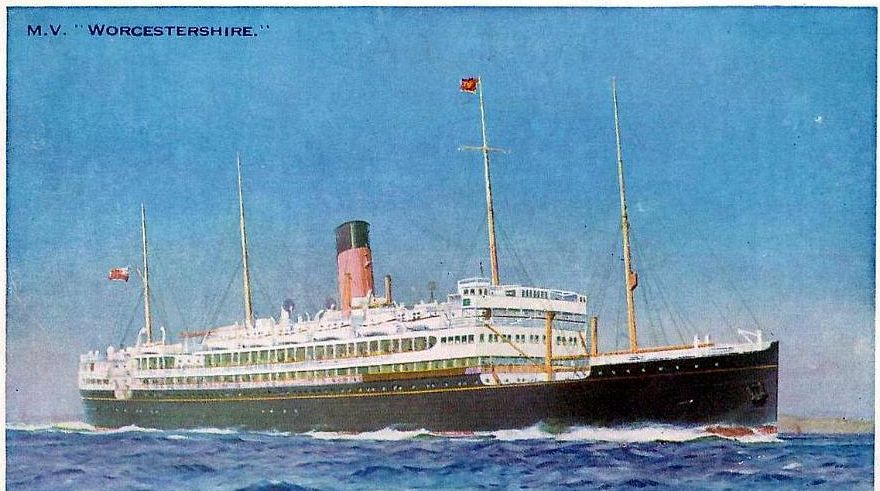 MV Worcestershire
Length 502ft ----Tons capacity 15,000 --- Gross Tonnage 11,452 --- Horsepower 10,000
The Worcestershire sailed on her maiden voyage from Liverpool to Rangoon in March 1931.
An armed merchant cruiser, later a troop ship, during WW2, she was back on the Burma run in 1949.
She had had a thorough refit, which included the removal of several masts and a more modern, broader funnel.
After 30 years of service she was sold to breakers in 1961.
-------------------------------------------------------------------------------------------------------------------
On 31st Aug 1947, the Worcestershire sailed from Rangoon carrying 14767987 Cpl Harry Austin (East Yorkshire Regt) to UK for his class A discharge.
Zara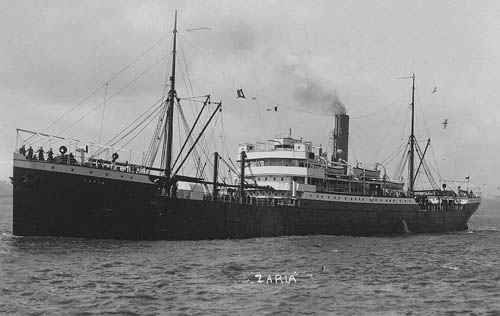 SS ZARIA
When the British garrison was withdrawn from Bermuda, the 4th Battalion Worcestershire Regiment was commanded by Lieut.-Colonel C. M. Edwards.
On the 13th November 1905 they were transported by the steam ship s.s. Zaria and carried back across the Atlantic and down the Straits to Malta arriving there on the 2nd December 1905.

g
Empire Ships
Empire Ace - Empire Admiral - Empire Aid - Empire Baltic - Empire Battleaxe -Empire Cavalier - Empire Cedric - Empire Celtic (2) - Empire Celtic - Empire Chub - Empire Clyde (2).
Empire Clyde - Empire Curlew - Empire Deben - Empire Doric - Empire Fitzroy - Empire Fowey (2) - - Empire Fowey (3) - Empire Fowey - Empire Fred - Empire Fulmar - Empire Gaelic L3507 - Empire Gaelic - Empire Grebe - Empire Guillemot (2) - Empire Guillemot - Empire Gull L3513
Empire Gull - Empire Halladale - Empire Ken (2) - Empire Ken - Empire Kittewake -
Empire Netta - Empire Nordic - Empire Orwell (2) Empire Orwell - Empire Parkeston (2) - Empire Parkeston - Empire Petrel - Empire Plane - Empire Pride (2) - Empire Pride -
Empire Roach - Empire Rosa - Empire Shearwater - Empire Star - Empire Taw - Empire Teak
Empire Tern - Empire Test
Empire Ship Name Changes (Martin Young)
Name changes of the "Empire" troopships might be of interest. The "Empire" name is in capitals, with earlier names in lower case in front of that name, and subsequent names in lower case after that name.
| | | |
| --- | --- | --- |
| Letitia BRENT Captain Cook | Elizabethville BURE Charlton Star | Cameronia CLYDE |
| York Castle COMFORT | Thuringia General San Martin DEBEN | Potsdam Empire Jewel FOWEY Safina-E-Hujjaj |
| Antonoi Delfino Sierra Nevada HALLADALE | Ubena KEN | Maiden Castle LIFEGUARD |
| Dimboola Hong Siang LONGFORD | Eastern Prince MEDWAY | Pretoria Empire Doon ORWELL Gunung Djati Tanjung Panda |
| Prince Henry North Star PARKESTON | nPRIDE Charlton Pride Embassy | Scarborough Castle PEACEMAKER |
| Rayleigh Castle REST | Barnard Castle SHELTER | Thysville TEST |
| Cap Norte Sierra Salvada TROOPER | Linz WANSBECK Esperos | Milwaukee WAVENEY |
| Patria WELLAND Rossia | Monte Rosa WINDRUSH | Princesa Victoria, DUNNOTTAR CASTLE, Victoria - The Victoria |