| | | | |
| --- | --- | --- | --- |
| | | | |
| Middlesex Regiment | East Surrey Regiment | King's Shropshire Light Infantry | Parachute Regiment |
Two Years National Service, Four Regiments.
Leslie Wilks - 22442098
From Webmaster
This account of Les Wilks National Service is quite amazing as in a period of two years he experienced being shunted about between four regiments. Can anybody beat this record !!
I was called up for National Service on 4th January 1950 at Shorncliffe Barracks in Kent. I trained for 6 weeks in the Middlesex regiment. At the end of training we joined the East Surrey Regiment.
Mercury Draft - Shorncliff Barracks
After embarkation leave for the Suez Crisis we were told we were going to Borden in Hampshire to join the King's Shropshire Light Infantry. This came as a big shock to the system as we had already trained for the Heavy Infantry. The drill was slightly different.
We were taken by train to Liverpool where we embarked on the troop ship MV Georgic. We called at Port Said, Aden Singapore, Hong Kong, and then we were told we were going to Pusan in Korea. We travelled by steam boat from Pusan to Inchon where we joined the KSLI regiment.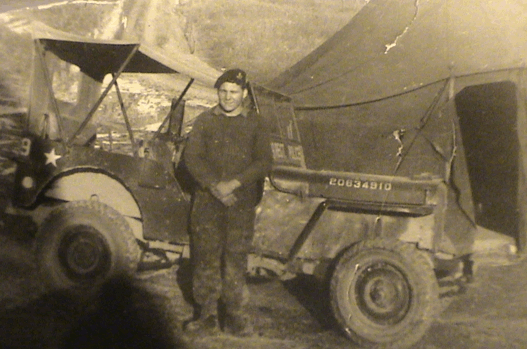 I was with B company as a driver and I did not think a lot about the weather conditions as we arrived in October. We then left Pusan after a service of being in Korea after approximately 10 months and came home on the Empire Trooper back to Liverpool.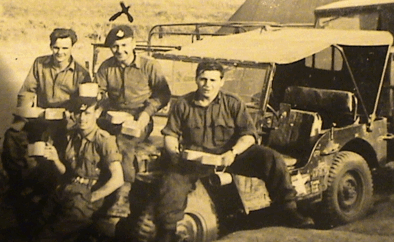 We finished our service at Shrewsbury Barracks, Shropshire and back to Hounslow, Middlesex to join the Parachute Regiment for three and a half years T.A.
When I returned to civy street I went back to my old job with British Rail as a fireman on the steam engines at Feltham goods depot, but left after 2 years and started work as a warehouse man for Park Davis. After another 5 years they decided to relocate to Cardiff so I then started driving for a tractor company in Feltham but spent the last 32 years of my working life with an airfreight company near Heathrow Airport as warehouse manager.
Les passed away on 28/9/15
In retirement he enjoyed fishing for carp once a week, gardening and looking after the grandchildren and great grandchildren.
Copyright: Text and Images: The Wilks family
Back to: National Service Stories