---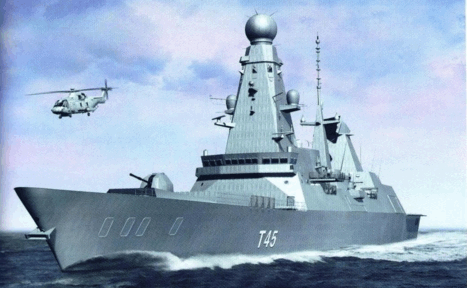 Type 45 Destroyers
7350 tonnes, length 152.4m, beam 21.2m, draught 5m. Crew 187 - 235.
These ships are the largest and most powerful destroyers ever ordered for the Royal Navy and the largest general purpose surface warships - excluding carriers and amphibious ships - ordered since the Second World War.
Up to 12 ships are planned and they are designed around the sophisticated and powerful joint UK/French/Italian Principal Anti-Air Missile System (PAAMS).
This system will set new standards for Uk air defence when it enters service on HMS Daring in 2007. Key to PAAMS is the Sampson Multi Function Radar, which tracks targets and directs missiles towards them. It is backed up by the S1850 Long Range Radar used for area search out to 400km. Other key elements are the 26 workstation Combat Management System, where operators will control engagements, the Sylver missile launcher silo and Aster 15 short range and Aster 30 long range missiles. PAAMS will defend the Type 45 and ships in company from salvo attacks by the most sophisticated anti-ship missiles from any direction and at supersonic speeds.
The design use advanced stealth techniques to cut radar reflectivity . The ships will also have a powerful general purpose capability and can carry up to 60 Royal Marine Commandos and their equipment.
The ship will be flexible during their 25 year service life and space and weight has been reserved for anti-ship missiles, either cruise or a 155mm gun.
---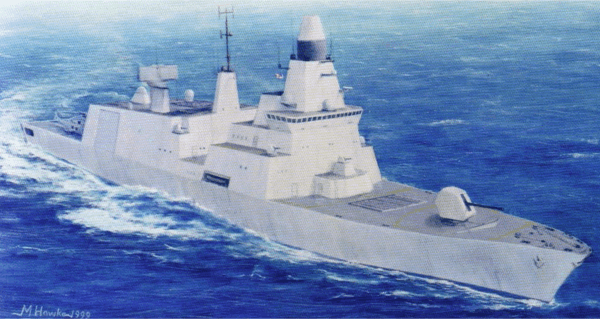 Future Surface Combatant (FSC)
The Future Surface Combatant (FSC) is planned as a class of up to 20 ships that will succeed Type 22 and 23 frigates when they start to leave service at the end of their lives around the middle of the next decade. Studies into the ship and its capabilities are under way at the Defence Procurement Agency(DPA).
Conceptual studies cover a large monohull frigate, a possible variant of the Type 45 destroyer design, other smaller vessels and variations uncluding use of a tri-maran hull form. The emphasis will be on versatility through the life of the ships, the ability to undertake multiple roles and the space and weight to easily accommodate new systems and equipment.
---
Landing Dock Ship (Auxiliary) RFA (LSD(A) BAY class
These large and capable ships will replace four of the five RFA Landing Ships Logistic (LSL), most of which came into service nearly 40yrs ago.
The design is an enlarged adaption of the Rotterdam class ships with increased stowage. Vehicles can drive on to the spacious stowage deck from a side ramp. A lift connects the vehicle deck with the upper deck where more vehicles and ISO containers can be stored. Off-load is via the Chinook capable flight deck, mexeflote rafts carried on the ships sides or landing craft through the stern dock.
The large flight deck can also operate two Sea-King sized helicoptors. The ships have been designed to accept a wide range of upgrades, which could include addition of an aircraft shelter, bigger flight deck and increased troop accommodation to 500.
---