You will all know by now of the generous offer by the Government of Gibraltar, to fund a week's holiday on the Rock, for retired soldiers. I was lucky enough to be selected for such a holiday, and was also lucky enough to have been able to take my wife, Helen. This is my report on the visit.
Well, to start with, it wasn't a week; it was eight days. The only expense to me was that I get to drive to Luton Airport (big deal) and had to buy my own drinks. Except that I didn't have to buy very many drinks, because wine was supplied for nearly every meal except breakfast!
From the time of our arrival, as part of a group of 50 or so, we were looked after most Royally. We were met at Gibraltar airport and taken to our accommodation, which was the old Lathbury Barracks on Windmill Hill, which has now been converted into "The Retreat", which is an accommodation and Conference Centre and is practically brand new. I heard some mention that perhaps the rooms were a bit small, but you only sleep in them anyway, so there's no problem as far as I can see.
At The Retreat, we were given a "Welcome" chat, by John Rodriguez and his wife – who run the Centre – and Marie Lou Guerrero. Now there's a woman for you! Marie Lou had been tasked by the Gibraltar Government to set up the "entertainment" for the visiting old soldiers, for each of the ten groups invited, of which we were the fourth.
Marie Lou is the head of the Federation of Small Businesses on the Rock, and I think she also said that she was the Chairman of the European Group for the FSB. Now, to be elected to a position like that, living in Gibraltar, indicates that she is a rather go-ahead lady.
The Programme she had sorted out for us was fantastic. It ran from 1300hrs on Sunday 11th July, until just before the plane left on Sunday 18th July. Every day she had arranged something.
But there's more: at the "Welcome" meeting, we were introduced to Kyle Galea, from the Gibraltar Tourist Office, who was to be our guide and mentor for the week. He managed to get us everywhere at the right time; he made sure that the three coaches that moved us around were at The Retreat on time. He fixed up a 30 minute shuttle service from Cathedral Square in the city to the Retreat every day. At this point I will point out that this shuttle service was really useful.
The oldest member of the party was 95, plus there were five Chelsea Pensioners (who were able-bodied) but it was good to know that we could get back for a kip before Dinner!
I will tell you what we did a little later, but a couple of things stand out. Someone said to Kyle that they had been on the Rock during the War, and had worked in the REME Workshops inside the Rock. Kyle found someone to open up the Tunnels, found a guide, and half the group went for a tour inside the Rock, of the Workshops.
Later on, Kyle asked if we would like to visit the World War 2 Tunnels (different to the Workshop ones), and when we said we did, he found a guide from the Royal Gibraltar regiment, who opened the tunnels and took us around. And this just before our plane to England took off!
Oh. I forgot to mention. All of this was arranged by Kyle. He is 18 years old !!!!!
Looking after a group of 50 plus ancients, all of whom have been there, done that, and were in the video cannot be an easy task, but Kyle made it look easy. Nothing was too much trouble for him. We all signed a Union Flag and had a whip-round for him before we left. He is a credit to Gibraltar generally and the Tourist Office in particular. If they ever let him leave, they need treatment!
Back to Marie Lou Geurrero. In her capacity as Tercentenary Events Coordinator she had excelled herself. We had visits, we were hosted at Lunches and Dinners by local dignitaries. Although there was ample time available for shopping and sightseeing (we hired a car one afternoon and just drove around), we had a pretty full programme.
To start the week, we attended a Memorial Service at the Cross of Sacrifice, led by a RN Padre, Ken Bromage, at which a wreath of poppies was laid. Later on, Helen and I visited the War Graves in the cemetery. There were quite a few Light Infantry (Som LI etc) stones.
Anyone who has someone buried in Gibraltar, from any of the three services and the Merchant Navy, can rest assured that the stones are in good order, and there are many which have recently been replaced. Now when you consider that most of the stones commemorated people who had died in the 1914-18 period, let me tell you that after nearly 100 years, they are still cared for, and definitely not forgotten.
The replacement stones are the new type, and to quote the Commonwealth War Graves Commission (CWGC), "Mechanisation over the years has increased the speed at which engraving could be done. The latest computerised system will allow a much faster rate of engraving and the finished product is expected to be of a higher standard". Well, the new stones look OK to me, with the engraving being sharp and new. Their names certainly live for evermore in Gibraltar.
Incidentally, there was just one stone I saw which needed replacing. That was the day I didn't have my camera with me of course. If you visit churchyards and the like (as I do), and see stones which need replacing, you only have to notify the CWGC, and they will sort it out. All they need is the name etc (take a picture), and the address.
Later that evening, we all sat down to Dinner at the Chez Nous restaurant on Queensway Quay, at the side of one of the Marinas, in the glorious sunshine, and wondering what the strange flag being flown by a large catamaran was. (I went and asked: it was the flag of St Lucia, and the cat had been sailed to Gib from there by an English couple. Such is wealth!)
On the Monday, we visited Jews Gate (there is a Jewish grave in the cemetery there dated 1759 – the date of the Great Seige of Gibraltar). We saw St Michael's Cave but unfortunately there were no concerts planned while we were in Gib.
We then had lunch in the Arch Museum Restaurant, after which we either went back to The Retreat for a kip, or visited the 100 Ton Gun.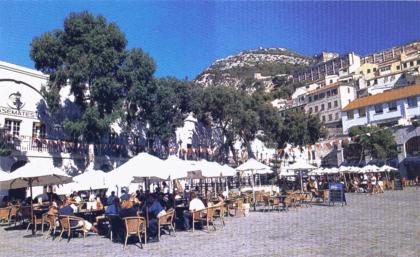 Casemates Square
After breakfast on Tuesday, we were taken to Casemates Square, which is now all pedestrianised, and all of the old Married Quarters turned into rather nice shops. A great improvement, especially as I remember that the MQs were graded as "Sub-Standard" or "Below Sub-Standard" - rent was 3/- a week !
In the evening we were delivered to the old Command Pay Office, which is now the very luxurious Elliott Hotel, to a Dinner hosted by The Minister for the Environment.
On Wednesday, we visited the Trafalgar Cemetery, which is in the process of being refurbished by a team of offenders doing Community service, led by Chief Petty Officer Andy Robertson (God! Aren't the sailors getting young these days?). The cemetery looks lovely, and the team are doing a super job.
We then (some of us) went on a Guided Tour of the Town, led by Mrs Gordon – a Gibraltarian who had been born in the West Indies during the evacuation of civilians from the Rock during the last war!) We learnt more about Gibraltar in that hour-an-a-half than I did when I lived there for three years! An excellent tour.
In the evening, we were feted at a Civic Reception in City Hall, hosted by His Worship the Mayor. The City Hall is in John Mackintosh Square, all of which is being refurbished, and looks quite superb. The evening turned out to be quite exciting. It had just started, and we had only managed to get one or two gins down, when the fire alarm went off.
As always, being old soldiers, our reaction was "why don't they stop that b----y bell ringing. Then the Fire Brigade arrived and told us to get out, so there we were, in John Mackintosh Square, glasses in hand, having a wonderful time! Canapés were brilliant and lots of them, wine, champagne, gin, lager and orange juice very generously provided. A really lovely evening.
Thursday saw us on a boat looking for Dolphins. To be fair, we saw a few quite close to the Rock, but nothing spectacular. However, a group of retired Light Infantry Officers who went on a similar trip the following day got in amongst a pod of over 100, which chased the boat and did their usual callisthenic tricks (the dolphins, not the officers).
We then went to the Gibraltar Museum, followed by lunch at the Ministers Restaurant hosted by the Royal Gibraltar Regiment Association. Boyo! are they patriots or what?
The Union Flag and the Gibraltarian Flag are everywhere. They have posters up showing how the referendum about staying British went: "Stay British 19,768 votes. Going Spanish: 87 Votes". The votes for Britain are about right, but the Spanish one is spot on. They are more British that the Brits, and long may it remain so. They really do need our support.
On Friday, we went to what we knew as Alameda Gardens, but is now called the Gibraltar Botanical Gardens, for a guided tour. What they have done there is fantastic. It is truly beautiful, and in the centre is an open-air theatre, with a pond containing HUGE Koi Carp.
Then, the Cable Car. This runs from near the Queen's Cinema right up to the top of the Rock. Now. If I ever wanted to be that high with no visible means of support, I would have joined the Air Force. Also, and you can check this yourself, the firms that build and install Cable Car thingys always form a brand new company to cater for the project.
For example: "The German Cable Car Company (Tenerife) Ltd". This means that if the damn things collapse and kill 100 people, only the company which was registered to build that particular one goes bankrupt!!! "The German Cable Car Company (Tunisia) Ltd" carries on to fight another day! See what I mean?
So, with a plastic bag to cover my head with if I got frightened, I got aboard the Cable Car. It was superb! The view on the way up is great; the travel is smooth, and at the top – my favourite bit – we had lunch.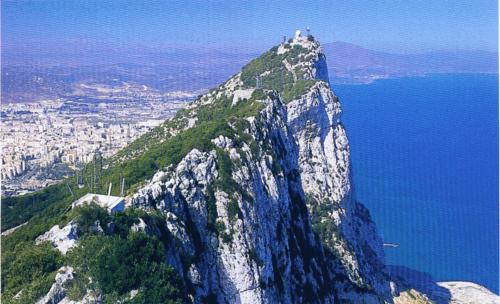 To finish off the day, at 8pm that evening, the Ceremony of The Keys re-enactment Group "History Alive", came up to The Retreat and did the Ceremony of the Keys for us. Brilliant. The following morning, they were to be doing it again at Casemates, (where we used to do it chaps), and the requested that we all march through the City with them.
We just could not believe this. Fifty or so old sods, led by The Port Sergeant and his Escort, all done up in 17/18th Century Uniforms, marching through the City accompanied by applause from the public as we did so. Thanks are due to Terry Joll for keeping us all in order.
Saturday saw us gathered outside of The Convent, to watch the Guard Mount by the Royal Gibraltar Regiment and the Band of The Queens Lancashire Regiment, followed by lunch at St Bernard's Club, hosted by the Royal British Legion. If you have been to Gib before, St Bernard's Club was where the girls were. So I believe. No dear, I never went there once.
Dinner that evening was at Bianca's Marina Bar. Another venue on the Marina, with another selection of excellent food, with music supplied by a Guitar Duo.
Sunday arrived too soon, and following our tour of the World War 2 Tunnels, lunch at The Clipper, where Sgt Tony Tremarco from the Royal Hospital Chelsea assisted the waitresses in their task (!), we were transported back to the airport for our trip home, very pleased that our "hand baggage" was not weighed as it was when we left Luton. After all, who can resist Famous Grouse at £4.60 a litre?
I say, well done and thank you to John Rodriguez and Marie Lou Guerrero, and a really big ginormous thank you to Kyle Galea for the way they all looked after us.
Do you know something? One of the Groups that came out, arrived on Gib, and were not seen again until it was time to go home! Can you imagine what effect that had on our hosts? I have never ever heard of such a display of despicably bad manners in my whole life. They should be ashamed of themselves, and I hope they are.
Top those of you who are yet to go, take a camera, take a spare suitcase (for the Grouse), join in and have a really good time.

Peter Vile
Copyright to Peter Vile.